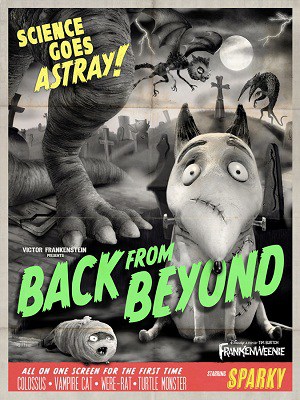 Fans of Tim Burton will no doubt have seen or heard of the original incarnation of Frankenweenie, which was produced by Walt Disney Pictures in 1984 as a live action black and white short film. Burton was fired for making the film, for "wasting company resources." Disney later saw the error of their ways and came to understand Burton's creative genius. As a result, we now have such classics as The Nightmare Before Christmas, James and the Giant Peach, the live-action Alice in Wonderland and now a full-length stop-motion animation version of Frankenweenie.
For those who have not seen the original Frankenweenie from 1984, I urge you to take the time to watch. The new film, released on October 5, is a loving tribute and enhancement to Burton's original concept, to the point of specific scenes, sets and lines being recreated. I just re-watched it myself in preparation for this review, after seeing the new film twice, and loved seeing little details such as the pet cemetery, rain on the window, and the first classroom scene, are almost identical in the original. The windmill, which acts as the iconic centerpiece for the town of New Holland in the full-length version comes from a miniature golf course in the original short. As a note, this review will discuss characters and plot points from the new film, so consider this a spoiler alert and proceed at your own risk.
Frankenweenie is, at its roots, an homage to the 1931 movie Frankenstein, based on Mary Shelley's novel. The main character of Frankenweenie is Victor Frankenstein, the same as in the book. In the new movie, Victor's neighbor is Mr. Burgermeister, a name which you may recognize from the pioneers of stop-motion, Rankin-Bass, and their Christmas special, Santa Claus is Coming to Town
. Mr. Burgermeister not only shares the demeanor of his namesake but a bit of his look too. The Rankin-Bass Burgermeister was voiced by Paul Frees, who is of course famed among Disney fans as the voice of the "Ghost Host" in the Haunted Mansion, along with countless narrations for Disney attractions, including Disneyland's beloved Adventure Thru Inner Space, now sadly closed. In the new movie, Burgermeister's niece, Elsa Van Helsing, is a nod to another classic horror story: Bram Stoker's Dracula.
There are many other tributes to movies past, which may be open for interpretation depending on your cinematic knowledge. I felt like the Sea Monkeys we see take over the town were very reminiscent of the Gremlins
in how they acted, and the scene where they attack a phone booth reminded me of Alfred Hitchcock's The Birds
. These could just be coincidences of course. One more obvious point of reverence was toward Godzilla movies.  An ex-turtle named Shelley – a nod to Mary Shelley and Shelley Duval, who played Victor's mom in the 1984 version, becomes a giant Gamera-sized turtle like we've seen Godzilla battle in the past. At one point, the monster turtle stomps in front of a cinema which has a marquee declaring Bambi is coming soon. I wasn't the only one that thought of the classic animation short Bambi Meets Godzilla when seeing that on screen.
More than movie history appreciation, the general style and feel of the film is a wonderful collection of Burton's artistic designs. The creatures, townsfolk, and main characters resemble past creations and drawings we've seen in concept art and the books he's published. I could be wrong, but I swore I saw a Jack Skellington mask on my second viewing of the film, right after Nassor is knocked into a cart of souvenirs at the fair. Also, fans of the Amazing Stories series Family Dog episode will recognize the design of Sparky as being directly descended from that character. Burton assisted with character design and production of the Brad Bird story. So in that sense, the film is a wonderful little homage to Tim Burton himself.
The science teacher, Mr. Rzykruski is modeled after Vincent Price, well-known as Burton's inspiration for much of his work. Voiced by Martin Landau, who played Bela Lugosi in Burton's production of Ed Wood
, he is part of the 'family of voices' we've now come to expect from Burton's productions. Mr. Rzykruski is the voice of reason, exposing the children of the school to new ideas and urging them to reach their potential as human beings. His comments to the parents at a school meeting are an excellent commentary on life in America, where new ideas are sometimes treated as wrong and bad because of ignorance and unwillingness to see another way. The message is garbled a bit when Victor actually reanimates the corpse of his dead dog, but you know, artistic license and all that.
Now, did I actually like the film? Well, because I am a huge Burton fan, of both his art and his films, I loved Frankenweenie as a display of Burton's creations and the art of stop-motion animation in general. I think the story lacked a little bit in character development. We never really know what the story is with Elsa, she seems to "like" Victor, but nothing really comes of it, and we don't really know her background other than owning the dog which eventually becomes the "bride" to Sparky's "Frankenstein." Victor's parents are another area where I wish we'd seen more development. In the original short film, Victor's mom, as portrayed by Shelley Duval is a working mom who seems to have a more playful bond with Victor. In the current film, Victor's mom seems only concerned with cleaning and romance novels and is pretty clueless as to the goings-on in her home.
I don't fault the movie too much for this; the real story is that of Victor and Sparky, and truly, Sparky is the star of the show. Sparky's dog mannerisms are perfectly executed in Frankenweenie, which must've been painstaking with the stop-motion figures. Honestly, it made me appreciate my own little dog more because Sparky was just so cute and watching his day-to-day routine was just adorable and spot-on. I also love the lesson that Victor learned about letting go of a loved one that leaves us. He grew as a person and was going be okay with Sparky resting in peace (of course then the grown-ups of the town had other ideas).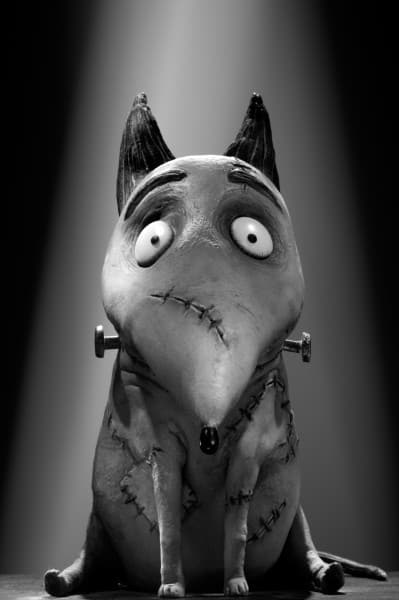 All in all, despite the flaws in story, the movie as a whole was entertaining and a must-see for any Tim Burton fan or pet-owner with a sense of humor. As a warning, it is rated PG and there are a few spots that make you jump out of your seat, so be warned before bringing younger children. I made the decision not to bring my almost-4-year-old because of this. Most of the film is just funny and silly though and the use of 3D technology is excellent throughout.
With the amount of promotion in Disney Parks, on the Disney Channel, Frankenweenie merchandise
(and a great soundtrack in the  Frankenweenie Unleashed! CD
), I hope Frankenweenie is a grand success. If nothing else, it is a wonderful artistic display that is inspiring for any child that may be or look different or see the world in another way. Creativity and expression is always a positive lesson to expose any one to, young or old, and Frankenweenie does just that.
*Disclosure: some links may be affiliate links, which, if used to purchase products will give me back a few cents to support zannaland. Further disclosure: I was provided a complimentary screening of Frankenweenie for a guest and me for the purposes of this review. However, I went out and purchased tickets a few days later on my own, and my opinions were not affected. Thanks for reading.