With one whole year of podcasting behind us, we wanted to dig our heels into the history of one of our most beloved parts of the Walt Disney World Resort – Fort Wilderness! I recently reposted an article which I wrote back in 2014, and still stands today. My Ode to the Vacation Kingdom of the World is a great companion piece to this week's episode. The article gives you a good idea of why Fort Wilderness is so well-loved, and perhaps underappreciated. I don't often like to toot my own horn, but I highly recommend giving it a read either before or after listening to this week's episode.
We start out our History of Fort Wilderness episode with a journey back, back, back to the early 1970's. Covering the origin story of building a campground at Walt Disney World, and how (and who) went about doing that. If you're wondering what it was like when Fort Wilderness opened, we discuss that too.
Next up, we list the various amenities and activities that made Fort Wilderness what it was. Marshmallow Marsh, the Wilderness Night Wildlife Expedition, what were they?! What activities still exist today? We'll tell you. We also reminisce about that ol' swimmin' hole – River Country and our personal experiences with the first ever themed water park.
We don't forget the Hoop Dee Doo Musical Review and the dining options either. You'll hear how Hoop Dee Doo came to be and just how much it's changed since then. Trail's End, Mickey's Backyard BBQ, we cover all your vittles at Fort Wilderness.
If you've ever wondered what "could have been" or heard rumors about things like "Cypress Point" and "Buffalo Junction," we shed some light on projects that never got the green light. You may be surprised to hear how they turned into what we know today in that area.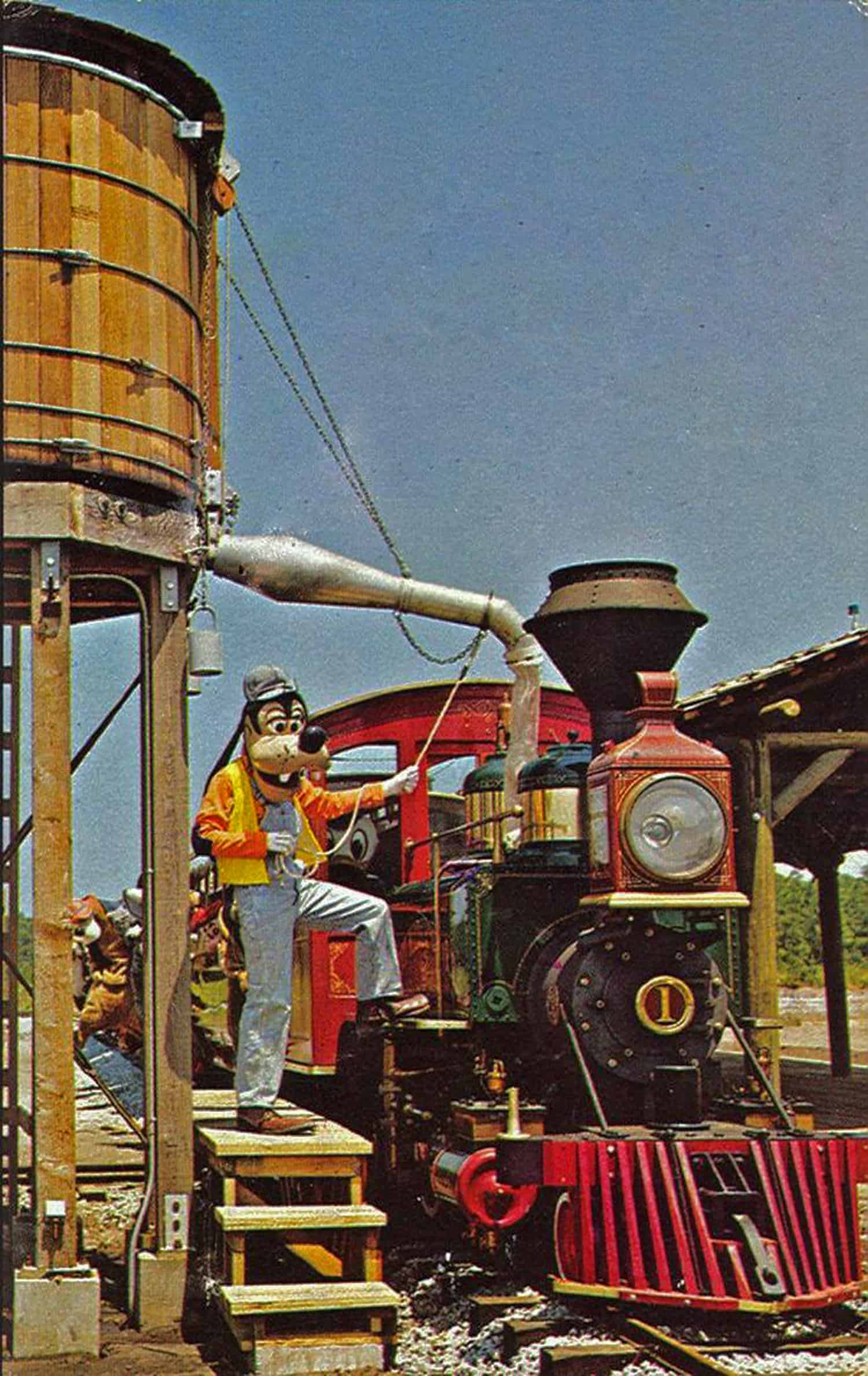 Of course, we couldn't do a history of Fort Wilderness without a major discussion on the Fort Wilderness Railroad. The much loved (but seldom experienced) railroad was removed for good back in 1980, but it lives on in our hearts forever! Did you ever ride the Fort Wilderness Railroad?? We'd LOVE to hear from you! 
We also discuss the amazing campsite decorations that guests create each year. One of our favorite traditions is renting a golf cart and riding through all the decorated sites. That is now part of the history and charm as well.
We loved walking down memory lane, and giving some love to this completely unique and impactful Disney resort. We hope you learned a little history of Fort Wilderness – if we forgot something that you know and love, let us know!
Actually, I know we DID forget something! In looking for photos to give Christian for editing into the video version of our show, I found this fun tidbit! Apparently, there was a "Melvin the Moose Breakfast Show!" at Pioneer Hall in Fort Wilderness! Read what Walt Dated World has to say about it:
Walt Dated World reader Alex sent in a memory about a character breakfast he remembers from Fort Wilderness: "The Melvin the Moose breakfast show featured the moose-head from the Country Bear Jamboree in sort of a Mickey Mouse Club parody. They gave out kazoos with the breakfast.  I read somewhere that the version I saw ran only a year, from 1986-1987 after which they added Chip and Dale."
Another Walt Dated World reader shared about the Chip and Dale Breakfast:
Brad sent in the following memory:  "Before the show began it was like a standard character breakfast with Chip and Dale and a couple of the Country Bears greeting the tables. I remember Liver Lips being quite intimidating. He was a very tall bear. I can't remember the whole menu, but chocolate Chip (and Dale!) muffins were part of it. Between all the singing and dancing, while folks were eating, they showed a couple of the old animated shorts projected on stage. Also, the kazoos they gave out were used in the big finale where the audience got to make a whole lot of noise as part of a song. It was a lot like the end of the Hoop-Dee-Doo Revue where people in the audience are given washboards to play along."
Sounds so fun! I definitely wish I had attended. I only ever did the Empress Lilly character breakfast back in the day.
We also forgot the once infamous Lawn Mower Tree!! I love this story and definitely had planned to mention it. Darn it all! Well be sure to watch our Live Show on Thursday at 8pm (on facebook.com/zannaland and youtube.com/zannaland!) and we'll discuss it then for a bit!
We hope you enjoyed our deep dive into the History of Fort Wilderness. Don't forget to answer this week's trivia question! Scott asked what designation or "record" the Hoop Dee Doo Musical Revue has achieved. Do you know the answer?
You can watch the episode below and see some fun images of the Fort way back then. You can of course listen too. We'll include all the places to listen and connect with us below the video:
---
As always, we thank you for watching and listening! If you enjoyed, please share with a friend so more folks can learn about our growing podcast! Thank you!
Listen to Up the Waterfall:
You can listen anywhere you download and listen to podcasts, including: 
(If there's a podcast service where you can't find our show, let us know and we'll get it added there!)
Watch Up the Waterfall:
Head to our Up the Waterfall YouTube Playlist – where you can see our opening sequence and see some unique images during some episodes.
Feel free to comment below with your opinions on ANY of these hot button topics, any questions or info you'd like to add, or if it's easier, head to the Zannaland Facebook page and join the discussion there with fellow Disney Parks fans!
Zannaland and Up the Waterfall Community – Let's Connect!
FOLLOW THE ZANNALAND FAMILY ON SOCIAL MEDIA, WATCH OUR VIDEOS, VLOGS AND PODCAST TOO: 
We thank you for your support and for sharing the love!