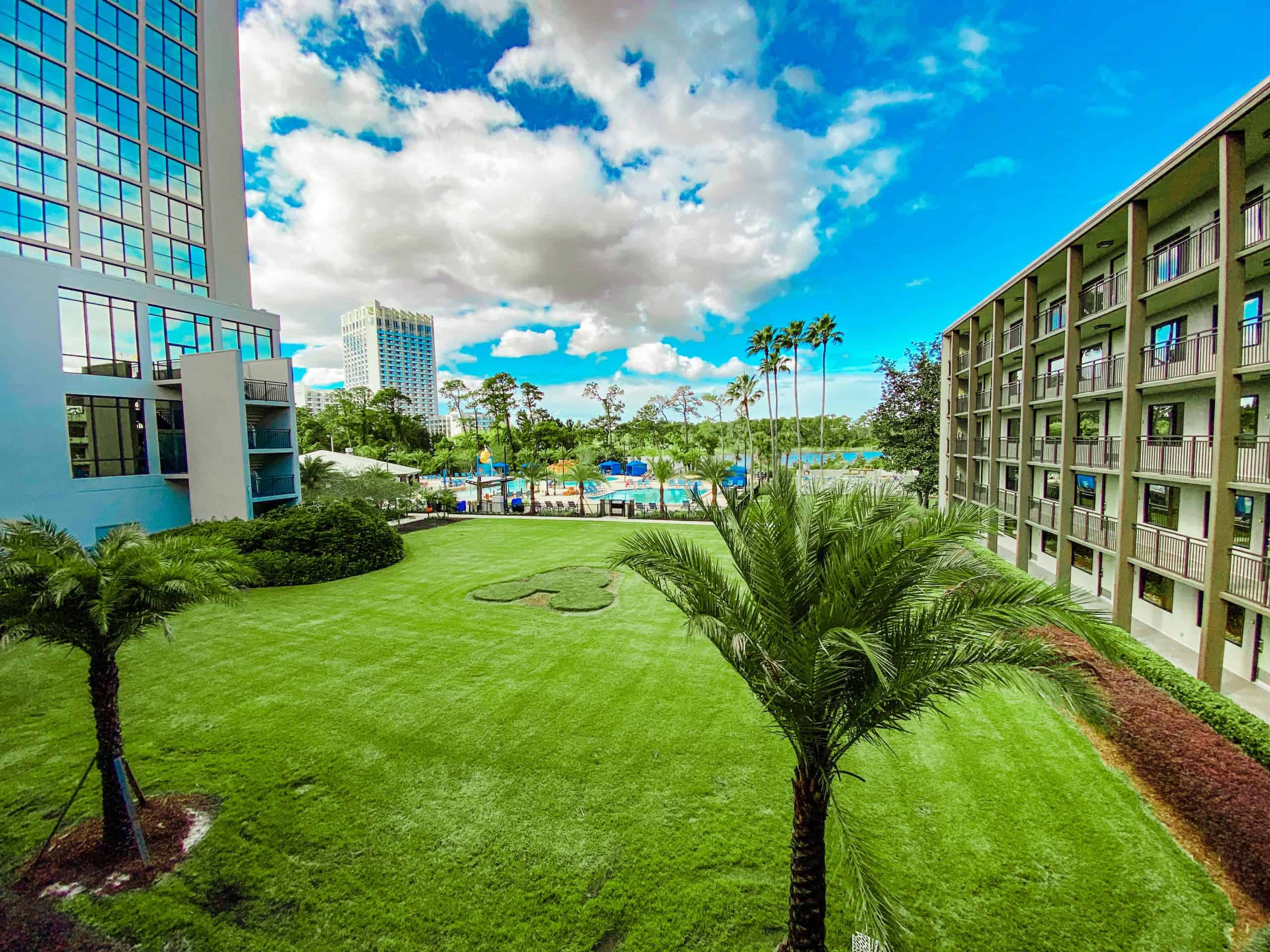 If you're like me, you have driven by the hotels on Hotel Plaza Blvd. near Disney Springs (in my case, way back to when it was called the Lake Buena Vista Shopping Village and later Disney Village Marketplace), but never really stopped to investigate the amazing resorts that exist, minutes from the shopping and dining action. One example of that is The Wyndham Lake Buena Vista Resort Complex, which just announced the completion of its reimagination and $14 million-dollar guest room renovations and poolside dining. Even better, the rates right now are some of the lowest the property has ever seen – some nights are under $100 a night (yes you read that right).
Situated around 5 minutes (yes you read that right too) from Disney Springs, the Wyndham Lake Buena Vista and its sister property, the Wyndham Garden Lake Buena Vista are conveniently accessible by the recently installed pedestrian bridges crossing East Buena Vista Drive. No need to worry about cars in your way or waiting for crosswalks to be clear. However, if you want to park in the Disney Springs parking garages, those are really close too!
We were recently invited to tour the newly remodeled rooms and Oasis restaurant and were pleasantly surprised. For those history buffs, the Wyndham property was actually the 3rd resort to open at Walt Disney World. It has a storied history, opening as the Dutch Inn, which later rebranded as the Americana Dutch Resort, before being sold to Grosvenor and becoming the Grosvenor Resort, renamed to the Regal Sun Resort, and then merged with the Wyndham Hotels and Resorts and became what it is today. In between all of those name changes, there have been several multi-million dollar renovations, so you would never know walking into the lobby or a room, the history of the resort! The resort now features open air, socially distanced dining in the Oasis Restaurant adjacent to the new kids' pool section of their massive aquatic center.
The two official Walt Disney World Resort hotels, the Wyndham Lake Buena Vista and Wyndham Garden Lake Buena Vista are packed with many shared amenities. This guest room renovation includes 394 newly reimagined garden-themed rooms for the value-minded guest and another 232 rooms in the upscale 19-story tower overlooking Disney Springs, which features a lake house motif.
"Just in time for your holiday vacation and weekend staycation planning, we have completed a significant transformation that has been several years in the making, said Jay Leonard, General Manager of the Wyndham Lake Buena Vista Resort Complex. We are grateful to those who have pardoned our dust as we worked with top designers and builders to create what we believe will be a great guest experience."
See You at The All New Oasis Restaurant
Open daily for lunch and dinner, it's ideal for everyone who wants to soak up a day's worth of the Florida sun or simply delight in a refreshing beverage or satisfying meal while watching sports on the big screens in their all-weather dining room.
Handcrafted cocktails, frozen drinks, beer and wine selections and a delicious menu of dining options await poolside. From mouthwatering fish tacos to some of the best chicken wings in town, you will find what you seek at the Oasis Restaurant. Fresh baked pizza, a variety of burgers, sandwiches and salads are prepared to order as you relax at the pool or recharge after an early start at the theme parks. Hidden Mickey fans will also find quite a few to hunt down and spot! 
Click on a photo below to enlarge and see the updated restaurant and amazing pool area:
Reimagined Tower and Garden Rooms
Interior Image Group drew the inspiration for the design concepts from the hotel's lobby area, continuing the lake house theme from the tower into the garden guest rooms.  These newly recreated rooms allow guests to unwind and relax with the feeling of being in their very own garden retreat.
Jamie Malays served as lead creative designer on both hotel offerings and applied her expertise using multiple fabric textures, wood finishes and a minimal color palette in the garden concept.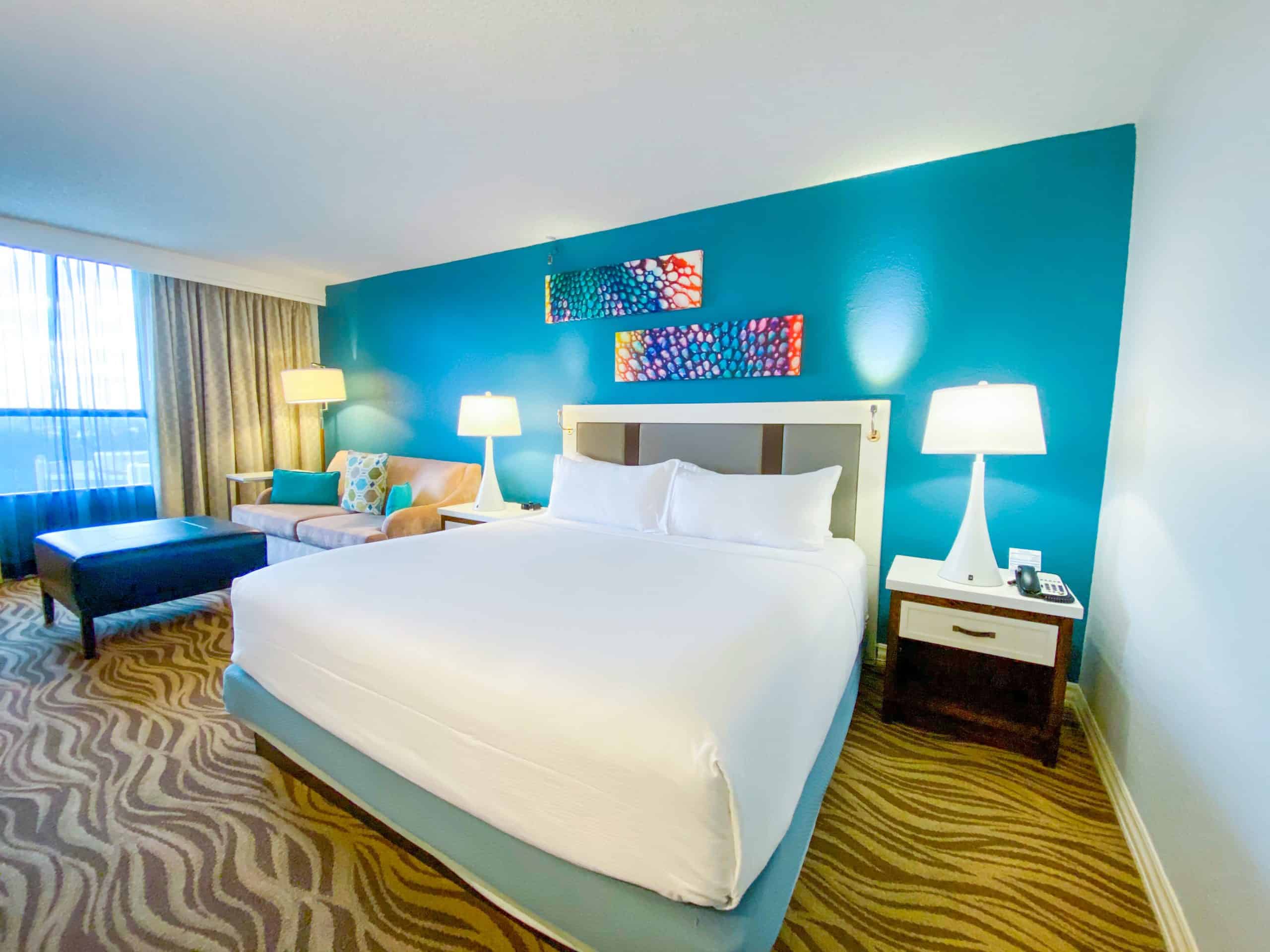 Upon entering a reimagined garden room, guests will find themselves in a serene and inviting space. The main design features are the all-white, laminate wood, built-in storage bench unit that is back lit and accented with decorative aviary hooks to hang caps and jackets. This is where functionality meets beauty; it is aesthetically pleasing, and also acts as a multifunctional storage space with room to place luggage and hideaway shoes in the under-bench area.
Hidden spaces have also been created within the built-in entertainment center, which conceal a coffee maker and mini refrigerator (much larger than the Disney value resort fridges), and come standard in each room.
The 55" TV is displayed on a backlit wood finish entertainment wall conveniently opening the space on the new quartz countertops. Maintaining the functional design, the built-in unit has an ample amount of storage space with three large drawers.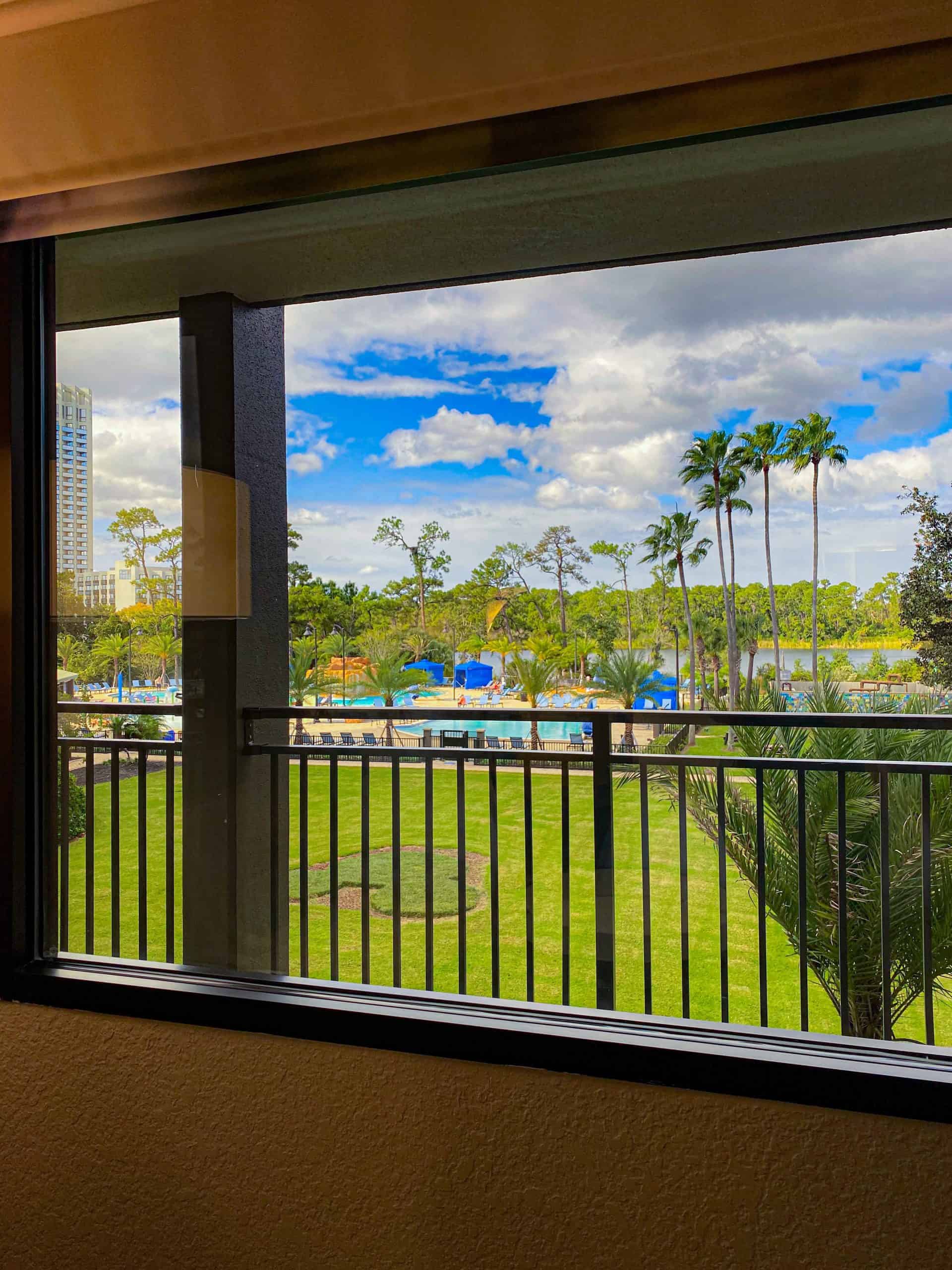 Carrying the minimalistic theme over onto the sleeping area, a soft green wood headboard awaits guests, accented with modern light fixtures. The vanity and bathroom also received a significant facelift, starting at the entrance with a new rolling white barn door and a frosted edge back-lit mirror that hangs over the spacious vanity.
The large picture windows feature a privacy and a blackout shade. The blackout shade is actually decorated with a relaxing garden motif so when closed, it looks like a beautifully pained picture on the wall.
The best part is perhaps the quick walk to Disney Springs, knowing that this beautiful room is waiting for you on your return. I was so impressed with the new room designs, and at this price point, how could you not to stay here?
Walking over to Disney Springs really reminded me of staying in Disneyland, and walking over from Harbor Blvd. to Downtown Disney. That's a pretty common practice when staying off-property in Disneyland, so it really makes sense that it would work here in Walt Disney World Resort too! So many people want to stay in a Disney hotel, but the comfort and amenities found here are hard to beat – you still receive Extra Magic Hours, FastPass+ (under normal circumstances) and other Magical Extras.
What impressed me most at the Wyndham Lake Buena Vista was the people. Everyone we met was like family, ready to welcome you to their home. They were justifiably  proud of their beautiful hotel, and the wonderful amenities it has to offer guests. It truly is a hidden secret on Walt Disney World property and definitely worth investigating for your next stay. Head to Wyndham Lake Buena Vista for more info and to book your stay today!
*Disclosure: The Wyndham Lake Buena Vista invited us out to tour their rooms and pool area, and walked us across to Disney Springs and we experienced some of the shops and dining there. You can see more on my Wyndham LBV instagram story from the day! As always, my thoughts and opinions are my own. Thank you for reading!