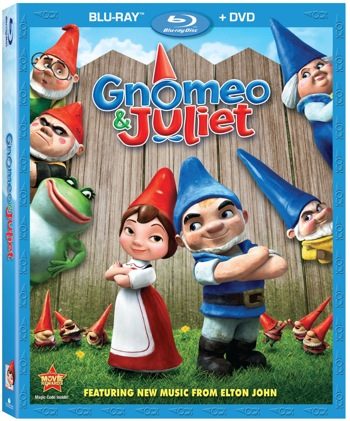 So I have to admit, when Gnomeo & Juliet came out in theaters, I wasn't jumping at the chance to see it. The Elton John soundtrack intrigued me, however. When I was sent a DVD+Blu-ray combo pack to review, I thought I'd give it a shot. To be completely honest, it surprised me!
Sure, it's a pretty predictable storyline, and not the most compelling of characters,  but there were enough little in-jokes and funny moments that actually made it enjoyable. Plus it features Ozzy Osbourne as a ceramic fawn. What more could you ask for?
Disney fans will enjoy the Tiki Room song that shows up and a nod to Bambi during a particularly poignant moment in the film. It also entertained both my ten year-old and my almost 3 year-old, an all-important test! I really did love the soundtrack as well. Being an Elton John fan, it was fun to hear different variations of his classic songs.
In addition, the animation is actually really wonderful. There is lots of attention to detail and I loved little things like the clanking noise the gnomes made as the moved.  The realistic human household items, at times, made me forget it was animated.
Gnomeo & Juliet is out now on DVD and Blu-ray and for a limited time, you can even get $5 off the DVD+Blu-ray combo pack. Just click the image below: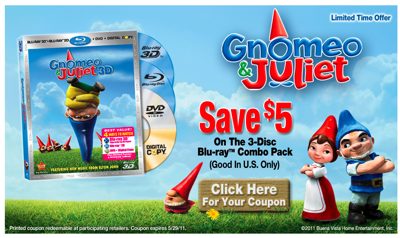 Here are more details about Gnomeo & Juliet and the bonus features available —
From a director of Shrek 2, and featuring fun, all-new music by Sir Elton John, the hilarious twist on William Shakespeare's legendary tale Romeo & Juliet as you've never seen it before, perfect for the whole family.  Enter the secret world of garden gnomes and meet two adorable gnomes from completely different worlds who fight the odds to be together.
Bonus Features:
DVD & Movie Download:
• Elton Builds a Garden
• Frog Talk with Ashley Jensen
• "Crocodile Rock" Music Video, featuring Elton John and Nelly Furtado
Blu-ray:
• DVD Bonus plus:
• 2 Alternate Endings with Filmmaker Introductions
• Deleted & Alternate Scenes with Filmmaker Introductions, including:
o 1 Alternate Opening

o 1 Alternate Scene

o 6 Deleted Scenes
• The Fawn of Darkness, featuring Ozzy Osbourne

Check it out today!