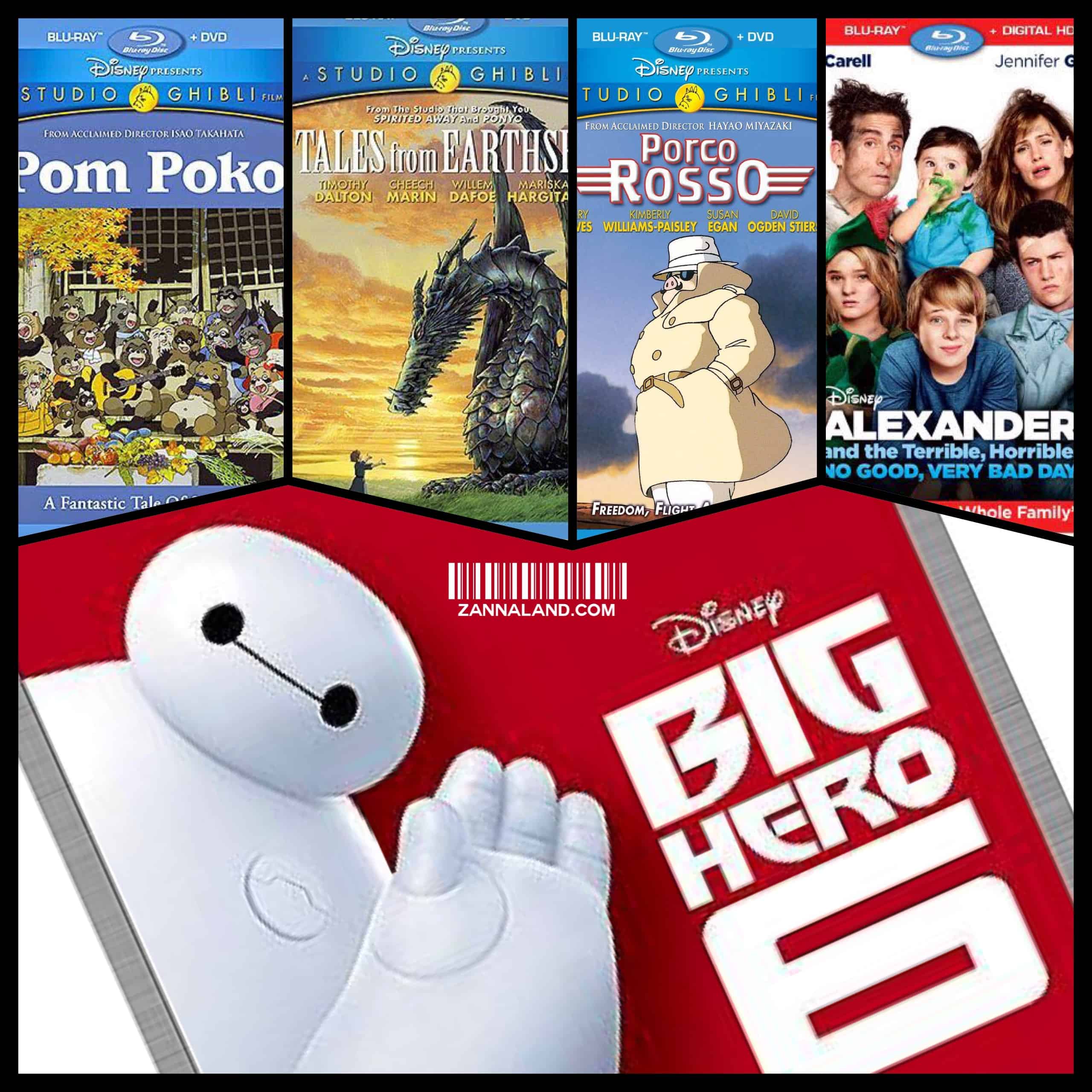 This has been a busy few weeks for Disney DVD and Blu-ray releases, and I think you'll find there's something for everyone in the list below. First, a trio of Studio Ghibli films are now available in beautiful HD picture and sound. Pom Poko, Porco Rosso, and Tales from Earthsea are all available as of 2/3/15 to add to your collection.
On the live-action front, Alexander and theTerrible, Horrible, No Good, Very Bad Day is available as of 2/10 to help out on those really bad days when it feels like everything that can go wrong has and will. There's also a sweepstakes related to this film, so keep reading to learn more.
Lastly, everyone's favorite personal home healthcare companion, Baymax and the entire Big Hero 6 gang are soaring to dvd on 2/24. They've included some fun bonus features, including the short film Feast, featuring the adorable and heartwarming Winston the dog. Scroll down to learn more about these new and upcoming releases and add them to your Disney film library today!
Disney Presents Studio Ghibli Films: POM POKO, PORCO ROSSO, and TALES FROM EARTHSEA
It's no secret that I am a huge Studio Ghibli and Hayao Miyazaki fan. The stories these films tell and the beautiful animation are works of art which almost always have a lesson to learn about ourselves, or the world we live in. The best part is that as Disney releases more and more Studio Ghibli films in HD quality Blu-ray and DVDs, we can experience these works of art again and again. Now two of the original Studio Ghibli films have been released in HD, as well as the recent Tales from Earthsea. Read on below for synopses if you haven't already seen these films, as well as what bonus features are included:
Synopsis:                          
POM POKO
Studio Ghibli presents a film about the clash between modern civilization and the natural world from acclaimed director Isao Takahata. The raccoons of the Tama Hills are being forced from their homes by the rapid development of houses and shopping malls. As it becomes harder to find food and shelter, they decide to band together and fight back. The raccoons practice and perfect the ancient art of transformation until they are even able to appear as humans. In often hilarious ways, the raccoons use their powers to try to scare off the advance of civilization. But will it be enough? Or will the raccoons learn how to live in balance with the modern world? Celebrate the magic of the forest and the beauty of the creatures who live among us in "Pom Poko"—now on Disney Blu-ray for the first time ever.
PORCO ROSSO
Take flight with "Porco Rosso," a valiant World War I flying ace! From tropical Adriatic settings to dazzling aerial maneuvers, this action-adventure from world-renowned animator Hayao Miyazaki is full of humor, courage and chivalry. When "Porco"—whose face has been trans- formed into that of a pig by a mysterious spell—infuriates a band of sky pirates with his aerial heroics, the pirates hire Curtis, a rival pilot, to get rid of him. On the ground, the two pilots compete for the affections of the beautiful Gina. But it's in the air where the true battles are waged. Will our hero be victorious? For the first time ever on Disney Blu-ray, "Porco Rosso" is a thrilling ride you'll never forget!
TALES FROM EARTHSEA
An epic animated adventure directed by Goro Miyazaki, "Tales From Earthsea" features the voices of Timothy Dalton, Willem Dafoe, Cheech Marin and Mariska Hargitay. Based on the classic "Earthsea" fantasy book series by Ursula K. Le Guin, "Tales From Earthsea" is set in a mythical world filled with magic and bewitchment. In the land of Earthsea, crops are dwindling, dragons have reappeared and humanity is giving way to chaos. Journey with Lord Archmage Sparrowhawk, a master wizard, and Arren, a troubled young prince, on a tale of redemption and self-discovery as they search for the force behind the mysterious imbalance that threatens to destroy their world. Featuring a timeless story and magnificent hand-drawn animation, "Tales From Earthsea" is now available for the first time ever on Disney Blu-ray.
Bonus Features:        POM POKO – Original Japanese Storyboards, Original Japanese Trailers
PORCO ROSSO – Original Japanese Storyboards, Original Japanese Trailer, Interview with Toshio Suzuki, Behind the Microphone
TALES FROM EARTHSEA – Original Japanese Storyboards, Original Japanese Trailers & TV Spots, the Birth of the Film Soundtrack, Origins of Earthsea
Also out this month is the live-action interpretation of the beloved children's book Alexander and the Terrible, Horrible, No Good, Very Bad Day. As a mom of 3, I know we all sometimes have these kind of days, and it's always interesting when you realize that perhaps you aren't alone in your "very bad day" (and I know it's always great when our kids figure this out too!). Alexander… is available now on Blu-ray Combo Pack and Digital HD and is the inaugural recipient of the Common Sense Seal. Find out more including a family photo sweepstakes:
Synopsis: Disney's heartwarming comedy will have your entire family laughing out loud. Based on the best-selling book, it follows the exploits of Alexander as he experiences the most terrible and horrible day of his young life and wonders if bad things only happen to him.  But he discovers he's not alone when his dad (Steve Carell), mom (Jennifer Garner) and family live through their own terrible – and hilarious – day. It will tickle everyone's funny bone, and warm their hearts as they discover how even on rotten days, families can grow closer.
Bonus Features:
(Digital HD*, Disney Movies Anywhere, Blu-ray)
Alexander…In Real Life
Snappy Crocs & Punch Roos: The Australian Outback Party
Walkabout: A Video Diary
And The Delightful, Magnificent, Very Good Bloopers
"Hurricane" by the Vamps – Music Video
DVD Snappy Crocs & Punch Roos: The Australian Outback Party
"Hurricane" by the Vamps – Music Video
Alexander Funny Family Photos Sweepstakes
Show us your funny family photos! Now you can share those silly, awkward, funny photos that capture the moments that make you laugh out loud! Enter today through March 4, 2015 for the chance to win a four-day, three-night relaxing vacation for four to the Aulani Disney Resort and Spa in Ko Olina, Hawaii.  The package includes hotel, roundtrip airfare and airport/hotel transfer. Please note, the vacation must be taken from May 21-25, 2015.
Check out the contest Do's and Don'ts before entering on Disney.com or through the Disney Applause app (available for iOS and Android).
Grand Prize includes:
4-day/3-night stay for 4 at Aulani, A Disney Resort & Spa in Ko Olina, Hawai'i
Roundtrip airfare
Airport/hotel transfers
Must travel before

9/15/15
NO PURCHASE NECESSARY. Void where prohibited. Open to persons of all ages, who are, as of entry, legal residents of, and physically located within, the 50 United States or D.C. Minors must get parent's permission to enter. Sweepstakes begins on 2/11/15 at 12:00:00 (noon) PM (PT) and ends on 3/4/15 at 11:59:59 PM (PT). Limit one (1) submission per person per day. Many Will Enter. One Will Win. Winner will be selected at random. Click here for Official Rules for full eligibility and submission details.
Last but not least (Baymax is a pretty big and huggable guy after all), Big Hero 6 is out on 2/24 in Digital HD/3D/SD, Blu-ray Combo Pack/DVD and Disney Movies Anywhere. My whole family loved Big Hero 6 and we are so excited to add this to our Disney movie collection. It was such a great combination of Marvel comic book action and Disney heart. The bonus features with gag animations and easter egg clip were really fun to watch too. Not to mention (well, I guess I am) the aww-inducing Feast short film. This is definitely a must-add for your movie collection. Here are all the details:
BONUS:                                Digital HD/3D/SD*, Blu-ray Combo Pack & Disney Movies Anywhere (DMA)
FEAST Theatrical Short
The Origin Story of "Big Hero 6": Hiro's Journey (hosted by Jamie Chung, voice of Go Go Tomago) – Join the team behind the team that brought Big Hero 6 to the big screen as they travel on research trips to Tokyo and San Francisco and go behind the scenes of this epic film. Explore everything comic-book about Big Hero 6, from director Don Hall's passion for comics to the story's roots in a lesser known Marvel property. We'll talk to Marvel's Joe Quesada and Jeph Loeb, who were consultants on the film, to learn what makes a good comic-book story, and how these devices were used to help create Disney's "Big Hero 6."
Big Animator 6: The Characters Behind the Characters – Join the six lead animators of Big Hero 6 as they talk about each of the characters and how they came to be the heroes they are now.
Deleted Scenes (intro by Directors Don Hall & Chris Williams) – Includes two alternate openings and more.
Big Hero Secrets (Easter Egg) – The movie is filled with Easter Eggs, and this Buzzfeed-type list piece will give you a sampling of some of the hidden treasures in the film. See if you can find this Easter Egg about Easter Eggs! (BLU-RAY ONLY)
Gag Animations (intro by Directors Don Hall & Chris Williams) – For fun, animators made alternate versions of scenes they were working on and threw them into the mix at review sessions. The directors will present some of these gags for the first time to the public in this piece. (DMA ONLY)
Beatmax – Check out some of Baymax's greatest lines auto-tuned like you've never heard before.  (DMA ONLY)
DVD:
FEAST Theatrical Short
Big Animator 6: The Characters Behind the Characters
"Big Hero 6" Theatrical Teaser
Click below to bring home these titles today! (affiliate links)
Disclaimer: I was provided with these films for the purposes of review, my opinions are my own. Thanks for reading!
Edited to add: Just announced: Into the Woods will be released on March 24, 2015! Lots of great bonus features will be seen when this comes out! I can't wait!
Digital HD/SD*, Blu-ray Combo Pack & Disney Movies Anywhere (DMA)
Never-Before-Seen Sondheim Original Song: "She'll Be Back"
Meryl Streep performs a compelling new song that sheds a little more light on the Witch's relationship with Rapunzel. This never-before- seen composition was penned especially for this movie by Stephen Sondheim and James Lapine, and is seen here exclusively on Blu-ray and EHV.  With introduction by Director Rob Marshall.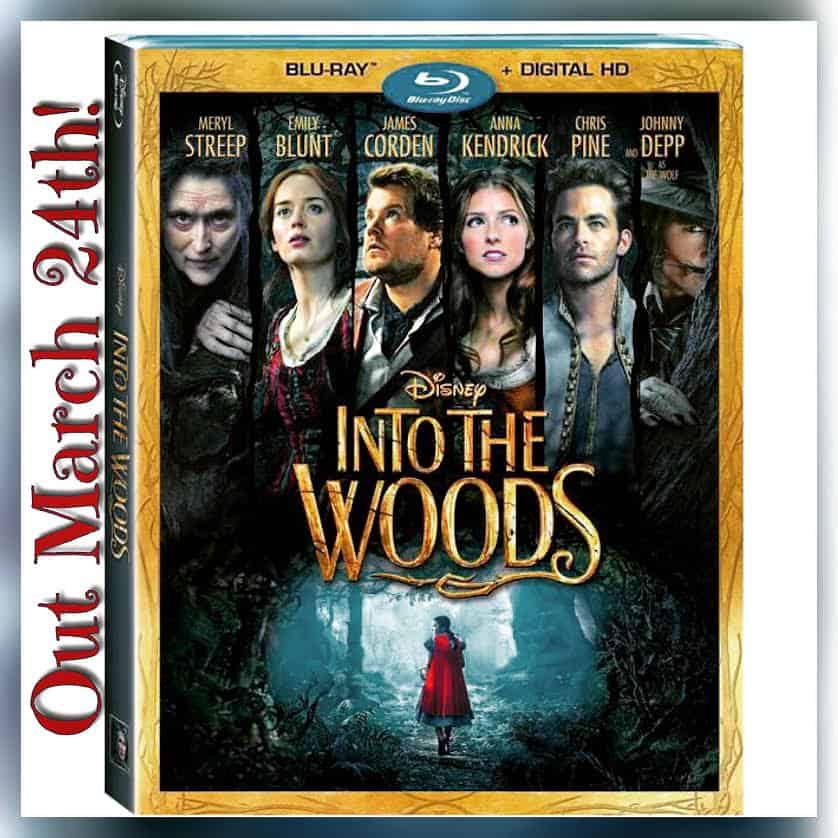 There's Something About The Woods
Journey into this mysterious forest to discover how this compelling, new musical was made. Meet Director Rob Marshall and his award-winning team of artists and craftspeople, see how the woods were brought to life…and what they represent to the story…and to all of us.
The Cast As Good As Gold
Emily Blunt. Anna Kendrick. Chris Pine. James Corden. Johnny Depp. Meryl Streep. Meet the remarkable cast of this musical movie, and hear of their affinity for this Broadway classic.
Deeper Into The Woods
Journey even further into the development of the film in these 4 segments
o   From Stage To Screen
o   Magic of the Woods
o   Designing the Woods
o   The Costumes of the Woods
Filmmaker Commentary
Film commentary with Director Rob Marshall and Producer John DeLuca.
Music & Lyrics
Get direct access to the musical song segments from the film, with optional sing-along lyrics.
5 Golden Eggs (Easter Eggs)