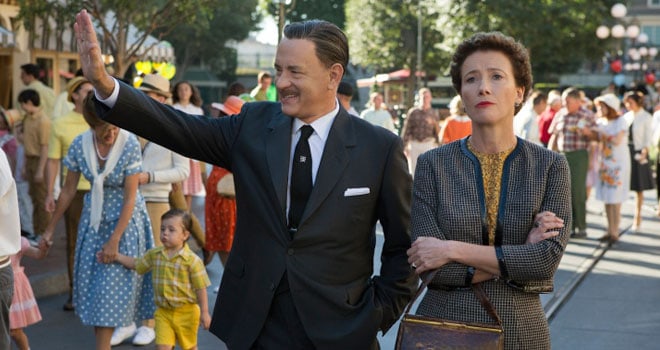 Saving Mr. Banks has warmed the hearts of most who have seen it in theatres, and now it's available on Blu Ray and DVD. I had not previously written about Saving Mr. Banks, mostly because I had very mixed feelings about it. Taking away the idea that this was "based on facts" or historically true, it was a beautiful movie. The problems come in when you think Tom Hanks on screen is Walt Disney…and that's simply not the case.
There are certainly parts of the movie based on ideas or issues encountered during the acquisition and screenwriting process, but many of the things portrayed tend to twist the truth for the story that Saving Mr. Banks wants to tell. If you go into the film thinking it's just an interesting story, funny in parts, then it is enjoyable.
The music, the Richard Sherman parts, and even most of the flashback scenes, were lovely. Emma Thompson's acting was very fun to watch, even if what little I know about the real P.L. Travers made it seem completely unbelievable. Paul Giamatti as the limo driver was another fun subplot, completely made up for the film, but well done nonetheless. Thinking about Walt Disney saying "Get on the damn horse, Pam!" makes a Walt Disney fan's skin crawl…and that's one of several moments where I just have to think it's a fictional film about people that sometimes resemble Walt Disney and those who made Mary Poppins come to life on film. And again, it was enjoyable for me, but I don't look at it as factual or the way things happened. That said, I'm happy to own it on dvd and be able to watch it again because the music alone and funny parts are great. Here are the bonus features you'll find on the Blu-ray:
·       The Walt Disney Studios: From Poppins to Present (Blu-ray & Digital HD) – Join Director John Lee Hancock on a tour of the Disney Studios lot, reflect on studio life during the making ofMary Poppins, and discover how Walt's creative spirit still flourishes today.
·       Let's Go Fly a Kite (Blu-ray & Digital HD) – Cast and crew sing break out in a rousing, heartfelt tribute to Composer Richard Sherman on the last day of filming.
·       Deleted Scenes                                                                                                                  
Stargaze (Blu-ray & Digital HD) – A picture on Walt's desk leads to a flashback of Pamela's childhood.
Nanny Song (Blu-ray, DVD & Digital HD) – The Sherman Brothers perform a song for Pamela that she is less than thrilled with.
Pam Leaves (Blu-ray & Digital HD) – After yet another disagreement with Walt, Pamela leaves his office and heads for the airport.
*Digital HD bonus offerings vary by digital retailer
Disclaimer: I was sent a complimentary copy of Saving Mr. Banks for the purposes of review. My opinions are my own. Retail link is an affiliate link, which takes you to Amazon.com but any purchases send a small amount back to Zannaland. Thanks for reading!