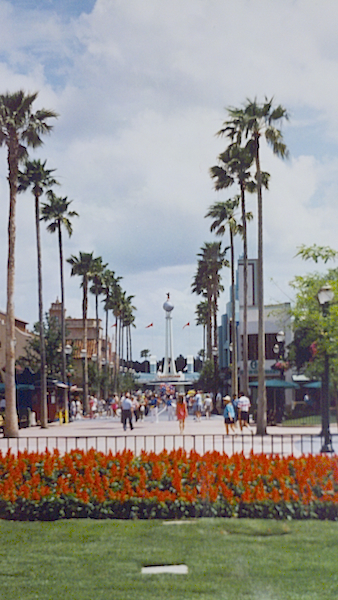 You'll notice I didn't say "Disney's Hollywood Studios," because I truly fell in love with the Disney-MGM Studios, which is no longer the proper name, as we all know. It will forever be "MGM" to me when I speak of it among family and friends, just as the Tomorrowland Transit Authority Peoplemover will always be the "Wedway Peoplemover". But I'm not here to talk about why I'm stuck in the past or yell at you kids to get off my lawn. Oh wait, I actually am going to talk about why I'm stuck in the past. Sorry about that. Hopefully you'll bear with me and perhaps even agree with some of my thoughts.
I am pretty bad with dates and official names for things, so apologies up front if I remember something incorrectly. I used to be great with details, but then I had three kids. In any event, my first visit to the Disney-MGM Studios was some time in 1989, probably in June when I got out of school (a 14 year-old Sophomore). We were living in Lynchburg, VA at the time and would've driven down to Orlando. My trips sort of mesh together around this time, so I'm not sure where we stayed, it could've even been off-property. It's hard to imagine that this was a time before Disney's Port Orleans (either side), Beach Club, or Wilderness Lodge Resorts existed, but it was. I remember there being a lot of buzz surrounding the park, because it was supposed to be a Disney version of the Universal Studios lot in Hollywood, or Hollywood East. Sort of.
My late father was a huge old movie buff. He loved all the classic black and white films, the over-the-top musicals and everything in between. So to say he was excited for this new park was an understatement. As I've mentioned before, I spent from 1983-1986 visiting EPCOT Center and the bonds I'd formed there were unbreakable. We had so many memories as a family there, we all had high hopes for the Disney-MGM Studios. And we weren't disappointed.
From the moment you walk into the Studios, you are greeted with tiny details giving a nod back to old Hollywood, or as their slogan goes, "The Hollywood that never was and always will be." I remember how completely thrilling it was to walk into the 50's Prime Time Cafe for the first time and see items I saw in my grandmother's home as an even younger girl. It truly was another world, different from the Fantasy, Adventure or Tomorrowlands of the Magic Kingdom or the futuristic (it still was back then!) world of EPCOT. It was like reality, only better.
Back then there was no Sunset Boulevard but that didn't mean anything felt lacking. The only Sorcerer's hat was that seen atop Sorcerer Mickey's head as he stood on top of Grauman's Chinese Theatre to kick of the Sorcery in the Sky fireworks, which premiered the following year in 1990. Pixar Place did not exist and Lights, Motors, Action! was actually home to Residential Street, which I still miss to this day. What made Disney-MGM Studios so magical, to me, was not only the incredible attention given to each themed area, but also the amount of guest interaction and audience participation. It was, after all, the birthplace of Streetmosphere!
Who can forget their very first journey on the Great Movie Ride when your car is over-taken by either a gangster or a western bank robber and you are right in the middle of the show? I remember thinking it was the greatest ride ever, even if I did close my eyes in the Alien and Raiders of the Lost Ark scenes. During the finale with the movie clips, I'd listen to my dad name every movie that came on, and usually know all the lines too. As a result, I really can't sit through that part of the ride today and not tear up, remembering him and his favorites.
Another attraction I loved was the Monster Sound Show. I am a huge Martin Short and Chevy Chase fan, and seeing this fun little movie was great, along with the chance for the audience to create their own sound effects to the film? Hysterical. And? Interactive. Super Star Television was an example of this as well. Housed where the American Idol Experience is now, the stage held several sets for different famous television scenes. Employing blue-screen technology, guests chosen from the audience can then act out the candy factory scene from I Love Lucy, or be a jilted lover in a soap opera, or appear on the Tonight Show with Johnny Carson. My dad was chosen during our visit and played that soap opera character, complete with long trench coat and fedora. It is such such a special memory and he loved getting to talk about it.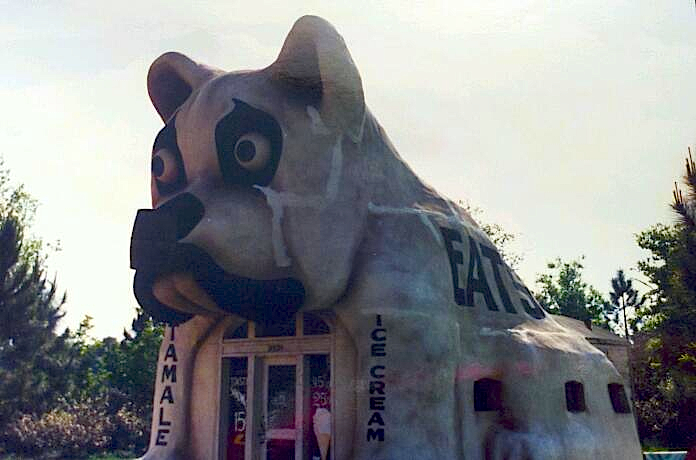 I think my favorite at that time was the Backstage Studios Tour (now the Backlot Tour).  When the attraction first opened, you entered where the Animation tour is now and an actual cast member gave you the tour spiel on the tram. Driving through the costuming and set-building departments, something was always being worked on. You truly felt like you were a part of the backstage magic. The tour then went down Residential Street, which showed the front facades of houses used in opening shots of tv shows. The Golden Girls house was there and the house from its spin-off show, Empty Nest as well as the house from the Disney Channel Adventures in Wonderland series. It was just fun to look at these pristine houses from the front, then make a turn and see nothing but framing and no back to the houses at all. I never watched the Golden Girls the same way again! Later, the Bulldog Cafe from the wonderful Disney movie The Rocketeer was placed on the tour too. It was not a real cafe and really very small in person. It did not age well and was removed along with the other houses when Lights, Motors, Action was being built.
The Catastrophe Canyon section was the same and it was actually believable that we were stuck in the middle of a movie production. Now there is no pretense, and guests are told up front that we are just witnessing special effects. The tour ended where the Studio Catering Company now is, and guests could take a break before going on to the second part of the tour – Inside the Magic: Special Effects & Production Tour. This was always fun because you got to see things like blue-screen technology used to make the flying bee scene in Honey, I Shrunk the Kids and miniatures used in the making of Dick Tracy. You then walked through a series of production studios, including a section on sound hosted by Pee Wee Herman and Mel Gibson. You were also able to see actual shows being produced, including the new Mickey Mouse Club. We then watched the short film, The Lottery, starring Bette Midler and filmed right on New York Street. The last part of the tour was walking through a room filled with the set pieces from The Lottery. This was later replaced with pieces from the 101 Dalmations live-action film.
The details are a but hazy as to when the changes to this part of the tour were made, but I know the bee room and the miniatures room were still in effect back in 1995, because that's where my now-ex-husband (then-fiance) worked when we first moved to Orlando to work at Disney. He started out in Merchandise at the Little Mermaid shop, but then transferred to Attractions and worked at the special effects water tank, the two inside special effects rooms, and rotated to Honey, I Shrunk the Kids Movie Set play area. I remember being so jealous that he was in Attractions! It was really fun to watch him perform his show. At that time there was a tv show on the Disney Channel also called Walt Disney World Inside Out. It started with Scott Herriott as host but changed in 1995 to J.D. Roth, Brianne Leary and George Foreman. J.D. Roth filmed a segment at the Inside the Magic tour and my  ex-husband was the cast member responsible for (off-screen) setting off all the correct cues to make the bee and other parts of the attraction work. Fun fact! 😉
Needless to say, we enjoyed our first visit. My mom and I returned in 1991 with my high school class trip to Walt Disney World. At that time, Here Come the Muppets was where the Voyage of the Little Mermaid is and the Dick Tracy show was there (I may only be remembering the Dick Tracy show from the vacation planning video though – I seem to remember it being part of the Backlot Tour…maybe it was just a display of some sort?). EDIT: Confirmed by StudiosCentral.com – here's a YouTube video of the Dick Tracy finale with some other great Backstage Studio Tour footage! Thanks, Matt!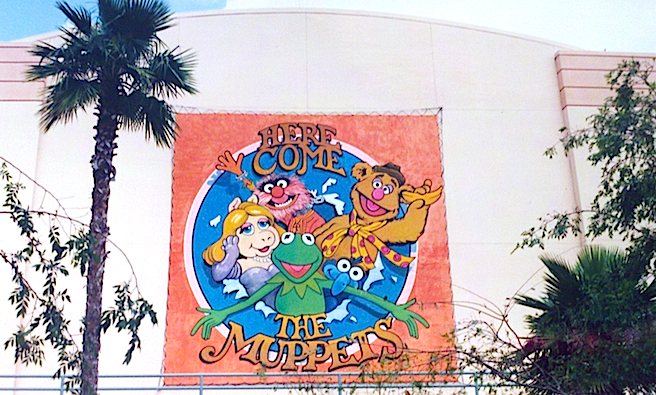 Later when we moved to Orlando in 1995, we would enjoy the Aladdin parade and see the debut of the Toy Story Parade. I cannot hear "Strange Days" without remembering that time in my life – good memories of course! I haven't even touched on Streetmosphere (see that link above, it's worth a read!) or the wonderful Hunchback of Notre Dame and Pocahontas stage shows, which had incredible sets, actors and special effects. The park has of late received a lot of criticism and I will admit that I myself even thought less of it as the years went on. Things like Residential Street being destroyed, the Sorcerer's Hat addition, and lots of Disney Channel synergy moving in have changed the feel of the place. However in recent times, I realized how much I really did fall in love with the Studios and what a special place it is.
One thing that brought this into view was taking part in the D23 Great Scavenger Hunt about a month ago. There were so many difficult questions that caused you to really stop and notice the impeccable detail and Hollywood spirit with which the park is imbued. Hollywood and Sunset Boulevards are brimming with nods to old Hollywood, little inside jokes and other Imagineering details you'd expect in any Disney park but may not have ever noticed here. While the scavenger hunt was frustrating, it definitely gave me a renewed appreciation for Disney's Hollywood Studios.
As with all Disney parks, things will change and corporate decisions will be made that may not feel right as a guest, but great decisions are made as well – Star Wars Weekends are one of my favorite times of the year and the all-new 3D Star Tours is probably my favorite ride right now. If I were to speak to the decision-makers at Disney I would implore them to remember what made the Studios so appealing: interaction. They are on the right track with Star Tours and the "Rebel Spy" aspect, which is now a goal for each guest as they ride. After all, don't we all want to be a star?
The park history remains as well. Just as I regale my children with tales of Horizons and KELP and how Living with the Land was once LISTEN to the Land, I now tell them how there was a time when the 8×10 glossies hanging in Mama Melrose were relevant actors and how their daddy used to dump gallons of water on people every day. So during this Disney's Hollywood Studios Awareness Week, I have become acutely aware of how important it is to capture and record these memories while they are fresh and appreciate the best laid plans of Mice and men.