If Disney could pick an "it-girl" to properly represent the company in the way they have tried with so many Disney Channel stars – Ashley Eckstein would be the perfect fit. Ashley is a Disney fan through and through, something we instantly bonded about. In doing my research, I read Ashley's most recent blog entry at the Her Universe site and was struck by how heartfelt it was. I truly got how she was sharing her first-ever memories of Disney's Hollywood Studios, how she later had a dream come true when she danced in a parade down Hollywood Blvd. and how now yet another dream was coming true as she was able to share her very own line of clothing at Star Wars Weekends. We joked about how it sounds cheesy, but Disney really is the place where magic lives. I knew then, she was one of us.
I asked Ashley how "growing up Disney" had affected her career and career choices. She said that as a child, having Disney in her backyard and being a Disney family (her dad worked for Disney for 15 years as a food buyer) her parents often played the song "When You Wish Upon A Star" (a song Ashley would later play at her Disney wedding reception) and would reiterate that statement. Ashley remarked that kids believe what you tell them, and being around such a magical environment and seeing dreams actually come true made it a tangible belief that she carried with her. At her first professional acting job at age 11, singing with the Orlando Opera Company and filming a segment for the Disney Christmas Parade on ABC, Ashley realized that while it was an amazing experience to be a part of, it was also very possible; "Disney provided so many opportunities for dreams to come true."
From her first childhood visit to a Mickey Mouse Club taping at the then-Disney-MGM Studios, it was Ashley's dream to appear on the Disney Channel. When that dream also came true in her recurring role as Muffy on "That's So Raven", Ashley quickly learned the importance of personal responsibility to her fans and children everywhere, both at the show's live tapings and watching on the Disney Channel. "I realized the power I had to be a positive role model for kids. I do not take that power lightly and try in any way I can to make a positive difference. I view it as an honor to do so."
After we reminisced about Disney past and what we missed in the Parks (Disney, if you're reading, the Ecksteins would really appreciate the return of the non-chocolate-covered Mickey ice cream bar – remember the one with chocolate ice cream ears and a vanilla face?), we turned to Ashley's latest passion – Her Universe – fandom-based apparel and accessories specifically designed for women and girls. I thanked Ashley for filling the void of Star Wars fan girl clothing, previously consisting mostly of slave Leia bikinis. Ashley is super hands-on with Her Universe and was quick to correct the common misconception that she's merely endorsing a brand – this is her company that she started from scratch and she's involved in every step of production from design tohang tag and neck tag. "I'm never going to release something at Her Universe that I would not buy myself. If I wouldn't buy it, I'm not going to sell it." And her passion shows.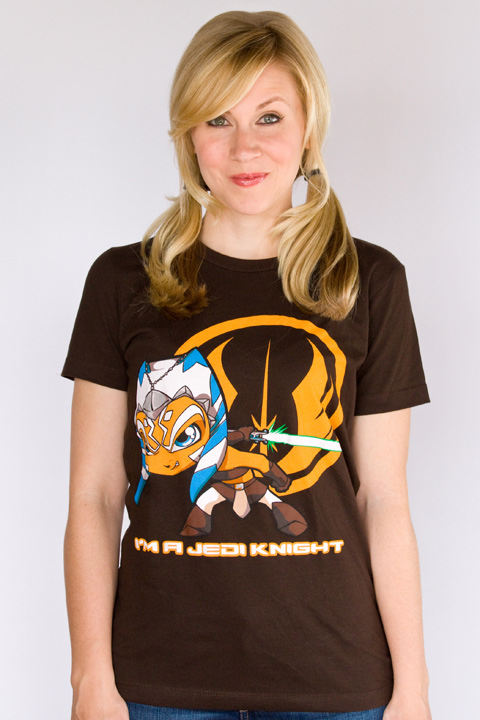 Her Universe currently sells Star Wars licensed items, viewing designs more as "wearable art", using creative printing techniques vs. just a logo on a t-shirt. Ashley is most excited about her Ahsoka shirt designs, one specifically designed in little girl sizes. She's knew there was a lack of shirts for the character she's played for the last 3 years on the Star Wars: Clone Wars animated series, but definitely not a lack of interest. This Ahsoka shirt and two other shirts will be premiered at Star Wars Weekends on May 20th and Ashley couldn't be prouder that these shirts will be available in both little girl sizes and women's sizes up to 3x.  I was happy to hear that my favorites – the Padme art deco shirt and the Boba Fett-ish undies set are two of her personal favorites as well.
As for the future of Her Universe, I asked Ashley if there were plans to expand it beyond the Star Wars franchise. "It's funny you asked that because we just came from New York where we met with the folks at SyFy and will now be handling all of SyFy's female merchandise and merchandise for two of their shows." Similar to Star Wars fans – almost half of SyFy's demographic is actually women and thankfully they have recognized that! I look forward to what Her Universe will have to offer in the coming months!
Now of course, another reason I was excited to speak to Ashley is her obsession, well, we'll say passion, it always sounds nicer, for Alice in Wonderland. Faithful readers will note this is yet another thing I share with Ashley. She actually joked about reading my post on the Alice in Wonderland sculpture in Kissimmee and how she needed to drive out there and see it herself! Proving once again that she is a Disney fan at heart, Ashley's most prized possession in her extensive collection is actually the very first Alice costume her mom got her when she was just a little girl of five. Ashley fondly remembers dressing up in that dress and hopes to someday pass it along to her daughter should she have one. Another favorite is the Alice in Wonderland animation cell she was gifted with from Captain Rex at last year's Star Wars Weekends.
I wondered what Alice would say if she met Ahsoka, to which Ashley quickly quipped in a British accent, "Oh my!" She then thought that Alice would be very curious about Ahsoka and her lightsaber and where she came from. "Some of the reasons why I love Alice so much are that she always speaks her mind, always asks questions and is a smart, strong female character." Sounds like a certain Padawan Jedi we all know and love, yes?
I ended by asking Ashley if she'd gotten to check out Star Tours 2 yet and she had not but is looking forward to filming some behind-the-scenes videos next week and checking it out then. She shared that Star Tours actually has made her motion sick in the past but the last time she rode it she was okay and is hoping she fares well with the new ride. (I am with her on that one, I'm a little nervous about the 3D aspect with the motion!)
Ashley graciously agreed to answer these fan questions which I gathered from twitter and facebook before our interview:
@VoyageofAriel Tammy asked: If Star Wars was a musical what would her character's song title be & could she sing some of it?
"It would definitely sound like it was right out of a Disney movie. I can sing, but I don't sound like a pop singer, I sound like a Disney character! I think the title would "Patience".  As a Padawan, Ahsoka's a student and makes mistakes like all students do and must find patience. She wants to be perfect and gets frustrated when she isn't. It's Anakin's job to try to teach her patience."
Tammy you'll have to wait for it to appear on Broadway to hear Ashley sing it! 😉
Ryan from the Main Street Gazette wanted to know: What's your favorite Ahsoka quote?
"My favorite quote would be, "You're stuck with my sky guy" for a few reasons. I love the nickname sky guy – some of the fans hated it and some of them loved it but  she doesn't use it anymore director says she's grown up and doesn't say that line any longer. It also encompasses Ahsoka in general. When she first appeared some fans viewed her as the new Jar-jar. Now she's gone in the direction that the fans wanted her to go in, and she hopes the fans are happy that she's stuck around. I think people are wondering what happens to her and accept that she is part of the Star Wars franchise. AND represents part of her cocky little attitude not bratty, but just a little cocky."
@agalaxyfaraway Amanda asks: Which Star Wars movie is her favorite? And who is her favorite character.
"Empire Strikes Back. I am a sucker for the romantic – the girl gets the guy, the "I know" line is one of my favorite moments. My favorite character is R2D2. He's actually always there to save the day, he's saved many lives!"
@MeCcAFeTT wants to ask Miss Ashley, when we gonna see Her Universe swimsuits and more cute bras and panties!?
This made Ashley giggle because "That's something we are working on right now! It's  tricky for size reasons. Some items have to be custom made literally from scratch – most clothing uses blanks in standard sizes which exist for men, but not for many women's or girls sizes. Designing them on our own takes longer, a 6 month or longer minimum to design and it may be a year before you see them for sale. It's frustrating at times because of needing real sizes for women. I'm constantly researching and studying to find "women's sizes" available to design in a timely manner. Some just don't exist, but we are looking into absolutely doing these for the line!"
Shane from Parkeology wanted to know does Ashley prefer the original Tiki Room or the Under New Management version?
"I am always an original girl. Since I grew up at Disney, you go back to what you know and prefer what you had going up. I'm a classic girl!" (This is what got us discussing Mickey ice cream bars and Ashley proceeded to sing a little Veggie Veggie Fruit Fruit, which warmed my heart!!)
Cliff W. from facebook wanted to know is Ashley was going to experience all 68 versions of the new Star Tours? Which is what led to Ashley revealing her motion sickness, so I'm gonna go with a no on that, you probably won't catch Ashley riding 68 times. Ashley stayed true to her Jedi character in saying, "I am going to be tough and give it a try though!"
Savannah M. from facebook asked: What's been her favorite episode so far in the clone wars series?
"So far, the  Mortis trilogy, which really should be watched as one continuous episode because you really get to see how far Ahsoka's come and see her relationship with Anakin and Obi Wan. As an actress, selfishly, it was really a challenge – I had to be young Ahsoka, then grown up Ahsoka and Dark Side Ahsoka, three separate voices and characters. Those episodes are so well-done in terms of writing animation and directing, just visually stunning. Definitely get the season 3 dvd  so they can be watched as one extended episode."
Teronya H. from facebook (and fellow Moms Panelist!)'s 8 year old son Aaron wants to know wants to know if Ashley really learned how to fight so she could play Ahsoka?
"Yes actually I did! After the first Star Wars Weekends two yeas ago, I saw a photo of me posed with a lightsaber like Ahsoka and I looked so prissy it was awful! I thought I cannot be playing this tough Jedi and not know how to look like one, I feel like a fraud! So my niece, who is a black belt in Tae Kwon Do had her Master teach me how to fight like a Jedi and how to fight with a lightsaber!"
You can check out Ashley's Jedi training below on her hosting reel – the Jedi training is 2:18 into the video:
I want to thank Ashley Eckstein for taking the time to speak with me today and share all of those fun answers above. It was an honor to speak to someone so passionate about Disney, Star Wars and Alice in Wonderland, and who truly has made her dreams come true. The Force is definitely with Ashley – as is the pixie dust!
You can follow Ashley on twitter at @HerUniverse and at facebook's Her Universe page, where you can get updates on the product line and more. The official Ashley Eckstein facebook page has more news on Ashley's appearances and upcoming events.
Ashley will be  making a return appearance at this year's Star Wars Weekends, which begin on May 20th – be sure to stock up on Her Universe items before you go!