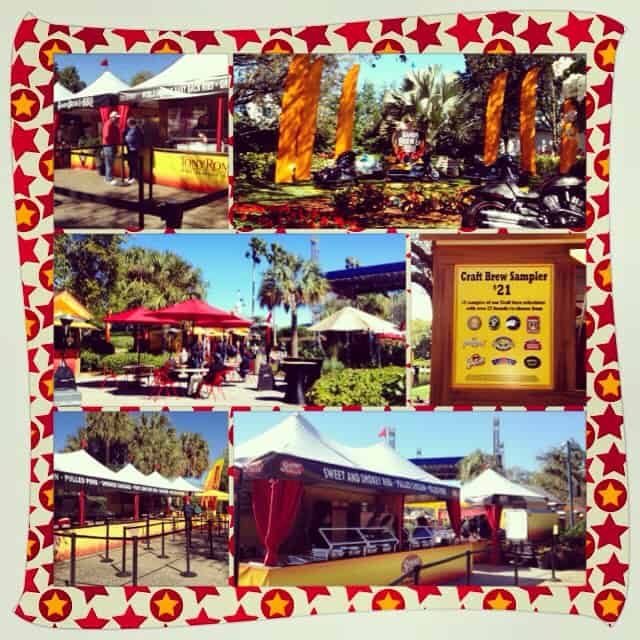 This weekend marks the last for SeaWorld's Bands, Brew & BBQ season. I love SeaWorld's special events like this because they are included in the price of regular admission, and you get a little something extra, this time in the form of rockin' bands, great BBQ, and beer to boot. SeaWorld invited me over to check things out during the weekend when Styx was performing. It was a perfect small venue for a band that used to play arenas and has no less fans 30 years later. The intimate setting ensures every seat is a good one – even ours – the very last row of the stadium.
The BBQ options filled the air with heavenly scents. SeaWorld had its own offerings from its on-site BBQ restaurant, as well as Tony Roma's, Cecil's Texas Style Bar B Q and Sonny's Real Pit Bar-B-Q sharing their finest creations. It was a great mix and easy to sample many locations instead of being locked in to just one place.
The brews were offered individually, or in the form of sampler packages, for those wanting to try it all. The beers offered were mostly craft beers, an excellent complement to the BBQ booths.
Carnival games lined the walkway for the kids, and a display of Harleys from the Orlando Harley-Davidson stores were also on hand.
It was a great addition to an already fun day at SeaWorld, so if you have the chance, check it out this last weekend, where Rodney Atkins with Uncle Kracker and Sheryl Crow will perform. Here is the full line up from this season so you can get an idea of what to expect in future years:
Saturday, February 9            Chris Young with Jerrod Niemann
Sunday, February 10             Merle Haggard
Saturday, February 16          The Beach Boys
Sunday, February 17             Styx
Saturday, February 23         Big & Rich
Sunday, February 24            Third Eye Blind
Saturday, March 2                Daryl Hall and John Oates
Sunday, March 3                  Darius Rucker
Saturday, March 9               Michael McDonald
Sunday, March 10                Josh Turner
Saturday, March 16              Rodney Atkins with Uncle Kracker
Sunday, March 17                Sheryl Crow
For more details about Bands, Brew & BBQ visit www.SeaWorldOrlando.com