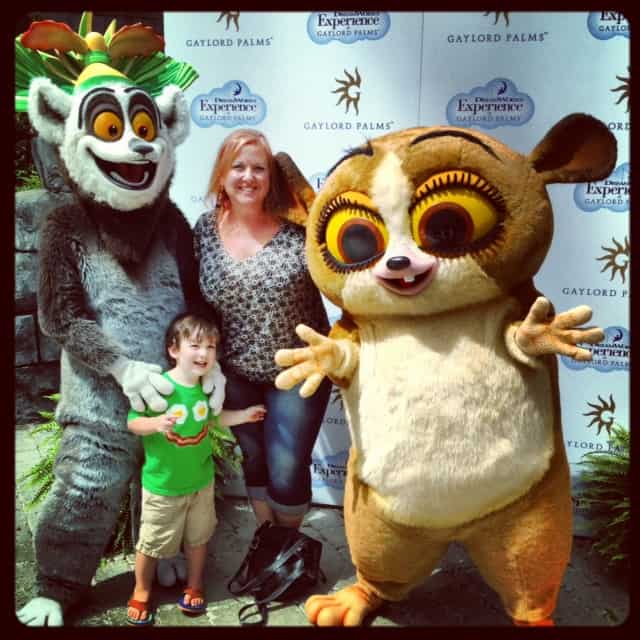 This morning we learned that the 2012 season of Gaylord Palms Resort's ICE! will feature Alex, Marty, Gloria and the whole gang with a  Merry Madagascar theme. Alex the Lion and King Julien were on hand last year with the Kung Fu Panda themed ICE!, for character greetings. Now in addition to Alex and Julien, there is a Mort and Gloria and penguins characters as well. Mort is simply adorable and my favorite, so I was excited to see him there.
ICE! is an amazing display of sculpted ice along with some play areas as well. Gaylord Palms will present ICE! from November 10, 2012  – January 1, 2013 and will be themed after the Dreamworks Animation holiday special Merry Madagascar. An interactive world of colorful ice sculptures and four two-story ice slides carved entirely from two million pounds of ice. It is truly breath-taking (and don't worry, winter parkas are provided!).
Gingy's Gingerbread Decorating will be back this year as well, where you can choose from two different options to create a gingerbread cookie family or a complete gingerbread house – don't forget the gumdrop buttons! Gingy will be on-hand for photos after you finish your edible creations.
Gaylord Palms also offers amazing holiday decor throughout the sprawling Florida-themed resort. Holiday lights, trees and entertainment as well as scavenger hunts offer plenty to keep you in the Christmas spirit.
ICE! tickets start at $22.99 for adults and $13.99 for children – you can call 407-586-2000 or head to ChristmasAtGaylordPalms.com for more information. There are also special packages starting at $189 per night, where you can enjoy the beautifully renovated rooms and Cypress Springs Water Park within the resort grounds.
I can't wait to Move It, Move It! in November!
Oh, and as a special treat – Gaylord Palms brought in Vanilla Ice to sing his hit "Ice Ice Baby" for this fun announcement. Vanilla Ice is back and better than ever! Check out the video of his performance below: