I always love any chance I get to hang out at the Gaylord Palms Resort – it is like another little self-contained world. Actually, there isn't anything little about Gaylord Palms. From the moment you walk in the lobby, the space is awe-inspiring and the attention to detail and theming just gorgeous. I think I could spend all day just wandering around and exploring the Florida-themed sections of the hotel (and they realize this and offer kids scavenger hunts as a result!). The rooms and dining are just as fabulous, making it a place a family or couple could truly escape and never leave the grounds for a mini-vacation.
Gaylord Palms knows how to entertain families as well. They have two holiday packages coming up, one for Halloween featuring Shrek and Kung Fu Panda  – who wouldn't want to trick-or-treat around 4.5 acres of hotel gardens?! Of course, their amazing Christmas experiences such as ICE!, decorations, shows and more! The official information follows – I can't recommend the Gaylord Palms Resort enough, it's just beautiful!
 …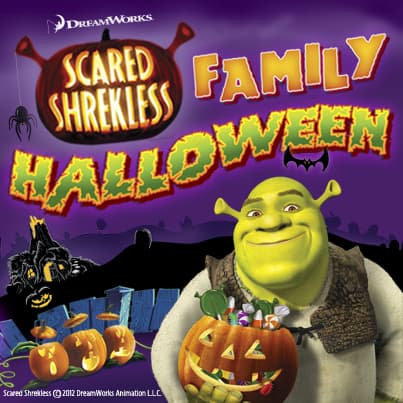 Gaylord Palms Resort invites guests to come out and experience Halloween a little early this year during Scared Shrekless Family Fun, an interactive experience featuring beloved characters from DreamWorks Animation SKG Inc.'s Madagascar franchise and this summer's hit film Madagascar 3: Europe's Most Wanted, along with friends from the Shrek and Kung Fu Panda franchises.
Package guests can dress up in their most spooktacular costumes; trick-or-treat around the resort's 4.5 acres of gardens; participate in a kids'costume contest with prizes; make ooey, gooey Swamp Sludge; dive into fun at the Madagascar Crack-A-Lackin' Pool Party and much more ghoulish fun!
Scared Shrekless Family Fun at Gaylord Palms offers families a safe and weather controlled environment to celebrate the Halloween holiday. Overnight packages begin at $179 and are available on October 13 and October 27. For more information visit www.DreamWorksExperienceatGaylordPalms.com or call 407-586-2000.
…
ICE! featuring DreamWorks' Merry Madagascar
Celebrating its 10th year, ICE! is back and features an all-new awe-inspiring tribute to the unforgettable DreamWorks' Animation TV classic Merry Madagascar. Guests can relive the story of how Alex the Lion and his friends saved Christmas after Santa and his reindeer crash onto the island of Madagascar.
Thrill-seekers can take a trip down one of four, two-story ice slides. With more than 20,000 square feet of exciting hand-carved sculptures made of 2 million pounds of ice, the frosty 9-degree bliss of ICE! is Florida's favorite frigid Christmas tradition. A team of 40 talented artisans from Harbin, China, spend more than a month in Kissimmee creating this one-of-a-kind attraction.
While visiting Gaylord Palms to take in the excitement of ICE!, guests can also amplify their Christmas experience with one of these special events available FREE of charge:
Majestic Christmas Tree Lighting — Guests looking for a more traditional treat can enjoy Gaylord Palms' famous tree-lighting ceremony, complete with singers, carols, lights and the star of the show, a massive 54-foot-tall majestic Christmas tree! It towers over the St. Augustine atrium, waiting for the special moment to light up and cast holiday cheer on guests.
LIVE Stage Shows — As part of the holiday lineup, Gaylord Palms offers live stage entertainment, including the spirited Luminescence Christmas show, throughout the Christmas season. Shows take place in the Emerald Bay Plaza, and guests are welcome to attend, free of charge!
Polar Bear Pursuit Scavenger Hunt — Guests can take a joyful jaunt throughout the indoor atriums to spot cleverly hidden polar bears. Answers are entered online to be eligible to win a grand prize.
The festivities don't stop there! Guests can also participate in a few of their favorite things (additional charges apply):
ShrekFeast Interactive Character Breakfast — Kids will love becoming an honorary Ogre and joining Shrek and friends for a fairytale feast fit for a king. Tableside hugs and photos included! This experience features a Magic Fountain bubbling over with delicious chocolate potions and Shrek-shaped waffles with syrup.
Gingy's Gingerbread Decorating — This fun, sticky, interactive decorating tradition just got a whole lot sweeter! Hosted by Gingy, the most famous of all Gingerbread men, you can choose from several different design options. After you've decorated to your heart's content (don't forget the gum drop buttons!), make your way to meet Gingy for a heartwarming hug that you can capture with your own camera.
The best way to benefit from all that Gaylord Palms has to offer is to book a room and become immersed in the splendor of Christmas. Guests seeking to jingle all the way into their holiday hoopla can purchase special "Christmassy DreamWorks Experience" packages starting at $189 per room per night!
Specially designed with all of the activities above, packages include tickets to ICE! and the exciting adventures of DreamWorks Animation's latest feature film, in theaters November 21st, Rise of the Guardians Scavenger Hunt, in which the whole family will search throughout Gaylord Palms' spectacular indoor atriums and enter their answers online to win a grand prize. Enthusiasts can then meet the whole DreamWorks gang with a "Character Passport" that allows them to stroll through Shrek's beloved swamp for a face-to-face encounter with the green ogre himself; explore the island of Madagascar; discover China's ancient Valley of Peace where Po, the Kung Fu Panda, has become a true kung fu master; and greet Gingy in a giant gingerbread house.
A DreamWorks welcome amenity package, character wake-up calls and a family photo are also included in overnight packages for guests to commemorate their unforgettable visit. Additionally, they can enjoy special holiday menus at the expansive dining outlets and attractive holiday merchandise at the myriad specialty shops.
ICE! is open daily from Nov. 10, 2012 through Jan. 1, 2013, including holidays. Ticket prices range from $13.99 to $29.99. For more information and to purchase tickets, go to www.ChristmasAtGaylordPalms.com.
Gaylord Palms Resort is located five minutes from the gates of Walt Disney World at 6000 W. Osceola Parkway, Kissimmee, FL 34746. For more information, visit www.gaylordpalms.com or call 407-586-2000.
Be sure to "Like" Gaylord Palms on Facebook to get the most up-to-date information and promotions!