Podcast: Play in new window | Download
Subscribe: RSS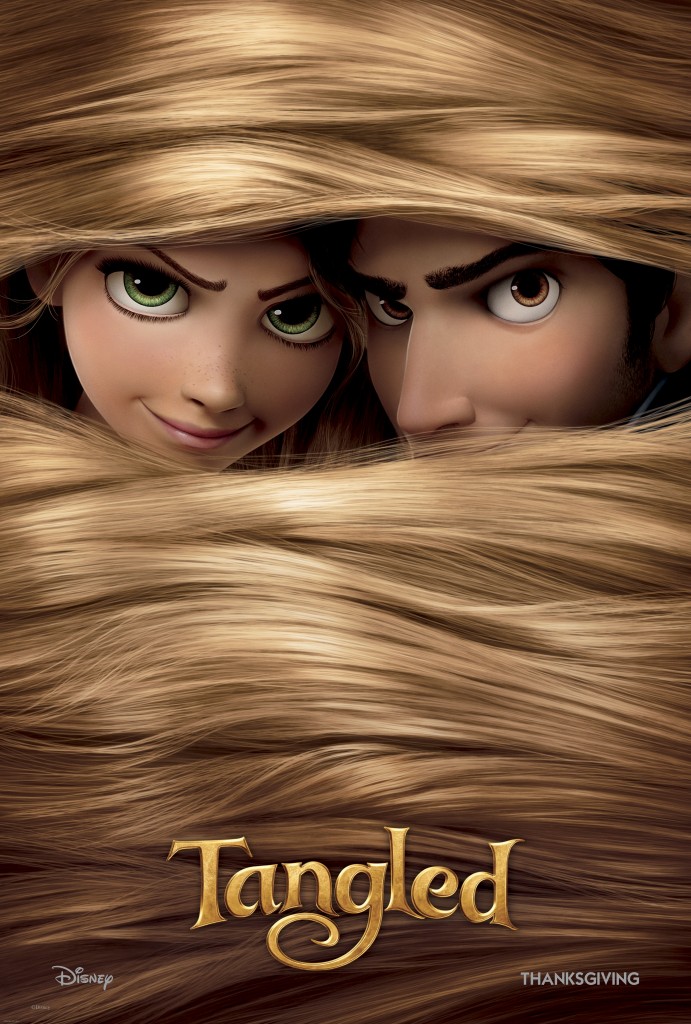 Walt Disney Pictures presents "Tangled," one of the most hilarious, hair-raising tales ever told.  When the kingdom's most wanted—and most charming—bandit Flynn Rider (voice of Zachary Levi) hides out in a mysterious tower, he's taken hostage by Rapunzel (voice of Mandy Moore), a beautiful and feisty tower-bound teen with 70 feet of magical, golden hair.  Flynn's curious captor, who's looking for her ticket out of the tower where she's been locked away for years, strikes a deal with the handsome thief and the unlikely duo sets off on an action-packed escapade, complete with a super-cop horse, an over-protective chameleon and a gruff gang of pub thugs. In theaters this holiday season in Disney Digital 3D™, "Tangled" is a story of adventure, heart, humor and hair—lots of hair.
Rapunzel may have lived her entire life locked inside a hidden tower, but Rapunzel is no damsel in distress. The girl with the 70 feet of golden hair is an energetic, inquisitive teenager who fills her days with art, books, and imagination.  Rapunzel is full of curiosity about the outside world, and she can't help but feel that her true destiny lies outside of the lonely tower walls.  Rapunzel has always obeyed Mother Gothel by staying hidden away and keeping her magical hair a secret… but with her 18th birthday just a day away, she is fed up with her sheltered life and ready for adventure.  When a charming thief seeks refuge in her tower, Rapunzel defies Gothel and seizes the opportunity to answer the call of the kingdom.  With the unwilling Flynn Rider along for the journey, Rapunzel leaves the tower for the first time, and begins a hilarious, hair-raising journey that will untangle many secrets along the way.
Several images from the film have been released, including the newest – Mother Gothel.  She may be controlling, manipulative and over-protective, but Mother Gothel is the only mother Rapunzel has ever known.  By stealing Rapunzel as an infant and raising her in the tower, Gothel ensured that she alone would have access to Rapunzel's magical hair, which she uses as her personal fountain of youth. Gothel loves Rapunzel more as a possession than as a daughter, and uses every weapon in her arsenal – including a constant flow of subtle jabs, backhanded compliments and over-the-top guilt trips – to keep Rapunzel hidden away. When Rapunzel finally defies her wishes and ventures out into the world, the delightfully deranged Gothel will to stop at nothing to get her little girl back into the tower.
Rapunzel's one true friend is her silent, color-changing sidekick, Pascal. Pascal may be just a small chameleon, but he plays a big role in Rapunzel's life. Confidante, coach and cheerleader, Pascal is a driving force behind Rapunzel's decision to leave her lonely tower. This supportive and encouraging companion's true colors just might hold a key to unlocking a royal mystery.
The ultra-confident Flynn Rider is his own biggest fan, and he has long relied on his wit, charm and good looks to get out of even the stickiest situation – and Flynn's life just happens to be full of sticky situations. Flynn is a thief looking for the one last, big score that will allow him to finally live the life he's always dreamed of.  He's never been closer to having it all when he meets Rapunzel, an odd girl with ridiculously long hair.  Rapunzel seems to be the only girl in the world immune to Flynn's moves, and for the first time ever he seems to have met his match.  An unlikely alliance with this girl from the tower sends Flynn on the adventure of a lifetime, and helps him realize that sometimes you don't know what you want… until it hits you over the head… literally.
The Captain of the Guard's horse, Maximus, has made it his personal mission to capture the wanted criminal, Flynn Rider. Fearless in his pursuit, the horse defies danger to follow Flynn where other guards refuse to go – it seems nothing will stop this "tough-guy cop" from getting his man.  Once Maximus meets Rapunzel his heart softens, and he begins to see the world differently.  What started as a relentless pursuit may just be the beginning of a beautiful friendship.
Here are some Fun Facts about Tangled:
MAKING IT HAPPEN
"Tangled" marks Walt Disney Pictures' 50th full-length animated feature.

Directors Byron Howard and Nathan Greno both became interested in careers as animators after visiting Disney's Animation Studio at Walt Disney World.  While waiting to get accepted into the program, Howard served as a tour guide and spent his days on the outside looking through the glass at animators at work.

Rising stars Byron Howard and Nathan Greno take the helm, infusing the fresh talent of the animation industry's newest generation of directors.  Howard directed Walt Disney Animation Studios' "Bolt," the 2008 animated comedy adventure that grossed more than $300 million worldwide and earned two Golden Globe® nominations (Best Animated Film and Best Original Song), and an Oscar® nomination for Best Animated Feature.  Greno, a 14-year Disney animation veteran, served as head of story on "Bolt," and has animation and/or story credits on "Mulan," "Brother Bear," and "Meet the Robinsons."

Animation supervisor Glen Keane's real life daughter, artist Claire Keane, was responsible for designing and painting the storytelling mural that adorns the walls of Rapunzel's tower home.  In real life, Glen drew inspiration from his daughter in helping to conceptualize the Rapunzel character, recalling her irrepressible nature and penchant for drawing on walls.
A HAIR-RAISING ESCAPADE
Rapunzel has 70 feet of golden hair and more than 100,000 individual strands

Special software had to be created to simulate movement for the hair, no one had ever animated that much hair before and no leading lady has ever had that much hair before!

If all the hairs on a single head of hair 12 inches long were laid end-to-end, they would stretch 26 miles. If all the hair on Rapunzel's head were laid end to end they would stretch for 1,820 miles.

Ten women from the production grew their hair out during the making of the film; ultimately each cut about 10 inches of hair to donate to an organization that makes real-hair wigs for people who've lost their hair due to illness.
Hair software engineer Kelly Ward (one of three software experts charged with creating the hair simulation for Rapunzel and all of the film's main characters) got her computer science PhD in the study of hair, and has spent the last ten years specializing in that area.  She is considered one of the leading experts in her field.
DETAILS, DETAILS
The film features an exciting climactic scene with a dazzling, lantern-filled skyline.  Every lantern has its own animated fire that contains 10,000 micro points of light. The highest lantern count in a shot is 46,000 lanterns, which equals 460 million points of light!

The waterfall and stream in the tower valley were animated to match the characteristics of streams and waterfalls in California's Yosemite.  The effects supervisor took a two-day trip and shot more than 150 video clips for reference. The art directors were then able to pick out their favorite characteristics. More than 10 million individual water droplet "points" make up the waterfall.

Grizzly River Run in Disney's California Adventure Park was used as inspiration for water leaks on the rickety wood dam that bursts. In the film's final scene, 23 million gallons of virtual CGI water were released in the collapse of the dam.

The immersive fog that creeps in around Gothel and Rapunzel at the campsite is also intended to symbolize the emotional effect of Gothel clouding Rapunzel's mind.

More than 2,000 Mario Kart Races were played by the production team in an effort to stay sane through the long hard hours!
CUE THE EXTRAS
The "Tangled" animated cast includes five main characters, 21 thugs and 38 townspeople.  Leading up to the film's dramatic lantern scene, the Disney effects team was called upon to create a crowd that consisted of nearly 3,000 people.  This is the largest crowd that the Studio has ever created for a CG feature.
Like TANGLED on Facebook at: www.Facebook.com/DisneyTangled.
TANGLED hits theaters everywhere in Disney Digital 3D™ on November 24, 2010.