Season 2 – Episode 9 (Episode 24) of Up the Waterfall
One of the things that makes us love Disney so much is the ability to transport us. Whether it's visually or through sounds, smells and movement, Disney parks have some of the Best Special Effects around. We've discussed some of the Biggest Hits (and Misses) of Disney parks, and among that list were things like animatronics. Jumping off from that point, this week on Up the Waterfall, Scott and I each share our picks for the best special effects used by Disney Imagineers that really "changed the game" so to speak as far as attractions go. And as always, we know that attractions doesn't necessarily mean rides.
With all of the amazing ride and Imagineering technologies available today, one of the things we explore is that it can sometimes be the simplest of effects that have the biggest impact. For example, growing up, for both Scott and I, the effect of "fire" in Pirates of the Caribbean burning village scene. Another of Scott's favorites (and mine once I finally got to Disneyland) was the "lava" in the Primeval World diorama on the Disneyland Railroad. Simple rolling logs covered in foil, with lighting, has the uncanny appearance of flowing lava.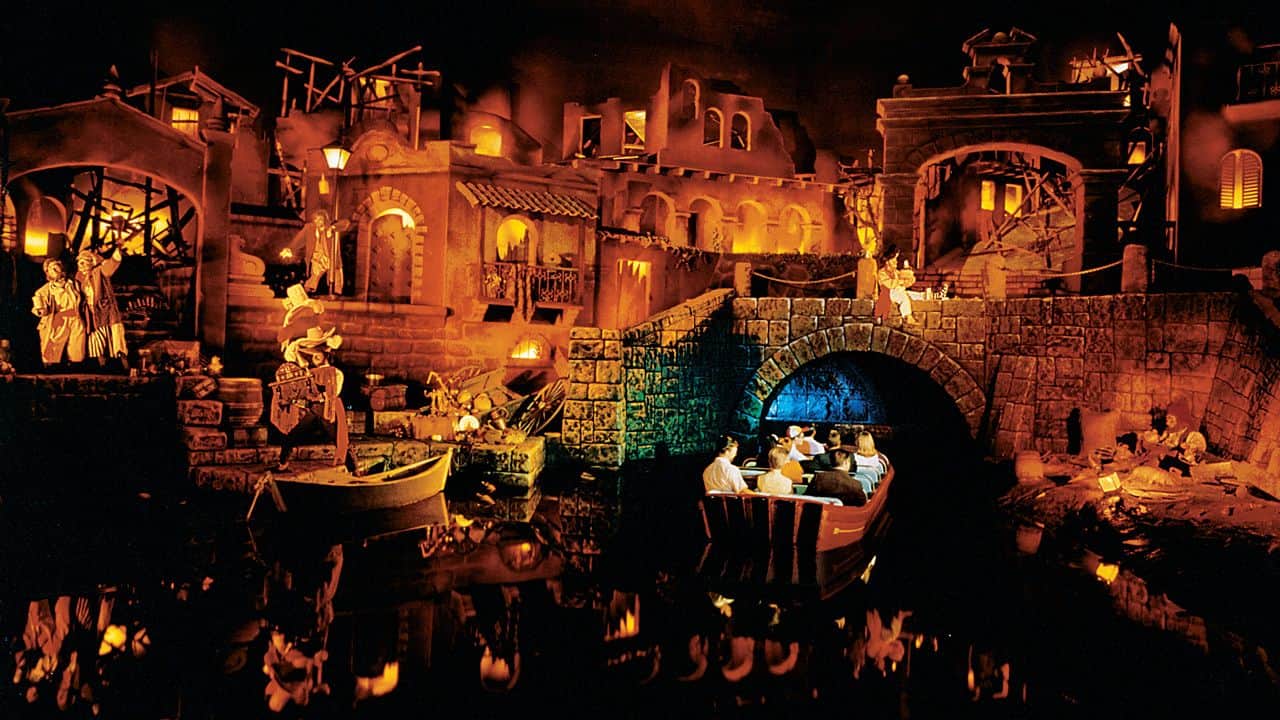 Effects like this laid the groundwork for today's Na'vi River Journey's Shaman of Songs animatronic, or the newest attractions of Rise of the Resistance and Mickey and Minnie's Runaway Railway (which we don't discuss too much to be completely spoiler-free).
Get comfy and listen along or watch below and see if our list matches yours – OR – if we left one of your favorite Disney special effects out of this episode! Feel free to comment below with your picks, or if you disagree with our choices. If you enjoy our show, we'd love you to subscribe to Up the Waterfall podcast, either on your podcast app of choice, or on Zannaland's YouTube channel, to see all of the fun as well as hear it. Keep reading below for all the places to find and listen or watch.
Thank you for reading, watching, and listening as we go Up the Waterfall!
You can watch this Best Special Effects at Disney episode here:
We hope you enjoy this week's episode of Up the Waterfall!
How to Listen to Up the Waterfall
You can listen anywhere you download and listen to podcasts, including: 
(If there's a podcast service where you can't find our show, let us know and we'll get it added there!)
How to Watch Up the Waterfall
Head to our Up the Waterfall YouTube Playlist – where you can see our opening sequence and see some unique images during some episodes.
Feel free to comment below with your opinions on ANY of these hot button topics, any questions or info you'd like to add, or if it's easier, head to the Zannaland Facebook page and join the discussion there with fellow Disney Parks fans!
Zannaland and Up the Waterfall Community – Let's Connect!
FOLLOW THE ZANNALAND FAMILY ON SOCIAL MEDIA, WATCH OUR VIDEOS, VLOGS AND PODCAST TOO: 
We thank you for your support and for sharing the love!