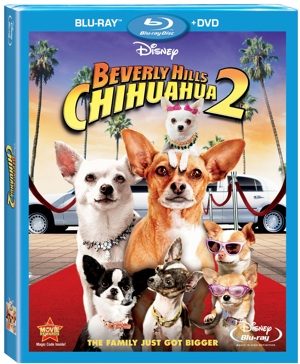 Walt Disney Studios Home Entertainment proudly announces the return of the greatest Chihuahuas to walk on all fours in Beverly Hills Chihuahua 2! Chloe & Papi are back in an all new, ¡Ay yay yay! fun-filled adventure—and their family just got bigger. Meet their rambunctious, mischievous and hilarious litter on February 1, 2011 when Beverly Hills Chihuahua 2 comes out on a Blu-ray™ combo pack (include Blu-ray and DVD of the movie), 1-disc DVD.
From the creators of Beverly Hills Chihuahua, everybody's favorite talking Chihuahuas are back in a comedy that's a pack of outrageous fun for the whole family. Puppy mayhem turns the lives of newlywed Chihuahua parents, Papi and Chloe, upside down when their playful puppies present one challenge after another. But, when their human owners find themselves in trouble, the tiny pups will stop at nothing to save them—because in good times and hard times, the family always sticks together. Papi, Chloe and the puppies embark on a heroic adventure, proving once again that big heroes come in small packages.
Featuring an all-star cast, including George Lopez (voice of Papi), and complete with a litter of bonus features, this heartwarming tale of the meaning of family, friendship and loyalty is a special breed of fun—times five.
My family was able to preview Beverly Hills Chihuahua 2 and it was a big hit with my tweens. Who doesn't love tons of puppies all dressed up? Favorite parts were the adorable fashion show and bedtime stories with Papi. I'm sure your little puppies will love it too!
Bonus Features:
DVD
French & Spanish Tracks and Subtitles
Sneak Peek at Sharpay's Fabulous Adventure
Learn How To Take Your Favorite Movies On The Go
Dylan & Cole Sprouse: Blu-ray™ Is Suite!

Bonus

Music Video: "This is My Paradise" By Bridgit Mendler
Blooper Faux Paws
BLU-RAY offers all of the above plus:

1.78:1/ Enhanced for 16×9
Beverly Hills Chihuahua Challenge – interactive game show led by Papi
Disney has also come out with some activity sheets to share with you.  Have fun reading your dog's horoscope, taking a quiz and much more!
Also in celebration of the release of the new Disney DVD and Blu-ray, "Beverly Hills Chihuahua 2," Social Media Moms are hosting a fun Twitter Party on Thursday, January 27th.  Parenting tips is the topic of discussion and they will also be giving away some prizes!
More details and information on how to RSVP at the link below.
Enjoy!