Via Napoli almost instantly won my heart as my new favorite place to dine at Epcot. I'm not even a huge pizza fan, but I just loved everything about this place, from the atmosphere and cast members to of course, the food (much more than just pizza). I covered opening day at Via Napoli as well as another trip with my husband. When out of state friends came to visit Walt Disney World, we naturally met up at Via Napoli for dinner. I recommended my favorite dessert to my friend that night and he loved it. So imagine my sadness when I dined there today with my mom and children (who still had never been) and the dessert menu was missing two items!
The Gelato Frizzante (my favorite!) and the Copa Di Brutti Ma Buoni (Good but Ugly Sundae) were completely removed from the list. I fell in love with the Gelato Frizzante when we had little samples of it opening day and ordered it again at each visit. My husband tried and loved the Copa di Brutti ma Buoni on his first visit and also enjoyed it. I asked our server what happened but she just said they were taken off the menu. Could we really be the only people that liked them? Perhaps they were too labor intensive to make? In any case, it makes me sad, but since I was usually too full from the meal to have needed dessert, I guess it's probably a good thing in my case. I always overdid with the Gelato Frizzante! Here are some pictures of the new dessert menu – no items have been added, simply the two removed items: (click to enlarge the photos)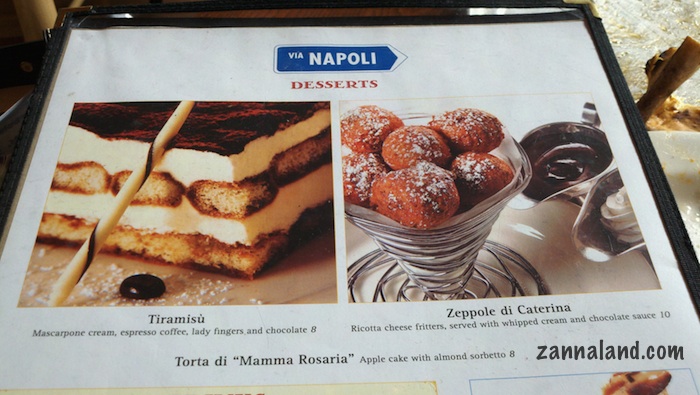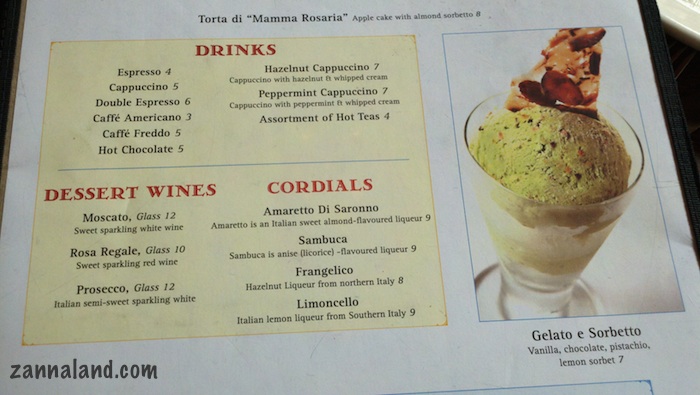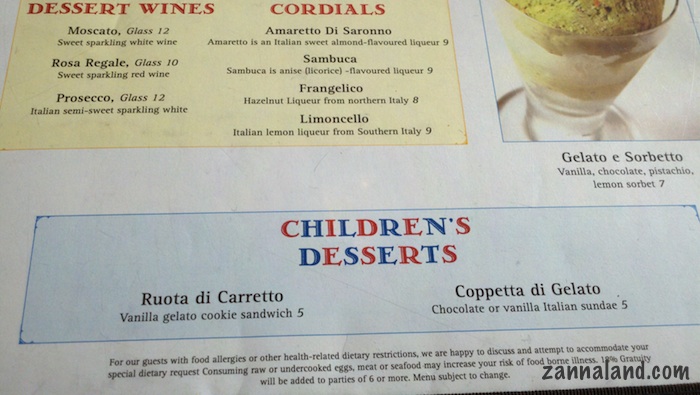 Be sure to check out my other reviews of Via Napoli and don't let the dessert menu changes stop you from this amazing spot!