During a shareholders meeting this morning, Disney CEO Bob Chapek announced new details for the upcoming spider-man themed ride at the Avengers Campus, opening this summer.
Titled 'Web Slingers: A Spider-Man Adventure,' the ride will give guests their own web-slinging powers as they team with Spider-Man to take on an army of spider-bots on the loose.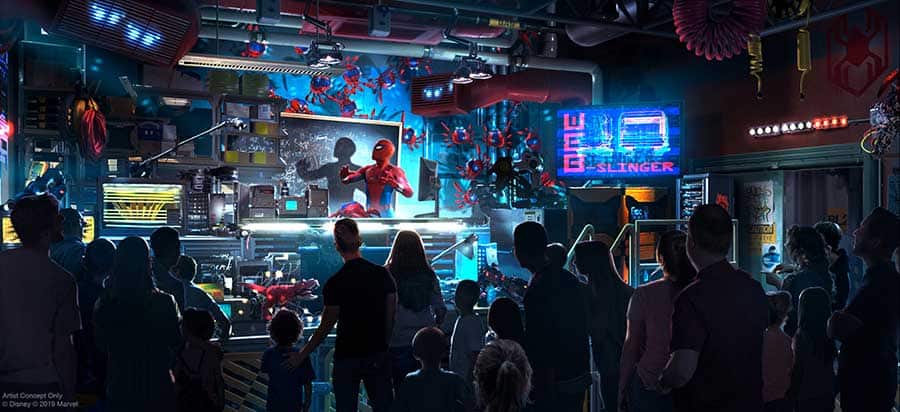 Walt Disney Imagineering creative executive director Brent Strong reveals,
At WEB, young inventors like Peter Parker have been brought together by Tony Stark to help create technologies that allow everyday people like us to have powers just like the Avengers. When we get inside, we find out that they're not quite as well funded as Stark Enterprises. They're not quite as militaristic as SHIELD. In fact, they're not all that organized at all. These are some kids that have some amazing power, right? Vibranium from Wakanda, Pym Particles from Ant-Man. They have arc reactors from Tony Stark. In fact, they probably have a little bit more power than they have responsibility.
In a ride similar to this, Toy Story Midway Mania, guests use a blaster triggered by pulling a cord to hit targets. Superpowers don't work like this though, and the folks at WDI had to figure out a more natural and immersive way to perform tasks on this new attraction.
What you won't see is people holding onto a blaster, people holding onto an interface. Believe it or not, with nothing in your hands, you get to reach out and you will sling webs on this ride. In order to do that we invented a brand new interface.

This is the first time we've ever shown this outside [of Imagineering]. This is a gesture recognition system that we have built into every slinger vehicle and sixty times a second, we are able to determine where a guest's head is, their shoulders, their elbows, and even their wrists. We're able to track the motion of your body so that when you reach out and sling a web, since we know where your eyes are, and we know where your hands are, we can render a virtual web coming right out of the palm of your hand, right out of your virtual web-shooters and into a virtual world.
Strong also said that there are no age or height requirements for the ride, making it more accessible to all families.
This is something where guests of all ages get to live out that epic action, which is wonderful.
The ride will feature Spider-Man himself, as voiced by Tom Holland, who will explain the situation before loading guests into the new ride vehicles, called 'slinger vehicles.'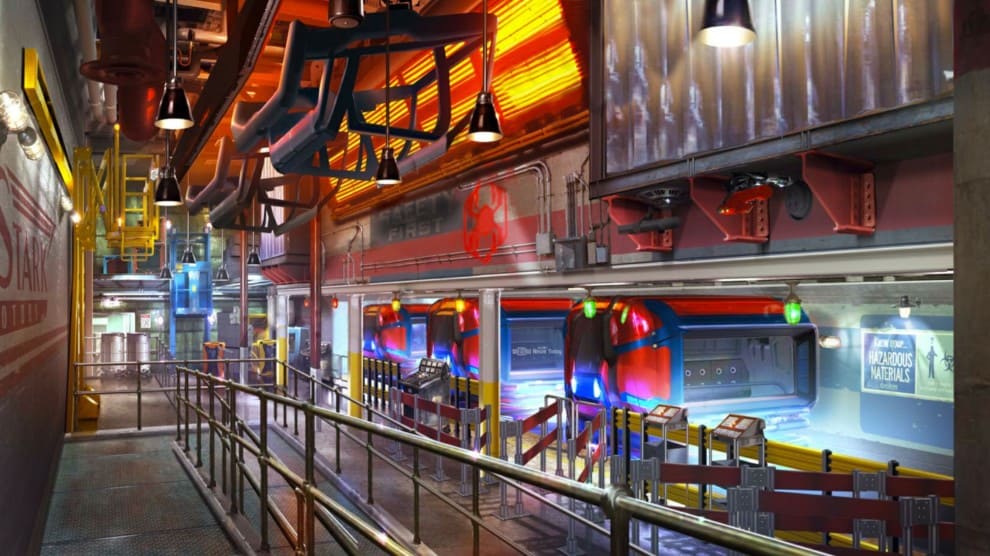 Earlier this year, it was also announced that the ride would feature a brand-new, stunt-performing animatronic of the web-slinger himself.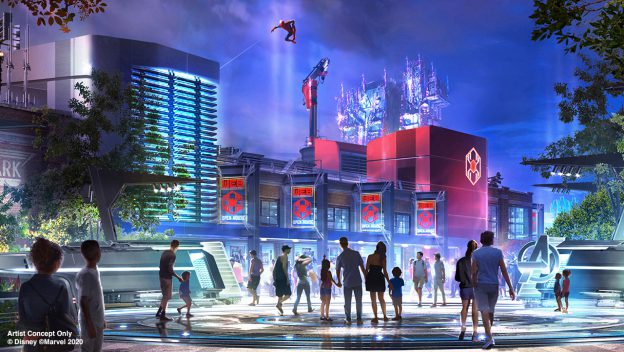 We're super excited for this brand new experience at Disney California Adventure, so stay tuned for all our future updates on it!
The Avengers Campus opens July 18th, 2020 at Disney California Adventure park.