A little while back my friend wanted to come over and make a Beef Wellington for the first time ever. I've seen enough Gordon Ramsay shows to know that dish was a bit too intimidating for me to even attempt. Not wanting to be completely useless, I decided to make us some appetizers using the goat cheese we'd just brought home and some frozen puff pastry shells we had. Now before you think, wow, Zanna has written a whole paragraph and there is no mention of Disney – what gives? Well, I'll have you know that whenever I think of goat cheese, I think of Tony's Town Square restaurant in Magic Kingdom, which at one time served a baked goat cheese appetizer and it was divine. So that's what made me decide to whip this up that night. I posted a picture on Twitter and got many compliments and requests for a recipe, so I thought I'd share.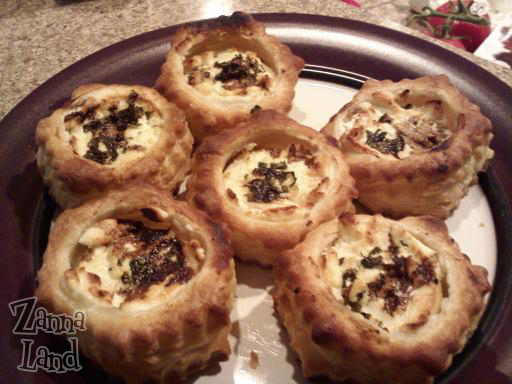 Ingredients:
Pillsbury frozen puff pastry shells
Log of goat cheese Olive oil Balsamic Vinegar Fresh basil
Follow the preheating instructions and place the tarts on a non-stick cookie sheet, or one lined with parchment. Slice rounds of the cheese and place on top of the tarts. Drizzle with olive oil and balsamic vinegar to your tastes. Chop the basil and sprinkle on top. Bake according to tart instructions or until golden brown. If you don't want the inside part of the tarts to be a little doughy, cook them for about 5 minutes without the cheese and toppings, then add those and continue cooking. Let cool slightly and enjoy!
You can of course mix and match any other toppings you like, or even use your own puff pastry recipe. As is it's just a really easy, elegant appetizer to serve up during a dinner party or anytime. It'll look like you spent hours slaving over a hot oven, when really, it took minutes!