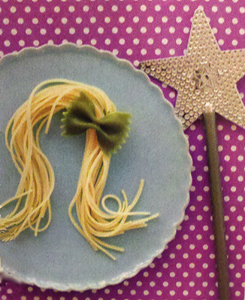 I was flipping through the November issue of Parents magazine, and this little article in the "Time for Fun | Play With Your Food" section caught my eye! I Thought I'd share it for all those with little ones who are as excited as we grown-ups about Disney's upcoming animated feature Tangled! I'm sure even the little prince's out there would love this fun twist on pasta.
Here's what Parents magazine says to do:
"Boil a handful of angel-hair (capellini) pasta plus a few green bow ties (farfalle), and toss in butter or olive oil. Place angel hair on a plate as shown, and decorate with a bow tie. "
I'm going to try this out with my princess and two princes, I hope you will too!
Don't forget Disney's Tangled opens in theatres on November 24 – when Rapunzel will let her hair down with her best friend Pascal the chameleon, Flynn Rider and Max the horse!
All images ©Parents Magazine and Disney.