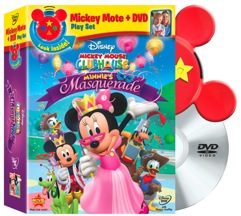 This latest release features four playful Minnie-themed adventures previously seen on the Mickey Mouse Clubhouse TV show, a never-before-seen episode, and a free paper mask with festive embellishments that kids can personalize. And as a special option for consumers, Disney has packaged a version of the DVD to include the exclusive Mickey Mote – a child-friendly handheld remote control, shaped like Mickey ears, that takes children's viewing experience to a whole new level of play. The DVD + Mickey Mote Play Set is the ultimate value for moms and equally fun and engaging for kids! The Mickey Mote uses infrared wireless technology and may not be compatible with all devices.
Mickey Mouse Clubhouse: Minnie's Masquerade starring Disney's Fab Five — Minnie, Mickey, Donald, Goofy and Daisy – takes viewers on an all new adventure as they dress-up in their favorite costumes for Minnie's Masquerade Ball. In this episode, Minnie needs some help getting everything ready for her party including making royal crowns for their costumes, searching for Sir Goofalot's lost shoe, stringing up paper lanterns and much, much more. At the ball, Professor Von Drake hosts the great Clubhouse Costume Show and gives out prize ribbons to all the friends who have dressed up in some funny and fancy costumes. All it takes is a heaping helping of imagination…and the right Mouseketools.
About Disney's Exclusive Mickey Mote:
Disney's Mickey Mote works with any Disney Preschool DVD that includes the Discovery ModeTM feature – an interactive "Watch & Play" feature on the DVD. All parents have to do is program the remote control – there's an easy and quick set-up guide in each DVD- and select the Discovery Mode feature on the menu screen. Within minutes, kids will be easily responding to questions, throughout the story, about scenes they just watched by pressing one of four color-coded buttons on the device — a yellow star, green circle, orange triangle or blue square – to click in their responses. Discovery Mode features include two levels of play, which provides more challenging questions as the child grows.
The Mickey Mote can be used with any Disney Preschool DVD that includes the Discovery Mode feature. To date there are more than 11 titles that can be used with the remote control, just take a look at the back of the package to make sure. The Mickey Mote really was easy to program and my little guy loved being able to play along and interact!
Check out a clip of the all-new episode on Minnie's Masquerade DVD:

Even though I have a little Prince and not a Princess, he absolutely loved this DVD. It totally captured his attention and he wanted to wear a crown and be a Prince, so his big sister made him one out of construction paper to wear. This is a great addition to our family's collection and toddler-preschool entertainment!