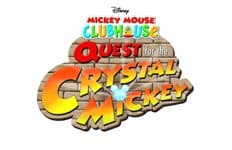 Around my house, the promotion for the Quest for the Crystal Mickey on Disney Junior was quite a build up. My four-year old was SO excited, we had to show him on a calendar just how many days until it premiered and of course set up to record it as well. So when I saw it was coming to DVD, of course, I knew he had to have it. He was not disappointed and it is still one of his favorite shows to watch. I think anything with "quest" in it instantly makes things more exciting, don't you? The best part is the DVD comes not only with that episode of Mickey Mouse Clubhouse, but also 3 others so it really is a DVD you can pop-in and ensure your little ones have quality family entertainment for a good while. The episodes included are:  Mickey Mouse Clubhouse: Quest for the Crystal Mickey, Donald of the Desert, Donald the Genie, Goofy's Coconutty Monkey, and Goofy's Giant Adventure.
Here are more details, if you happened to miss the show when it came out:
Join Mickey, Minnie, Pluto and all their pals in the newest Clubhouse crusade. When the legendary Crystal Mickey
goes missing, Mickey and friends go on an adventure to save the Clubhouse from losing its magic. Grab your hat,
buckle your seatbelt, and get ready to embark on a thrilling adventure in "Mickey Mouse Clubhouse: The Quest for
the Crystal Mickey!"
There's no time to lose after greedy Plunderin' Pete snatches the legendary Crystal Mickey statue from the Clubhouse. Without this sparkly statue's magic, the Clubhouse will
disappear forever!
Can the world's most extraordinary hero "Kansas City Mickey," get the magical statue back in time? Only with help from young viewers at home…and the right Mouseketools can Mickey journey across the Sandy Desert, brave the Rushing River and make his way through the Hidden Jungle. But watch out for Pete's trickiest traps!
You can bring the Mickey Mouse Clubhouse: Quest for the Crystal Mickey
 into your home today, as it is currently out on DVD. You'll be singing along in no time! You can also check out Mickey Mouse Club House daily on Disney Junior.