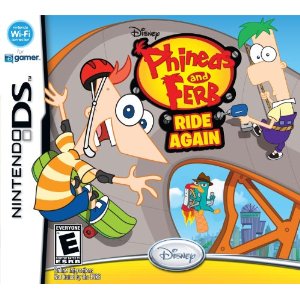 With a household of gamers, I had no trouble getting someone to give me their opinion of the new Phineas and Ferb: Ride Again Nintendo DS game I was given to review from Disney Interactive Studios. Here's what the family thought of the game:
Disney Interactive has delivered a fun game for fans of the popular Disney Channel show Phineas and Ferb; Phineas and Ferb: Ride Again for the Nintendo DS and DSi. The game follows the adventures of the title characters as you guide them through the environments of Danville looking for parts to build various contraptions. There are many mini games to break up the action and keep the game play fresh. You can also download content to share rides and compete against friends.
A personal favorite is a Pac-man style game in which you try to collect screws for a project while steering clear of Candice. After playing through the first level of the game the only complaints were that Perry was relegated to being a "save point" and is not included in the game play elements, although you can play as Agent P. while he battles Dr. D and his robots. Finally, the open style of game play, having no defined path through which to complete a level, may prove to be a little frustrating for younger players. Overall Phineas and Ferb: Ride Again is a fun and satisfying game for fans of Danville's most famous residents.
Disney's Phineas and Ferb: Ride Again
is available now on Nintendo DS and Dsi. The single-player game is rated E for Everyone and retails for $29.99. For more information including screenshots and game trailer, head over to Disney Interactive Studios Phineas and Ferb: Ride Again page.