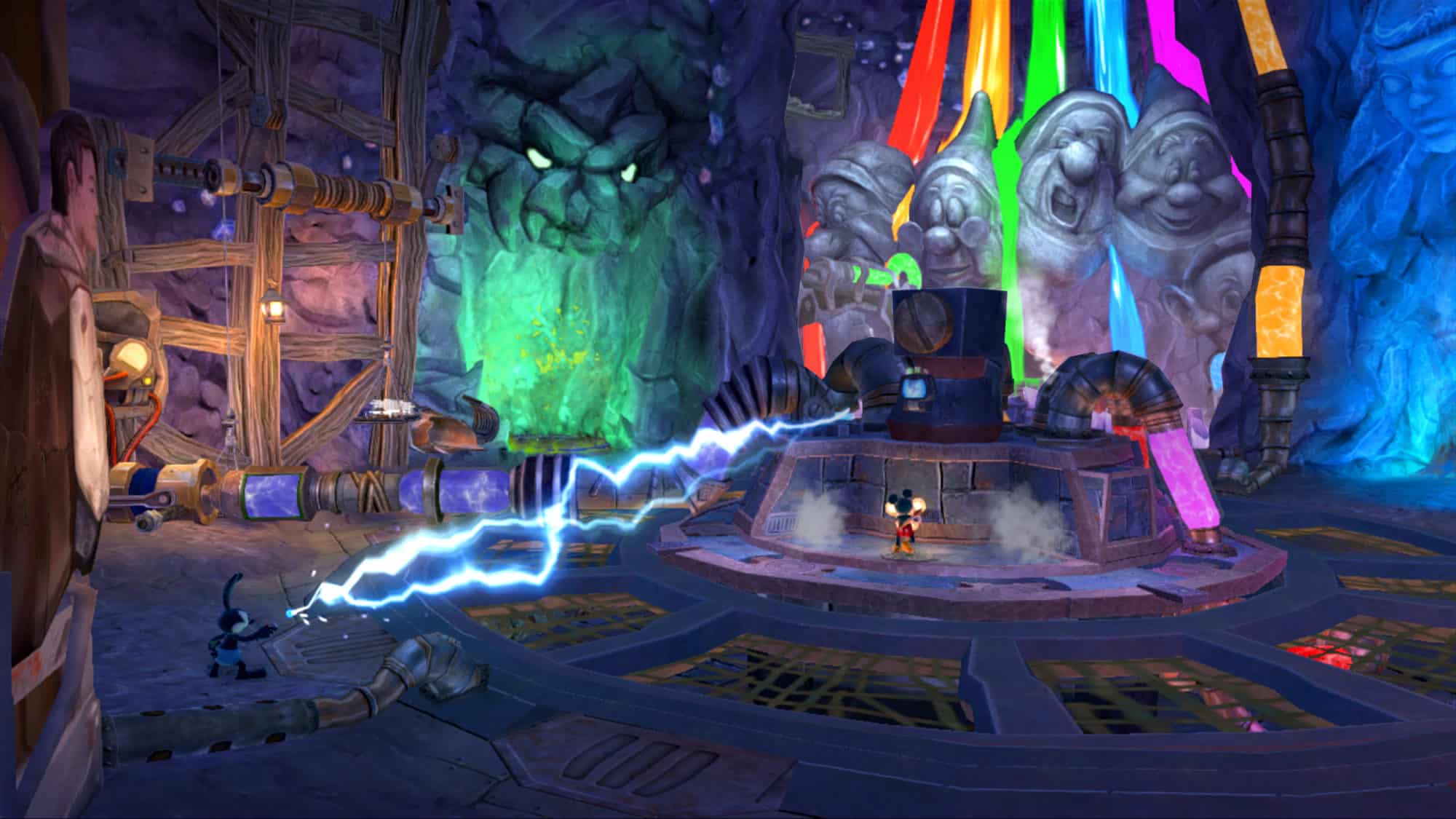 For this review, I enlisted the help of the gamers in my household, my husband and son, to get some more official opinions from those that know what they are doing with a controller. Below are their thoughts, and then head over to read my reaction after playing the Power of Illusion version on Nintendo 3DS back in September. Happy playing!
If you hadn't heard about Epic Mickey 2 – here is a synopsis of the game: In "Disney Epic Mickey 2: The Power of Two," gamers will play as Mickey Mouse and for the first time ever, Oswald the Lucky Rabbit, Walt Disney's first cartoon star, in an all-new adventure of creativity and discovery.  Created by industry luminary Warren Spector and Disney Interactive's Junction Point game development studio, "Disney Epic Mickey 2: The Power of Two" returns Mickey Mouse and Oswald the Lucky Rabbit to Wasteland, an alternate world filled with 80 years of forgotten Disney characters and theme park attractions.  But for the first time, Mickey and Oswald will join forces as true partners – Mickey with his magical paint brush that wields paint and thinner, and Oswald with his powerful remote control that allows him to command electricity.
My 13 year-old had this succinct review of his time playing: The art design was really cool and the scenery and backgrounds were really fun to play through and walk around in. Overall gameplay was really fun, with lots of items to collect and lots to keep you entertained. Playing as a single player was a bit frustrating as you had to wait for Oswald to come over and do his parts of the game, but that was the only downside.
Whereas my husband had a bit more to say:
The much anticipated followup to Epic Mickey is a great game on the Xbox360.  Dazzling graphics highlight the game, and fans of the original game will not be disappointed.  However, Epic Mickey 2 is not without its problems, minor as they are.
Although they are rare, there are still some camera issues left over from the first game.  You will find yourself cursing the camera as it auto-zooms to awkward angles while you are climbing rock piles or running into rooms.
Unfortunately the story seems to get in the way of the game.  The graphics and game-play draw you in and really make you want to play.  Just as you get into a groove running around Mean Street, you realize that you are stuck having to go back collect an item, or take a picture, or complete a task that you overlooked.  A little bit of "free play" would have made this game perfect.  The story is not linear, even though it seems like it would have been easy enough to make it so.  When you first enter the game you are bombarded with side-quests and story details that are hard to remember and juggle.
Now for the good news.  Many of the control issues that plagued the first game have been taken care of in Epic Mickey 2.  You will no longer find yourself losing at critical points because Mickey does not move or paint in the directions you expect him to.  The movement is smooth, and game-play is very enjoyable.
Also, the developers did a good job of interweaving side-scrolling platform levels into the game.  They do so in a way that is not obtrusive to player and does not have you stalling to remember how to control the game.  You can effortlessly move from the 3D, third-person view of Mean Street, to the side-scrolling of the D.E.C. without losing a beat.
But, by far, the biggest plus to this game is the two player action using Oswald.  A second player can control Oswald and join in the game, helping Mickey along in his adventure.  Oswald has his own powers and his own part to play in completing puzzles and tasks.  This makes the game a far more rewarding, fun, and collaborative experience for two players.
Single people; fear not – if you play the game on single play, the computer controls Oswald, completing his tasks for you automatically. This leaves single players open to worry about the unfolding story tasks.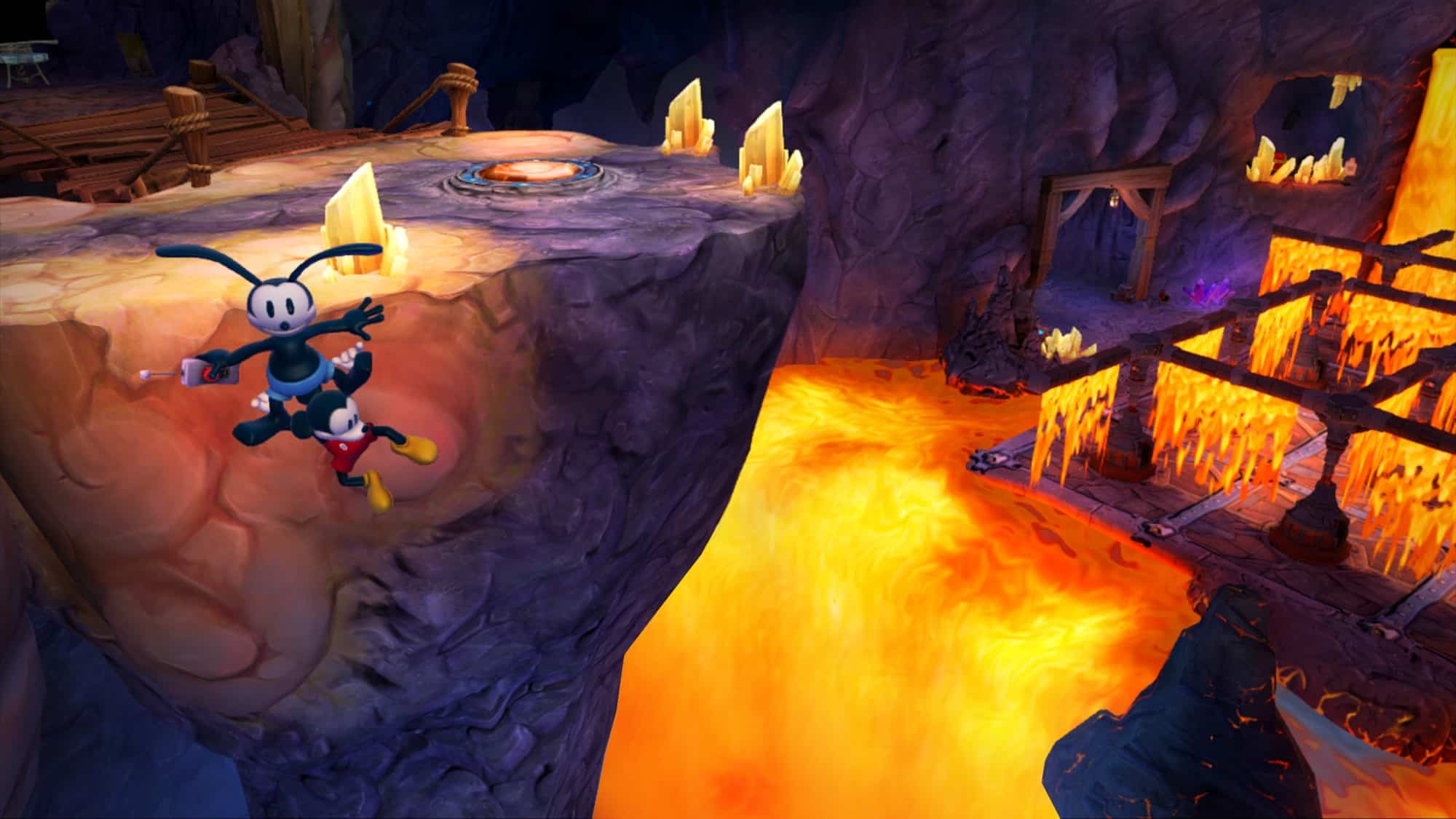 "Disney Epic Mickey 2: The Power of Two
" is rated 'E' for Everyone by the ESRB, and is now available for the Playstation 3

computer entertainment system, Xbox 360
and Wii U
for a suggested retail price of $59.99 and Wii
for a suggested retail price of $49.99. "Epic Mickey: Power of Illusion
" is also rated 'E' for Everyone by the ESRB and is now available on the Nintendo 3DS
for a suggested retail price of $39.99.
Disclosure: I was provided with a complimentary Xbox360 and Nintendo 3DS game for review purposes. Thoughts and opinions expressed here are those of the authors. Links included are affiliate links.