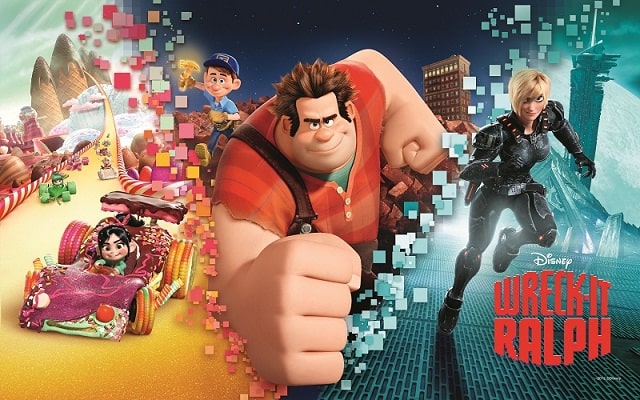 I will admit, I fell in love with Wreck-It Ralph before I even saw one clip from the movie. We first heard about it at the Disney D23 Expo in Anaheim in August of 2011. When I heard it was an 8-bit game bad guy that traveled to other video games, I was instantly hooked. Being an Atari child, I remember like it was yesterday the Christmas morning when my big brother got his Atari 2600 and our lives were changed forever. Even though it was his present, I spent hours, way too close to the t.v., playing Q*bert, Pitfall, E.T., Pac Man, and Yars Revenge (which I never did understand the point of), among countless others. More than that, at the time my father was the general manager of a restaurant which had a lounge containing several table-top arcade games. Centipede became MY game and I'd sit, amid the smoking and drinking, just to better my score (things were different in the 80's kids). So you see, Wreck-It Ralph had my heart before the trailers even came out. Once I saw not one, but two preview screenings (thanks to the Disney Parks Blog and a media screening via my own blog), I was not disappointed.
Wreck-It Ralph is a triumph of story, characters, and animation. The story is one we can all related to; feeling under-appreciated and trapped in your current position and willing to do anything to change your situation. The characters, although a mix of existing video games and the new games created for the film, all work perfectly together and you truly feel for the members of Bad Guys Anonymous, or the out of work Q*bert creatures. You might think it difficult to give 2-dimensional video game characters a backstory, but Disney does it and does it well.
The animation is, in a word, breathtaking. The attention to detail within the Game Central areas, the fun, polished 8-bit setting of Fix-It Felix and Niceland, and the sharp, HD animation within Hero's Duty all just work together flawlessly. And then, we have Sugar Rush. I, like many of my friends that saw the film, want to LIVE in Sugar Rush. It is just SO. PRETTY. The landscapes, the impeccable detail down to every sugary crumb, is just beautiful. The writing here is hysterical too, lots of candy puns and visual gags to keep you laughing. As my friend and I noted during the movie, once you get to the Sugar Rush scenes, it's impossible not to want candy, so make sure you arrive to your seat well-stocked with movie snacks!
I truly hope Disney develops the other games featured in Wreck-It Ralph into full video games. While Fix-It Felix is a fun, nostalgic romp to video games past, Sugar Rush is a game I would find myself completely addicted to. And I know people online were asking to play Hero's Duty as well. The games are just that good in the film, you don't want to leave them behind when the credits roll. Even down to the theme songs for the games; Hero's Duty is epically composed by Skrillex in a song that gets everyone's heart pumping, while the Sugar Rush theme is sung, in English and Japanese, by Japanese supergroup ABK48 (and is now my phone's ringtone).
Back to the story, believe it or not, it is a heartwarming tale of friendship and redemption. Without the full-on heartstring-pulling that Pixar is known for, I actually did shed a tear at the end of the film, when Ralph discovers his importance in the life of a child. Truly a life message, which Ralph delivers very matter-of-fact-ly, without sappy good-byes or any sad ending. I was completely satisfied when the movie ended, happy with every aspect of the film. I think this is an instant Disney classic and a home run for the entire Disney Animation team. So walk, run, jump, double jump, or "Up, Down, Up, Down, Left, Right, Left, Right, B, A" your way to theatres NOW to experience Wreck-It Ralph yourself.
Disclosure: I was provided a free screening of the film, and also attended a free screening held by the Disney Parks Blog. My opinions are my own and unaffected by this. It's just that great!