I first visited Discovery Cove when they were building their Grand Reef area over a year ago. Before that, I must admit, I thought it was just a place to swim with dolphins and that was it. BOY, was I mistaken. Even before the Grand Reef expansion, there was so much to do at Discovery Cove, it really is a hidden oasis tucked into lush, tropical landscaping where you can escape the hustle and bustle of the local area theme parks and do something we all could do more – relax!
I was shocked to learn some of the details of Discovery Cove back then, and of course, since that time, the Grand Reef is now open and offers amazing salt water snorkeling experiences, and the new Freshwater Oasis is open, where you can swim next to otters and marmosets. I figured if I was so in the dark about exactly what Discovery Cove has to offer, some of you might be too.
I've put together a list of 10 reasons why you need to put this on your must-do list and make it a part of your next Orlando vacation:
10. Swim With Dolphins – When I thought Discovery Cove, I thought dolphin interaction – but what exactly does that mean? Here guests can swim with an  Atlantic bottlenose dolphin during a 30-minute interactive adventure. Accompanied by a trainer, groups of six to eight guests wade into shallow water and become acquainted with their dolphin through hugs, kisses and rubdowns. Then, taking the adventure one step further, guests interact with their dolphin in deeper water for an exciting dorsal fin tow ride back to shore. Guests must be at least 6 years old for the dolphin swim experience.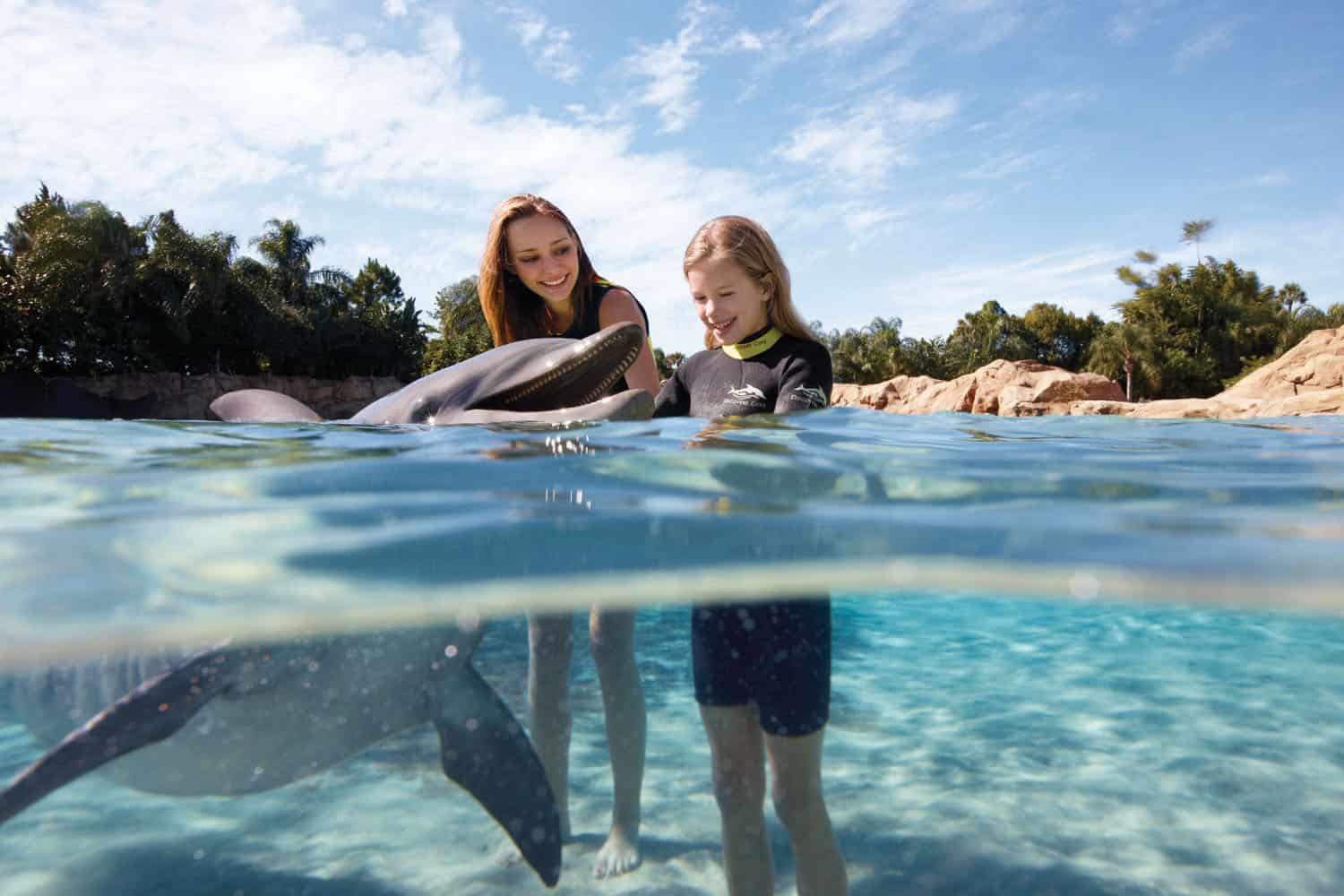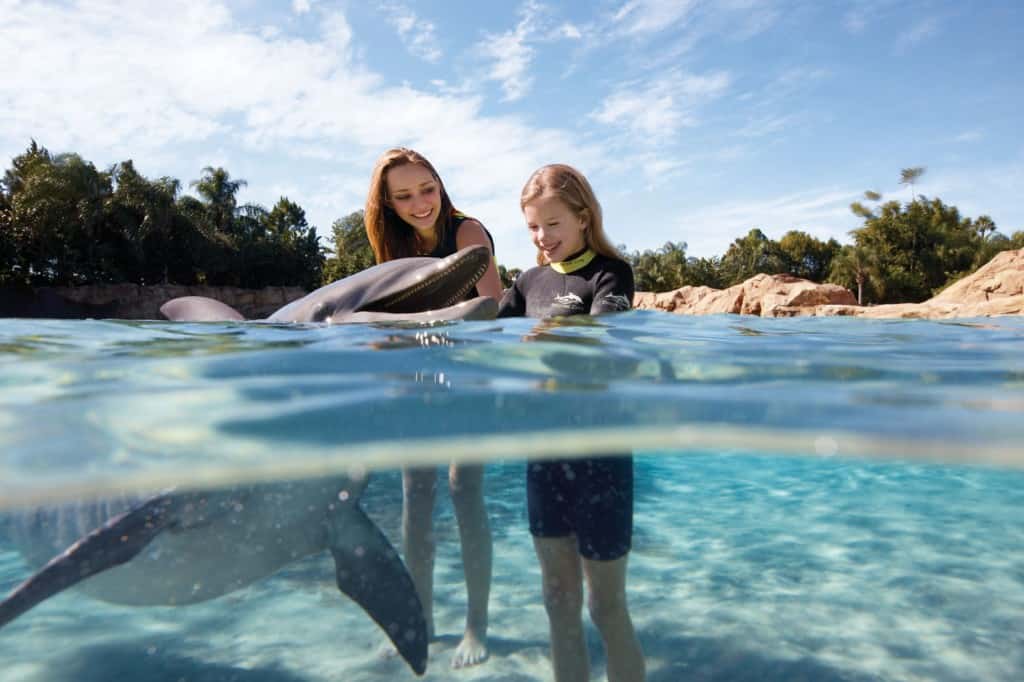 9. Swim Among Rays and Tropical Fish – Such detail was put into the planning and creation of the Grand Reef, and it recreates some of the most famous tropical canyons around the world. I stepped in for the first time recently, and was amazed to see gigantic (like, almost Fiat-sized) rays floating right by my feet. Other tropical fish are also swimming about and you can check them all out with your snorkel and mask. There is an area to see Lion Fish behind glass and more to explore within the reef.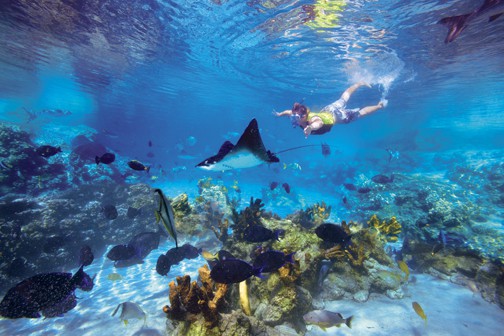 8. SeaVenture Underwater Walking Tour – is an underwater walking tour where guests, wearing dive helmets, find up-close encounters with sharks (safely behind massive panoramic windows), one-on-one touches with unique animals and schools of fish and gentle rays.
7.Wind Away River – I also explored this for the first time last week and was pleasantly surprised at the experience. You hear "lazy river" and you think floating around passively in an inner tube for a spell. Wind Away River is so much more. You float or swim through caves, under waterfalls, through areas with a huge water depth, see fallen artifacts under the clear water, float through an aviary and more. It is truly an adventure and I loved it.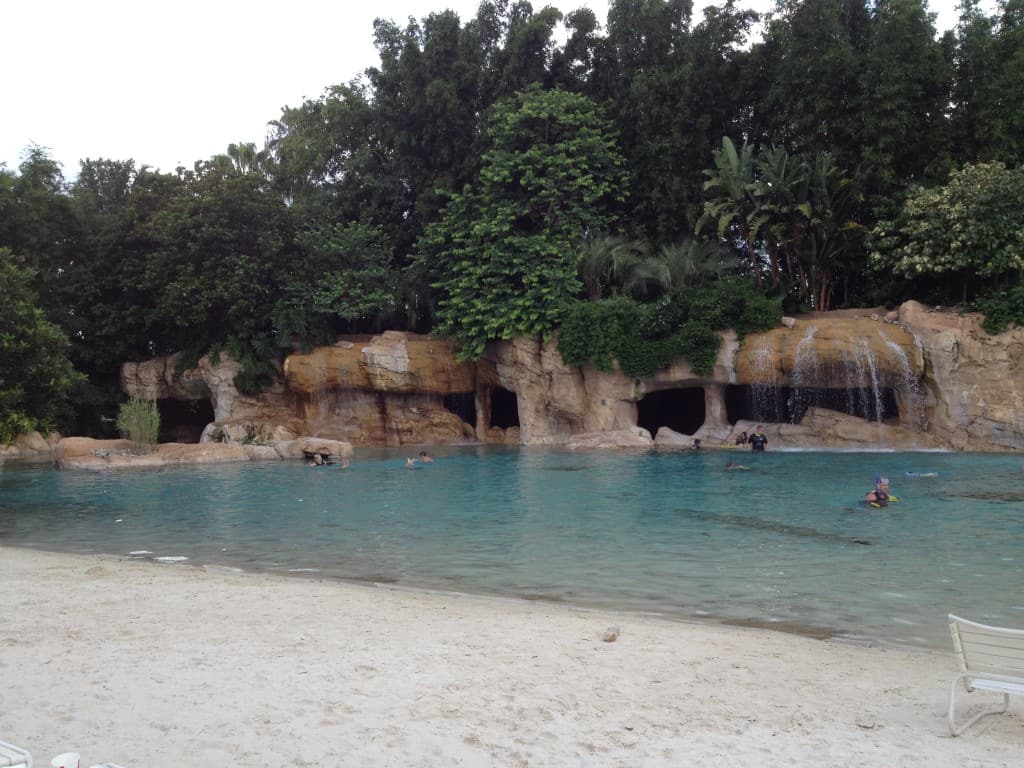 6. Freshwater Oasis – This newly opened area is an alternative to the chilly salt water in the Grand Reef. Here the clear waters contain no fish, you can float around or snorkel just to explore the various rocky structures in the Oasis. There is a fun area in the center called Monkey Island, where marmosets make their home and you can watch them eat and play in their natural habitat. The other section is a cave area where Asian small-clawed river otters play behind glass. You can view them as they dive under water, eat clams, or even sleep. Another area provides a shallow place to sit in a floating chair and just soak in the wonderful tropical atmosphere around you. Check out my video below:
5. White Sand Beaches – Each of the water-filled adventure areas are surrounded by beautiful white sand beaches. You can relax in a lounge chair, and watch the water around you. Guests can claim their own spot among the tall shady umbrellas, lazy hammocks, sunning lounges and beach chairs. Buckets and sand toys are sprinkled along the beach for kids to enjoy. (All amenities are included with admission.)
4. Aviary and Animal Appearances – I loved the aviary when we visited. The sheer number and type of birds is overwhelming. You can feel them right out of your hand, or just walk through and gaze at the colorful birds around you. Also throughout Discovery Cove are SeaWorld animal care experts with various animals for you to meet and even pet. We saw a tortoise, sloth, marmoset and kinkajou just in the couple of hours we were there.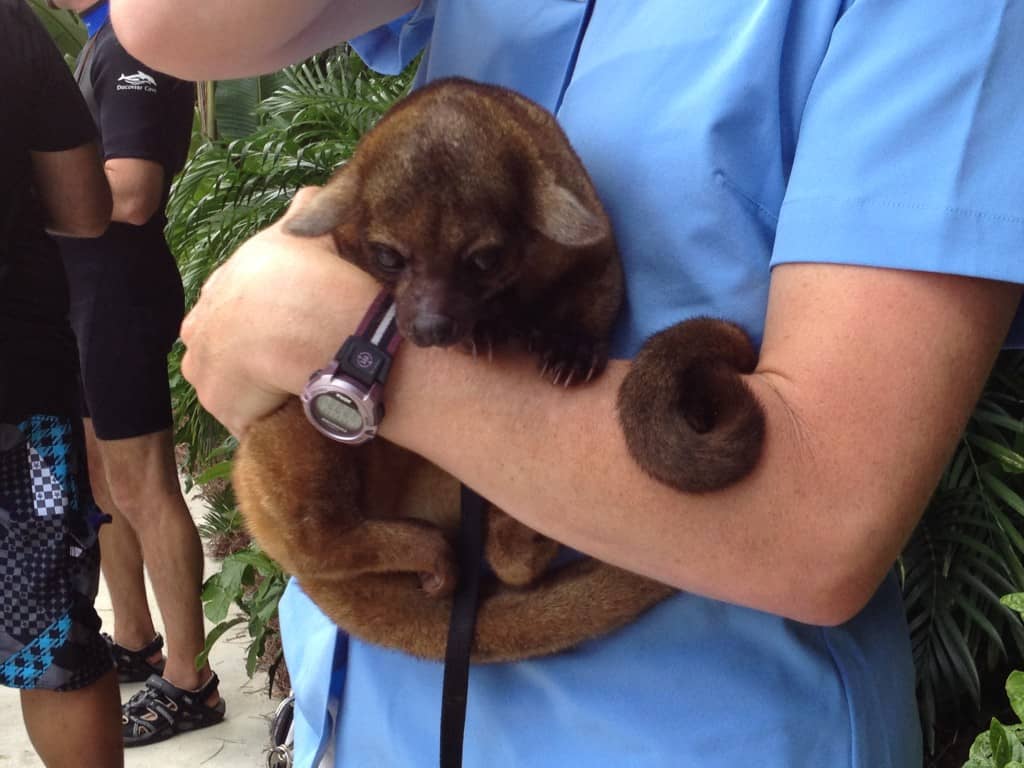 3. Attendance is Limited to 1000 Guests – I love this aspect of Discovery Cove. You leave the crowds behind and feel truly at ease and stress-free when you enter Discovery Cove. The area is big enough that you will never feel cramped for space or fighting for a good spot. It's heavenly!
2. Food is Included – Yes – you read that right. Your admission for the day includes meals and snacks! You are given an ID badge when you check in and you simply need to show it at the snack areas or restaurant to enjoy unlimited access to a fantastic selection of food and drink all day long. A full, hot breakfast is served at Laguna Grill until 10:30 a.m., followed by lunch from 11 a.m. to 3 p.m. From familiar fare to chef specials, all dishes are prepared with fresh ingredients and incorporate healthy elements, with daily seafood selections, salad options, and vegetarian dishes available. Snack stations throughout the park provide all-day service, and offer everything from yogurt and soft pretzels to fruit smoothies and gourmet coffees. Ice-cold beverages, including bottled water, juices, sodas, wine and beer are also offered all day. Talk about stress-free!
1. Your Ticket Includes 14 Days at SeaWorld or Aquatica – The biggest concern with Discovery Cove is admission cost. But as you can see above, your ticket includes SO much value. In addition, you are given passes to come back to SeaWorld or Aquatica – the water park next door, for 14 consecutive days – before or after your visit to Discovery Cove! Also included in your Discovery Cove day is: All swim gear (mask, snorkel, and swim vest or wetsuit), towel, locker, sunscreen and other amenities, all day self-parking, a complimentary photo portrait of guest and their party upon entry t0 park.
Have I convinced you yet?? I know I cannot wait to bring my whole family back to enjoy a full day of memory-making adventures. Due to the exclusive nature and 1000-guest limit at Discovery Cove, advance reservations are required.
Reservations and information are available by visiting DiscoveryCove.com or by calling 1-877-434- 7268. *Prices vary seasonally.
I was provided complimentary entry for myself to experience the new Freshwater Oasis, but all my opinions and excitement are my own.