Captain EO was one of the first topics I covered  a year ago when I started blogging about Disney. I had just heard the sad news of Michael Jackson's death, and felt the need to share some of my happy memories and give whatever tribute I could at that time. There was much chatter on twitter and elsewhere wondering if and hoping that Captain EO would return to the Disney Parks in memory of Michael Jackson. Disneyland was the first to experience the film again in February and Walt Disney World fans were happy to hear of its triumphant return this summer, with Disneyland Paris and Tokyo Disneyland rounding out the film's engagement this summer.
Beginning July 2, fans of all ages will get to see the film for the first, or perhaps 100th time. I was invited to preview (or is that re-preview?) the film today to see the new enhancements promised with the movie's return to its original home in the Magic Eye Theatre next to Journey into Imagination. As with most fans of the original EPCOT Center, there are so many memories tied to the time period that Captain EO was born into. As much as I loved the original 3D film Magic Journeys, Captain EO was a first rate replacement. I'm trying to think of a similar musical artist who could star in a film produced today and receive the acclaim that Captain EO did in its time…and coming up blank. There is a reason there was such a ground swell of support to bring this piece of musical, film and technological history back where it belonged. Can you tell I'm a fan?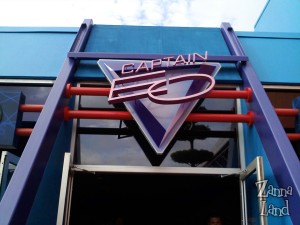 I wasn't alone in that sentiment today. Cast members previewing the show cheered as they entered the theatre and throughout the movie. Michael Jackson, and in turn Captain EO, are still King.
It was heartwarming to hear Dan Cockerell, Vice President of Epcot, trying to locate the original plans for the Captain EO triangle sign that used to hang at the entrance to the theatre. It turns out they didn't need the plans at all, the sign was hanging on an office wall – untouched for 16 years since the film left Epcot. They simply applied a new coat of paint and returned the sign to its rightful home.
The new effects fit in seamlessly and definitely add to the enjoyment of the movie. I don't want to give anything away, but let's just say you'll feel like you're right in the movie now in addition to dancing out the aisles as you exit.
It was also amazing to see just how many people had not seen the original film at all – not surprising, given the average age of new cast members just joining the company, but amazing nonetheless (and definitely makes me feel ancient!). They certainly did not sound disappointed and the film, the story, and the music have stood the test of time. Even my two older children are excited to see Captain EO in person. My son in particular has become a huge Michael Jackson fan over the year since he passed away and it really makes me happy that he can see the musical genius and artistry he with which he was synonymous.
If nothing else, Captain EO is a gift to the fans of his music; fans of a different time when Epcot was EPCOT. I for one, am grateful for that gift. It truly is a work of art to be preserved and passed along and I am thankful to Disney for giving it back to the fans today. I cannot wait to bring my children back to see Captain EO again and again, as my parents did with me, 24 years ago.
Enjoy some more photos from today's event: