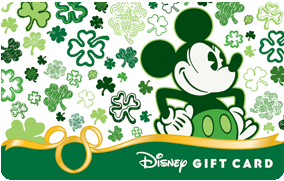 Who couldn't use ONE HUNDRED DOLLARS in Disney Gift Card form? The great thing about a Disney Gift Card is that they may be used at Disney Parks – for tickets, merchandise (Disney Dooney & Bourke anyone?), or dining, Disney Photo Pass, Disney Stores, Adventures By Disney, Disney Cruise Line – so many options! Now some fellow Disney bloggers and I are giving you a chance to win a $100 Disney Gift Card and entering to win is free and easy!
Simply log in to the widget below using facebook or your email, then click to "like" or "follow" the participating bloggers and complete your entry. There are even optional entries to increase your chances of winning.
Our contest is:
Open to residents of U.S. and Canada
Must be 18+ to enter
$100 Disney Gift Card will be mailed to the winner
Rafflecopter will automatically stop accepting entries at 12:01 a.m. EST on March 6. After the winner is drawn, the Rafflecopter widget will automatically start displaying that winner's name, so if you check back here to this post, you can see if you won (we'll also be notifying the winner by e-mail, of course).
Thanks to Theme Park Mom and Disney Every Day for organizing this group giveaway!
Good luck to all – and we hope you stick around after the contest for some great Disney and theme park content!