Everyone loves Disney books, and Scott has made no secret that it is his greatest passion. I recently bought him a couple of new releases that came out, and we were given a new holiday book to review – Holiday Magic at the Disney Parks. This book looked so amazing that I thought it deserved its own episode to share the fun and spread the word of this great new title. While we certainly could've devoted an entire hour to this one book (it's THAT chock-full of Disney holiday nuggets), we added a few more recent titles, like the Disney Monorail book and Disney Maps of favorite movies.
As promised, here is a rundown of the books we discussed. The links are affiliate links, which means no extra cost to you, but we will get a very small commission amount, which helps offset the costs to run Zannaland and Up the Waterfall. We appreciate your help and consideration. Just click on the book title or cover image to go to the link to purchase.
Mickey Mouse: From Walt to the World, by Andreas Dejas:
A companion book to a recent exhibition at the phenomenal Walt Disney Family Museum at the Presidio in San Francisco, California, this book details the global phenomenon of the Walt Disney Original, Mickey Mouse, and his contributions to the world, including black and white and color cartoons and films, merchandise, comic books, and even modern art. This book and all the other companion books for all the previous retrospective exhibitions at this first-rate museum are excellent keepsakes showcasing amazing displays. Very highly recommended.

The Disney Monorail: Imagineering a Highway in the Sky, by Jeff Kurtti, Vanessa Hunt, et al.:
This book is a fantastic must-have addition to anyone's Disney book collection. It is filled with not only the history of the monorail itself, but also how Walt Disney became interested in transportation, futurism, and the desire to bring monorails to the parks.
Here are some photos from the book (not high-quality scans, just to give you an idea of what lies in store!).

Disney Maps: A Magical Atlas of the Movies We Know and Love, by Disney Book Group:


This is a fun book that families will love. I know Gio would love getting his hands on this book to explore the various lands we know and love from Disney animated movies. It provides a character list and fun facts about each film too. Here is an example of the Ratatouille pages:
Entertaining with Disney: Exceptional Events From Mickey Mouse to Moana! by Amy Croushorn:
This book is like Pinterest in book form. Entertaining with Disney is all organized by theme and has detailed instructions for creating the crafts, making the snacks, and setting the scene for your exceptional Disney events. I got this book for Scott as kind of a joke because he's not really an entertainer in any way, but he is a completist, so he can cross this one off his list. However, *I* love it, and even if I don't make any of these super cool themed parties, it's really relaxing and fun to look at! Here's the Peter Pan spread:
The Art of Disney Costuming – Heroes, Villains, and Spaces Between, by Jeff Kurtti and the Staff of the Walt Disney Archives:
This book is a companion piece to the D23 Expo Archives exhibit from the most recent Expo in 2019. There are spectacular close-ups of the many beautiful and detailed costumes displayed there, as well as backstories. There are also sections on the costumes created for Disney parks, really fascinating stuff. Here are a couple of pages from the book:
Holiday Magic at Disney Parks: by Graham Allan, Rebecca Cline, and Charlie Price:
The headliner of this episode, Holiday Magic at the Disney Parks (out October 20, available for pre-order now) is a must-have for any collection. Packed with nearly 1,900 amazing photographs, it truly is an encyclopedia of information, detailing the history of the Fall and Winter holidays at Disney parks. This includes decorations, snacks and food items, parades, spectaculars, parties, and rethemed attractions at ALL of the Disney Parks, and Disney resorts as well.
Featuring comprehensive descriptions and photos, the authors have documented the history of these holiday offerings from Disneyland's earliest years to present day. This book is a great way to see all the holiday fun and remember the magic. We can't say enough about this masterpiece. Here are just a few of the many, many, pages of documentation: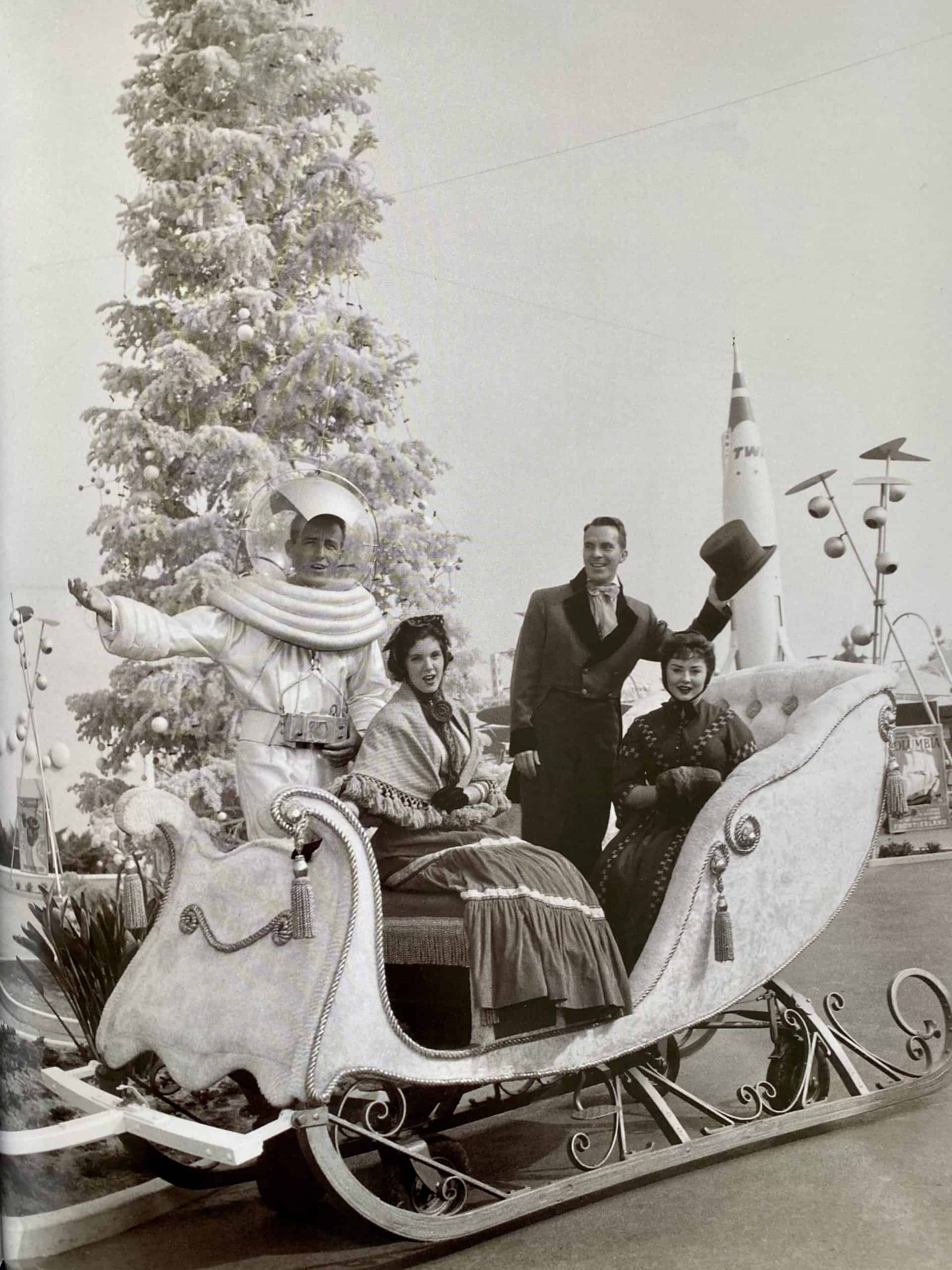 Again, these are not high-quality scans, just some photos to show you the treasures that lie inside these books. I know I can't wait to get my hands on them myself and dig into this Disney history. We hope you enjoyed this book-filled episode. If so tell us in the comments below, leave us a review wherever you watch or listen, give us a thumbs up on Zannaland's YouTube and Subscribe to see all our other videos. Thank you as always for watching and listening! We'd love to know if you pick up any of these titles for your Disney book collection! You can watch this week's episode right here:
---
As always, we thank you for watching and listening! If you enjoyed, please share with a friend so more folks can learn about our growing podcast! Thank you!
Listen to Up the Waterfall:
You can listen anywhere you download and listen to podcasts, including: 
(If there's a podcast service where you can't find our show, let us know and we'll get it added there!)
Watch Up the Waterfall:
Head to our Up the Waterfall YouTube Playlist – where you can see our opening sequence and see some unique images during some episodes.
Feel free to comment below with your opinions on ANY of these movie choices, any questions or info you'd like to add, or if it's easier, head to the Zannaland Facebook page and join the discussion there with fellow Disney Parks fans!
Zannaland and Up the Waterfall Community – Let's Connect!
FOLLOW THE ZANNALAND FAMILY ON SOCIAL MEDIA, WATCH OUR VIDEOS, VLOGS AND PODCAST TOO: 
We thank you for your support and for sharing the love!