If you follow me on instagram and facebook, you know that we got to experience a preview of the newest Walt Disney World Resort transportation system: the Disney Skyliner. I was super excited and yes, a little nervous to try this newest way to travel in Walt Disney World, and I was pleasantly surprised at how much I enjoyed it.
Being of the "Magic Kingdom Skyway generation" (aka over 30), I remember a time when riding the Skyway from Tomorrowland to Fantasyland (and back) was my favorite thing to do in the Magic Kingdom, and something I did every single visit. I was pretty heartbroken when the Skyway closed back in 1999, and even more so when I finally learned just how cool the Disneyland Skyway was, knowing I'd never experience sailing through the middle of the majestic Matterhorn. But this new Skyliner is not an attraction, at least that's not why it was built, it is a convenient and easy way to transport guests from certain WDW Resort hotels to either Epcot or Disney's Hollywood Studios. (But you can still ride it for fun if you want, which is exactly what we did last night.)
Riding the Sky(liner)
Before I get into the facts and figures, I will say it was a wonderfully enjoyable ride on the Disney Skyliner. Right after we took off from the Disney's Hollywood Studios station, we paused, right after passing the parking lot. Of course stopping like that mid-air was a little scary at first, but at no time was I worried we'd fall or the cable would snap or anything.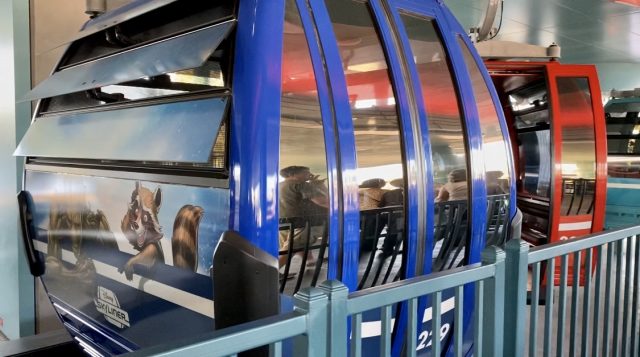 The main concern was that being stopped meant almost no air-flow through the vents of the cab, and yes, it did get a little toasty. This was at 6:30 at night, and the sun was directly shining on us, but it wasn't as hot as a 3pm in-the-middle-of-summer day. That said, the time we stopped was only a few minutes, and it wasn't unbearable. Most guests concerned with the extreme heat at Walt Disney World have some sort of personal fan or cooling device, so I think those that are worried will probably be prepared, and those that can handle direct sun for a few minutes will be okay. The good news is even if the wind isn't flowing through because you're not moving, the vents ARE still open, so you are still getting air, it just may not feel like it. The most common question whenever anyone asks about the Skyliner – "Is it air conditioned?" Well, once we were moving, the breeze was constant, and it was even windy in the cab. I've definitely been on the monorail when the "AC" wasn't really helping matters at all, at least in this case, you will have that breezy cross-ventilation as long as you aren't stopped.
Skyliner Safety
My other concern was loading and unloading the cab from the platform. I'd heard it was a little wobbly and it was, but, nothing so shaky that it caused panic. Yes, the cab moves a bit as you step on, but it is very sturdy and stable, and you feel that as soon as you step on. I do feel like some guests with less mobility or balance may benefit from a handle of some sort, but I'm sure that was looked into and may have caused more issues if people held onto it too long while getting out. So my suggestion if you have balance issues or walk slowly, is to have someone go out first and then give you a hand to help you out. It is slow enough that it should not be an issue, but of course, if you need additional assistance, or are in a wheelchair, they can stop the cabs to allow you more time to get in or out. The good news is the platform aligns perfectly with the floor of the cab, so there is no need for ramps or additional maneuvering to assist guests needing more time.
Skyliner Sunset
As I noted on instagram, we were lucky enough to time our visit to the sunset, and boy was that serendipitous! The views were amazing last night, and watching the sky dissolve from a bright blue, to hints of pink creeping in, to full on golden orange, followed by a dark purple and deep orange, was amazing. Christian has a video at the end of this post, so you can see how scenic it was, but I was really blown away by how beautiful it was and it's been a while since I experienced a sunset like that from such a unique vantage point. If you are planning to ride the Skyliner just for fun, I definitely recommend doing so around sunset!
Here is a gallery of photos from our Disney Skyliner experience to click and scroll through:
Disney Skyliner Facts & Figures:
Skyliner Stations:  5 – Disney's Hollywood Studios, Disney's Caribbean Beach Resort, Disney's Pop Century Resort/Disney's Art of Animation Resort, Disney's Riviera Resort, Epcot (see map above for line routes)
Skyliner Capacity: 10 guests, or 6 with a wheelchair. The seats are two wooden benches and you slide over to make room, similar to a Monorail-sized bench, but everyone gets a seat, there is no standing.
Skyliner Stroller Policy: If you have a single or tandem double stroller (not side by side), you can board normally and don't have to fold it up. The stroller or mobility aid must fit within a 30″ by 48″ area, so you may need to fold it up if you can't fit your stroller in that space. We asked a cast member and they hadn't gotten a double-wide stroller yet, so they were kind of unclear on how they'd handle that, but keep in mind, this is still in the technical rehearsal stage so they may have more info as they open to all guests.
Skyliner Food/Drink Policy: We asked about bringing food and drinks into the Disney Skyliner cab, and were told that everything was allowed except alcohol. I hadn't really thought of bringing anything on, until we passed the Joffrey's Coffee kiosk at the Caribbean Beach Station, and thought "ooh, coffee…" (and whoever thought to put that there, brilliant!) it's the perfect spot for it because the Caribbean Beach Station is where you would switch to go to Pop Century or Art of Animation, or on to Epcot or the Riviera Resort, so everyone has to get out here, and go to a different spot to re-load – why not stop and get a drink and a snack?
Skyliner Routes: As mentioned above, you do have to disembark and re-embark at some stations to get to your final destination. The only place you don't have to get off and get back on (right now) is Disney's Riviera Resort, because it's not open. I'm not sure if when that resort opens they will make you get off and back on, but I can't imagine they would because most people at that point would be heading to Epcot. So to get to Epcot or Disney's Hollywood Studios from either park, you will have to get off and get back on, because those lines do not connect.
Going to Disney's Hollywood Studios is a straight line from the Caribbean Beach Resort Station, that line does not connect anywhere else. Then from the Caribbean Beach Station, which really is the main "hub," you can choose to take a line that goes ONLY to Pop Century/Art of Animation, or another line that goes to Riviera and Epcot. Similarly, if you are coming from Epcot, you'll need to transfer at Caribbean Beach if you are trying to get to Pop/AoA, or Hollywood Studios. It sounds confusing at first, but once you ride it once, it all makes sense.
Skyliner Special Needs: As mentioned above, if you need special assistance to get into the Skyliner cab, they can definitely stop the movement for you and assist. They are slower than I thought they'd be, so that is good and should eliminate most potential issues with boarding. There is also an extended loop at all the stations except the Riviera Resort where cabs can be sent to completely stop, to help those that need additional assistance. Separate from that, if you have serious motion sickness or vertigo, dizziness, or equilibrium problems, or are just generally really scared of heights, you may want to avoid this method of transport.
I note on the video that at first I did feel a little dizzy, but I do have some equilibrium issues with some movement (I can't ride Expedition Everest, for example, without my brain rattling around my head for a few days after). I quickly got used to the movement though. I have no problems with normal (non-upside-down/backwards) roller coasters, and don't usually ever get sea sick or anything. So, your mileage may vary, but I think the majority of guests will be just fine. Just know your limits because there is a chance you will pause mid-air, and if that will set off a panic attack, you should be aware that it's a possibility. There is a call box on each cab in case of emergency.
Skyliner Weather: So let's talk about Florida weather. It is as predictable as it is ever-changing. You know it's going to be in the mid to high 90's in the summer, you know it's going to rain every day at around 3pm-ish during the summer, and you know there will be very few days with low humidity. How will the Disney Skyliner handle that weather?
Here's what I know: I know that Disney has thought of and tested and accounted for alllll of the crazy central Florida weather we all "enjoy," so I'm not at all worried that they would put a transportation system out there that wasn't made to withstand it. I also am not worried that in extreme cases, they will cease operation for the safety of guests. Yes, lightning strikes and storms can seem to appear out of nowhere sometimes, but I am confident Disney will have planned for that and has an appropriate course of action. (Also, having grown up going to the Boston Museum of Science and the Lightning Theatre there, I know that being in a metal box can actually be the safest place to be in a lightning storm. That's why I'm never afraid to be in my car when that happens. The metal will conduct the lightning if it hits, and the tires will send the current back out. I think the same would apply here, and you'd be sitting on a wooden seat, which would not conduct electricity. Anyway, I'm clearly no scientist, but I feel safe).
Similarly, with rain, I assume Disney has tested this. The openings for the vents do have covers to close, so if it was raining, the rain would probably hit those first, and not be directly getting anyone inside wet. We'll just have to wait and see on that one though.
Skyliner Attraction?: We've talked about the facts and figures and rules and regulations, but bottom line, would you or should you ride the Disney Skyliner…just for fun? My answer is yes. I think, if you are the type of guest that isn't running from Fastpass to Fastpass and wants to do something a little different, get some amazing views, and get from point A to point B (with some stops along the way), why not take a trip on the Skyliner just for fun. I think it would be a great way to see resorts that some guests may not otherwise go to if they were just visiting without a car and staying at one resort. I also have no doubt that in no time at all, we'll be seeing "Disney Skyliner Crawls" to try foods and drinks along the route – just remember no alcohol on board and maybe being drunk while way way up in the air isn't the best plan so let's not ruin this for everyone guys. 😛
Skyliner Merchandise: In the gallery above, you can see a preview of the coming merchandise for the Disney Skyliner. There will be a Funko Pop coming out in November, some DVC Member only and Passholder exclusive merchandise, as well as open edition merchandise, so something for everyone! Some of the shirts are really cute, I may have to pick one up myself!
Skyliner Operating Hours: Ending on a positive note, as mentioned a few times now, riding the Disney Skyliner at sunset is not to be missed. It really is worth it for some perspectives we've never seen before at sunset. The operating hours will vary depending on park hours, but it appears to be opening at 9 or 10 am some days and staying open till 11pm most nights, with some 1am opening hours to account for Extra Magic Hours. So it doesn't appear like Disney wants the Skyliner early morning capacity to be tested, but this is a great option for those staying at Caribbean Beach or Pop and Art of Animation that may not be rope dropping, but want a fun way to get to the parks.
Click to enlarge the photos below of the amazing Skyliner sunset!
I hope that this has given you all the facts and figures and help you need to plan your Disney Skyliner transportation! If you have any questions, feel free to comment and ask here or on any of my social media accounts. I've added our video below so you can see some of this info in action. We hope you enjoy it! 
If you'd like to see what we all thought as we rode and see the Disney Skyliner in action, watch this!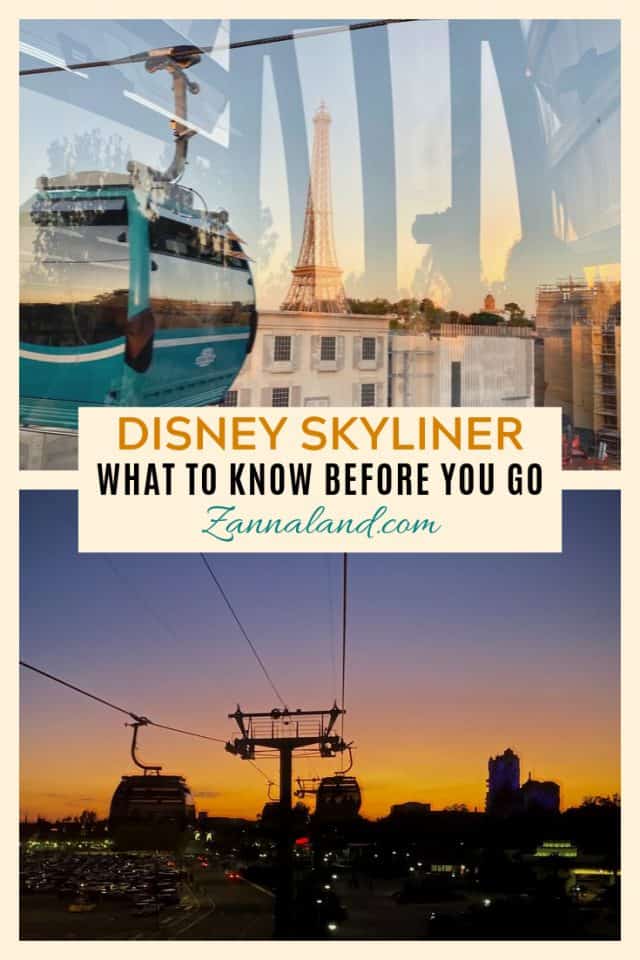 Follow the Zannaland team on social media, watch our videos, vlogs and podcast too: 
We thank you for your support and for sharing the love!