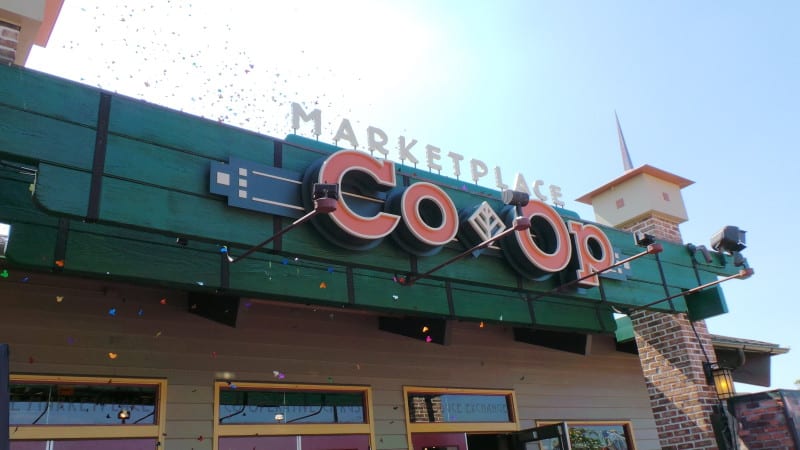 The much anticipated Marketplace Co-Op opened its doors officially on Friday, June 6. The newest addition to the Marketplace side of Walt Disney World's Downtown Disney is now home to six unique boutique style shopping areas. Rather than having several large areas in a store like World of Disney, the Co-Op offers a few smaller selections of specific or unique items you may not find anywhere else.
As with all great Disney things, there is, of course, a backstory to the Marketplace Co-Op. I'm paraphrasing here, but basically, the fictional town that grew up around Disney Springs consisted of local citrus farmers and other merchants who wanted a place to trade their wares and produce. Given the sometimes unforgiving Florida weather, the merchants wanted a place under a roof, and thus the "Marketplace Co-Operative Citrus and Produce Exchange" was created. A nod to this "past" can be seen in the center of the Co-Op, with hanging vintage items used to measure and weigh produce and other goods. A nice, yet simple little story (that will probably go unnoticed by most, but lovely nonetheless). I know as a child of the original Lake Buena Vista Shopping Village (later Disney Village Marketplace), one of the first things I did was look up to the skylight where  Mickey's Character Shop once lived. It's nice to see it still there, and a part of this new "history".
I like the spaces that were left open in the Co-Op, a cross-shape of wide hallways/walkways extends from Tren-D to Guest Relations, and from the front entrance back to Cherry Tree Lane. In this sense, it really does have a marketplace feel. I grew up in Boston and we'd visit Faneuil Hall and Quincy Market in downtown Boston all the time, and I remember the wide hallways between the different food and shop vendors. This is a much smaller version of a traditional farmer's market/marketplace of the past.
All of the areas, with the exception of Cherry Tree Lane with its wallpaper and more permanent looking fixtures, are on wheels and look very easily moveable, should Disney want to change out a shop or its theme in the future. Each little shop looks at home and has its own definite theme. The Trophy room, filled with sports shirts and items from college to national to international teams really reminded me of my very first role as a cast member at the Main Street Athletic Club in the Magic Kingdom. It has a great, vintage sports feel to it. D-Tech and Beautifully Disney let the merchandise do the talking in their sections, while Zoey and Pickles looks like any tween's dream bedroom. Centerpiece has the most Co-Op feel to it with rustic crates and bare wood exposed throughout. Cherry Tree Lane is like stepping into a more elegant boutique, with painted white wood, brick and lots of natural light from the doors leading to the parking area.
Currently, there are a few exclusives here at the Marketplace Co-Op, like a D-Tech On Demand personalized phone case printer, which also has DVC exclusive resort cases, which you must be a member to purchase. There are a couple of new Dooney and Bourke bags, with more to come, and of course, most of the Centerpiece merchandise is truly unique (and what most guests were buying both times I visited!). Much of the Centerpiece merchandise is available online as well, so if you aren't planning a visit any time soon, but want to stock up on all this cool new stuff, keep checking back to see what they've added!
I made a second visit today and spent about an hour in Centerpiece alone, making the painstaking decisions about what items to bring home! I have a feeling I'll be back for more – soon!
Here's a gallery of what opening day was like at the Marketplace Co-Op – including the grand opening ceremony! (click to enlarge) —