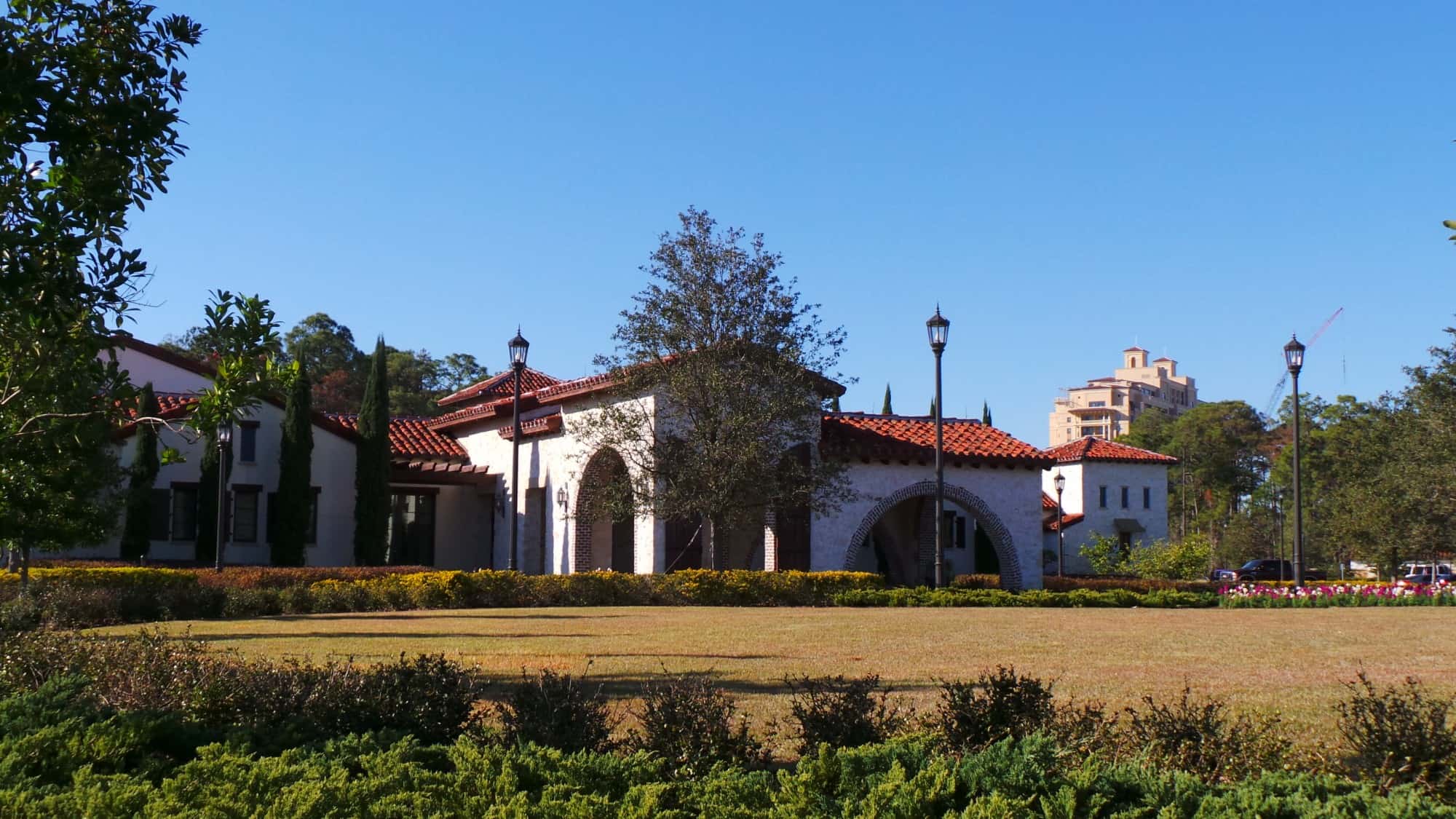 Each time I've driven past the entrance signs for Golden Oak, Disney's multi-million dollar residential home community, I've thought "I wish I could just drive around in there…". Well that desire came true last weekend as a good friend invited us to experience lunch at the resident-exclusive restaurant at the clubhouse. I was quite impressed with the grounds and attention to detail,  and the food was some of the best on property. I was given the green light to share some of the photos from our  personal tour here with you. After reviewing my photos, I decided to separate this into a four-part series, giving each section of our tour proper attention. Let's start with the good stuff – the food!
Summerhouse is the resident-only clubhouse located in the center of Golden Oak's property. Inside is a resident reception area, where residents can get assistance with everything Walt Disney World Resort related, as well as generic concierge-type services for the rest of the Orlando area. Also inside are an entertainment/recreation room, a fitness center with locker rooms, a meeting room, and Tyler's Lounge, attached to Markham's restaurant. It is a lovely place to walk around and enjoy, with well-purposed outdoor areas as well.
The Tuscan feel of the Summerhouse lends itself to a luxurious setting without being too conservative. This extends to the dining options as well.  I did not feel out of place at all, as a day visitor and not a multi-million dollar resident. As we heard that day, the restaurant has the ability to become a white linen fine dining establishment; creating the ultimate in elegant private dining in the blink of an eye if requested. Staffed by hand-selected Walt Disney World cast members, who have earned their ears at places like Victoria and Alberts, and have completed a separate interview process to be placed at Summerhouse. There is no question that residents will be receiving the best attention possible.
As far as the food itself, Markham's chefs create things like aged sausages and charcuterie on-site, with the benefit of an herb garden right outside the kitchen. It is one of only 3 restaurants on Disney property designated as Signature Plus (Victoria and Alberts and California Grill being the other two); an internal designation which allows the chefs and leaders more creativity with ordering, creating menus and hosting events, less hindered by operating partners involvement.
I am no food critic, but I do appreciate culinary adventures, and Markham's does not disappoint. Each dish seems to be carefully hand crafted and created to expose the ultimate in flavor combinations. It was very difficult to choose just one thing to try as it all sounded unique and enticing. In addition to the dishes, they also make their own lemonades and lemonade/tea drinks as well as sodas. Again, it was hard to choose just one thing to try.
If you're wondering about the names chosen for the Summerhouse lounge and restaurant, as with other areas of Golden Oak, they derive from Disney heritage. Toby Tyler was the 1960 Disney movie about a 12 year old who ran away to join the circus, while Marty Markham was the city kid from the Disney TV serial which ran for one season in 1956 on the Mickey Mouse Club:  "The Adventures of Spin and Marty." You can find more nods to Disney past in the street and neighborhood names, which we will explore in the next post in this series.
Tyler's Lounge features some artwork celebrating Tokyo's Hotel MiraCosta as well as some concept art for Epcot's Italy pavilion in World Showcase. The bar offers pretty much any potent potable you could desire and is staffed by bartenders whose knowledge extends far beyond the "standard drink menu" at any other Disney lounge.
Markham's is a rustic yet light environment, with reclaimed brick and thick wooden beams throughout. Leather banquettes complement contemporary chairs and decor, mixing old world and modern style. Large windows let the natural light in, keeping it airy and not a bit stuffy, while offering views of the grounds. There are a few nods to Walt Disney within the dining area, but nothing over the top. If you were a resident, and wanted to enjoy each meal here, you could do so comfortably and without pomp. But if you wanted to plan a private event for family or friends and use the dining room, you could do that without hesitation or disappointment. I felt quite at home, and as I write this, I'm missing the lunch I enjoyed that day and wishing for more!
Enjoy the gallery below of Tyler's Lounge, Markham's restaurant, and our food choices that day:
[RFG_gallery id='2′]
Stay tuned as I'll be sharing more from our
Golden Oak
visit, including a tour inside the rest of the Summerhouse and the unique Triple R meeting room, bursting with treasured Disney artwork.