Les Misérables is one of the first stage productions I saw as a teenager in high school, after having grown up seeing musicals and other shows with my family. I've mentioned before how my mother was in the Corps de Ballet at Radio City Music Hall in NYC, and a professional ballerina for most of her life. Because of her background, I was lucky enough to grow up with the culture of the theatre and saw many shows as they'd tour in Boston, as well as summer stock and other productions. Just the act of going to a show was, itself, something that shaped my childhood. Getting dressed up, traveling into the city, walking through the theatre district of Boylston and Tremont streets in Boston, going out to dinner before or after the show, feeling like a grown-up with all the other adults there to see the shows, it was a truly wonderful and life-changing experience that is part of who I am today.
After returning to the Boston area to finish high school, I saw Phantom of the Opera, followed by Les Misérables. I loved it so much I had to see it again right away. It became the show I saw the most and still is to this day. The music moved me so, combined with the story (what girl isn't obsessed with Paris at some point?), and of course, the amazing staging of the show itself. Needless to say, I've been more than a little excited to see Les Misérables come to the big screen as close to the stage show as possible. The clips I saw prior to watching the film were all just incredible; haunting, alluring, drawing you in, just like the stage show. The film did not disappoint in that regard.
I did not do much research before seeing this film version of Les Misérables, but what I did know is that it was produced by Cameron Mackintosh, who produced the original stage production, and directed by Tom Hooper, who had done The King's Speech, most famously. Hooper did something truly unique for the filming of the musical, he had the actors sing their parts live as the cameras were rolling, rather than lip-synching to pre-recorded songs. By doing this, Hooper believed this method allowed the actors to have emotional control over their songs, noting that when Anne Hathaway sings 'I Dreamed a Dream,' if she needs to take a moment to have a thought or show an emotion before she sings it, she can do that. And after witnessing this first hand, I can tell you it was the right decision.
Now, to the film itself. If you do not want spoilers, save this part for after you've seen the film. Obviously, the story is well-known at this point, but I'll go into specific details from the movie which could be considered spoilers if you want to be surprised. For those who aren't familiar with the Les Misérables story here's a quick synopsis before the review:
Set against the backdrop of 19th-century France, Les Misérables tells an enthralling story of broken dreams and unrequited love, passion, sacrifice and redemption—a timeless testament to the survival of the human spirit. Hugh Jackman plays ex-prisoner Jean Valjean, hunted for decades by the ruthless policeman Javert (Russell Crowe) after he breaks parole. When Valjean agrees to care for factory worker Fantine's (Anne Hathaway) young daughter, Cosette, their lives change forever.
The opening scene is one of the most powerful I have seen on screen. I truly did not even recognize Hugh Jackman as he sang his parts and acted with the other condemned men doing hard labor for their crimes. It was an excellent set-up to the antagonistic relationship between Jean Valjean and Javert.
We then move into the struggle for Valjean to find his place in the world that wants nothing to do with him. Refused at every turn, Valjean finally receives shelter and care from an elderly bishop who takes him in and treats him like an honored guest. The bishop is played by the original Jean Valjean in the stage production, the amazing Colm Wilkinson. It was wonderful to see him on screen and in this story once more. When Valjean receives the second chance from the bishop and is faced with the life-altering decision to remain as himself or create a new life and leave his past behind, Hugh Jackman's performance is Oscar-worthy without a doubt. The emotion is palpable and to say it is moving just doesn't seem strong enough. At this point, I realized that this film version of Les Misérables was not going to be about the singing, but rather the story, the individual characters purging their emotions before our eyes and telling this tale with great care and love.
When the next scene opens with 'At the End of the Day' and the music, the staging, the costumes are all spot on, I just sat in my seat with a giant grin on my face, seeing the story I loved so much essentially coming to life before my eyes. The citizens were singing out in the open, under a grey sky, with the bustling of the 19th century France enveloping the singers. It was wonderful for a fan of the original musical.
There were a few changes from the original show, most of which I did not have any problems with. With Fantine, 'I Dreamed a Dream' is sung after she hits bottom, selling her necklace and hair and teeth and committing to the life of a prostitute in order to provide for her daughter Cosette. I thought this worked and made sense and her performance makes much more sense after being so beaten down by her experiences prior to singing the most famous song from the production.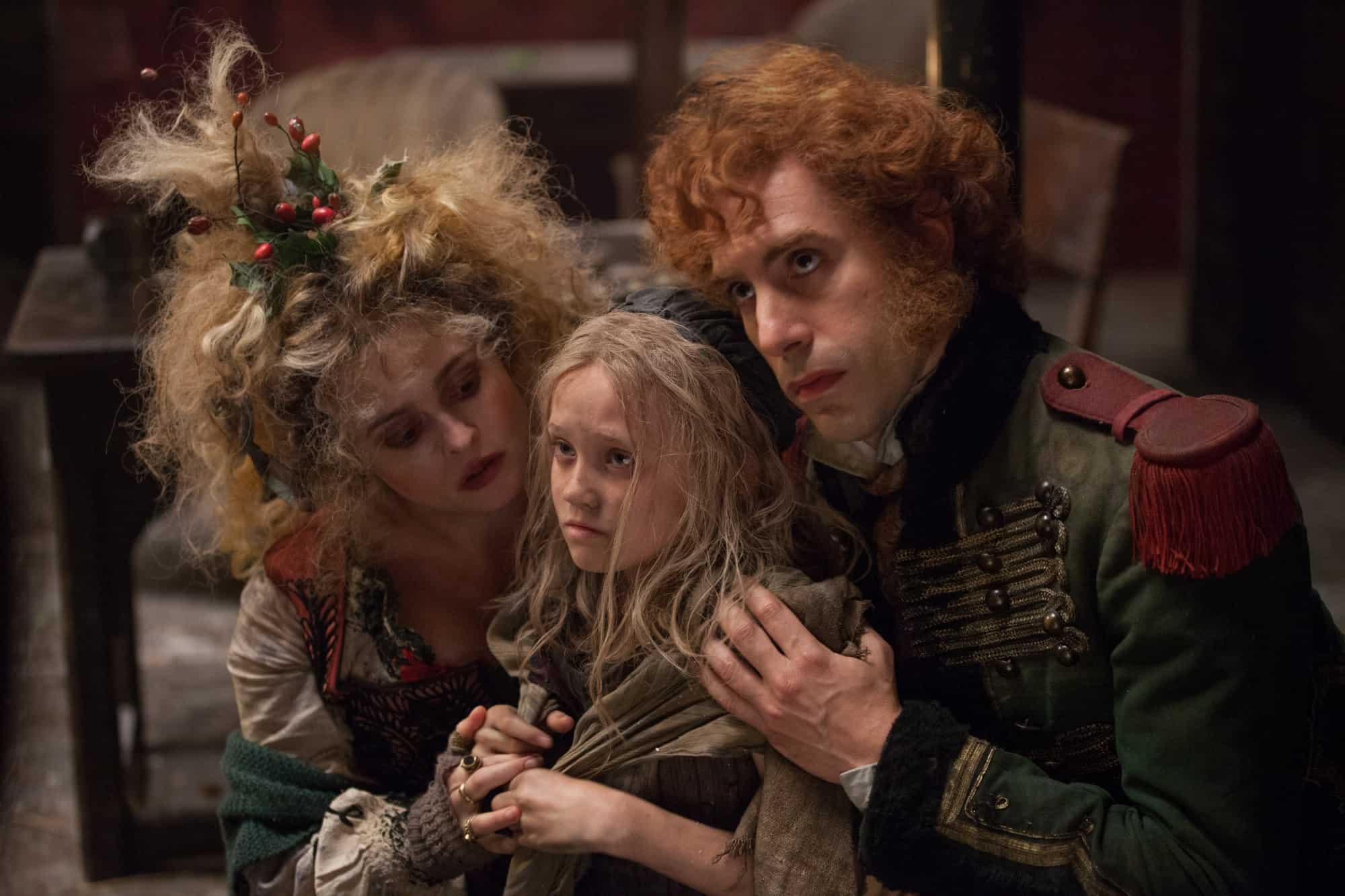 There were a few other differences; we don't hear all of 'Little People', nor all of the Thénardiers various songs. However my thoughts on that are that unlike the stage production where you truly need that comic relief and breaking up of the misery that's occurring in the film, you sort of need that continuity to keep you in the story with these characters without being chopped up by comedy right and left. We still get 'Master of the House' and the antics of the Thénardiers, and I think the choices were founded. I did miss 'Turning' at the end of the battle scenes, as it's one of my favorites, but we did hear a few lines from it. Nothing is missing completely from the stage version, they are just sometimes subtle nods vs. full performances.
There is also a new song, written just for the film by original Les Miserables composer Claude-Michel Schönberg and lyricist Alain Boublil. The song, 'Suddenly,' definitely fits within the film and the scene in which it is used, but something about it seemed a bit off to me, lyrically. The rest of the score is so rich, lyrically, each word seems to hold some important key to the story at hand, giving you insight to the characters and pushing the plot forward. 'Suddenly,' however, seemed a little thin, and just, there. Still, it's a pretty song and does fill in some gaps in the transformation of Valjean from mayor and factory owner to substitute father.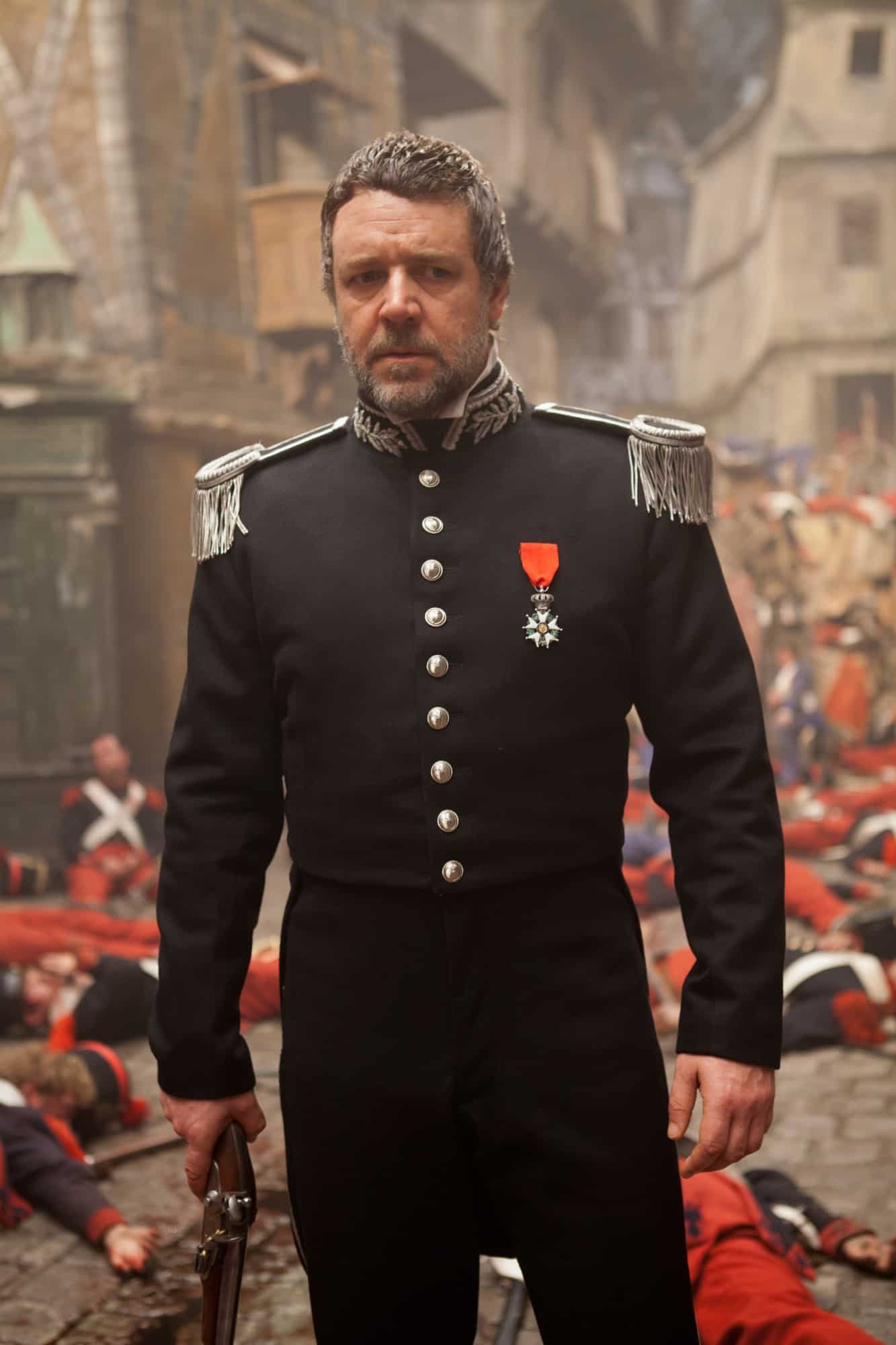 The one performance I had a problem with was Russell Crowe. I feel he was a weak choice for Javert and even though he's in a band, I felt his singing was not up to what I've come to expect from the relentless inspector who is completely overcome by his need to find and arrest Valjean. While his singing lacked power and, for me, was distracting enough to detract from the film, it was not enough to make me come away from the screening I attended disappointed. Javert's final scene was one I was most concerned with translating to screen, and while the actions themselves were well-done, Russell Crowe just did not make the connection I needed to feel for Javert in any way. That said, the other excellent performances overshadow the few that aren't up to par, in my opinion, and the film on a whole is just an amazing concentration of story and song. [Update: after some reflection on Javert as portrayed by Russel Crowe, and listening to his songs again, I've come to a new understanding of him as a character. In the stage production, Javert is overtly ruthless, a man of the law, who strives to hunt down and bring Valjean to justice at any cost. In the film, Javert is someone we actually do feel for. He's still upholding the law and out to get Valjean, but his songs and actions portray him as someone lacking his own sense of self and security. When he sings 'Stars' it's as if he's trying to convince himself, rather than the audience, of his duty and mission. So it's a different Javert than I'm used to, but he did grow on me.]
I lost count of the number of times I cried during the movie, which is not unusual for me, but I was actually worried going in that the film would not elicit that response. I was wrong and cannot wait to go through the emotional wringer again when I head back to see Les Misérables with my oldest children, who are also into musical theatre, much to my delight!
I think fans of the stage production of Les Misérables will be overall pleased with the film adaptation and hopefully enjoy the few nods to the original which are found within the movie. Those who have never heard of Les Misérables prior to this will most likely be moved by the story, music and characters and I hope the movie's success translates into more touring of the stage show. At the end of the day (pardon the pun), I feel that is what the true purpose of these films should be, to spark interest in theatre, musicals, and live performances; something everyone should get to experience in their lives, no matter their age. Les Misérables succeeds in this regard as it certainly made me want to take my children to see it live and begin fostering that love of theatre as well.
Connect with Les Misérables, which opens December 25,here:
Official Site: www.lesmiserablesfilm.com
Facebook: www.facebook.com/lesmismovie
YouTube: www.youtube.com/LesMiserablesFilm
Twitter: www.twitter.com/lesmiserables #LesMis
Pinterest: http://pinterest.com/lesmismovie
Right now, you can also get digital downloads of the Les Misérables: Highlights From The Motion Picture Soundtrack
and the Les Misérables Original Broadway Cast Recording
for $5 and $5.99 respectively at amazon through the end of December!
Disclosure: I was provided a free screening of the film prior to its opening. My thoughts and opinions are my own.