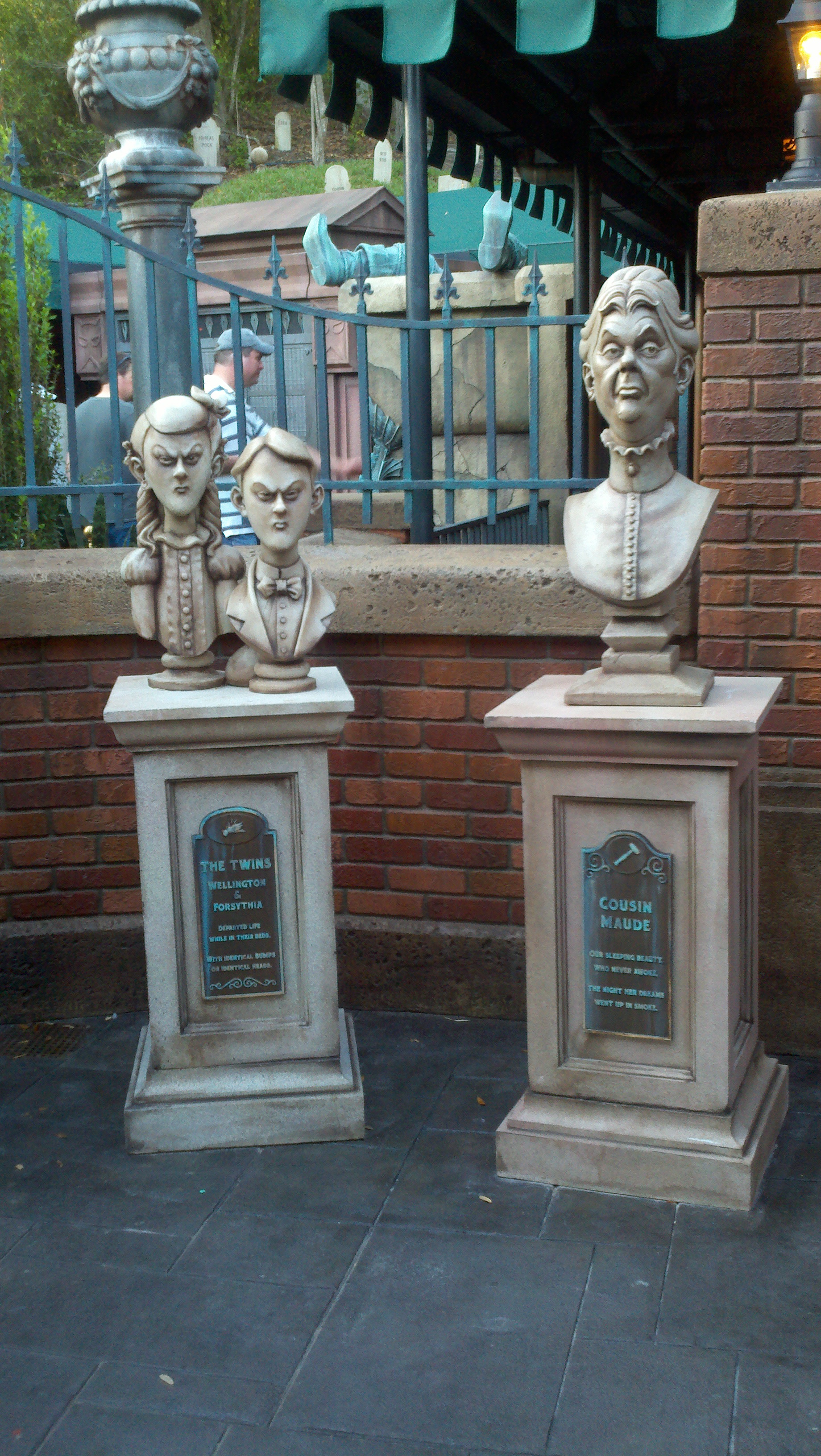 I'm sure by now you've seen and heard of the new interactive queue that's been added to Walt Disney World's Haunted Mansion. I took these photos about a month ago but you know how it is, things are often as busy in ZannaLand as they are in any other land! Despite the lack of scoop on these photos, I figured I'd share them here anyway, mostly because I know my mom hasn't seen them yet, so hey, that's at least one person! 😉
The great part about these new interactive queues Walt Disney World is creating is that if guests want to experience them, they must separate from the regular standby line, thereby essentially agreeing to engage in a more laid back, slower-paced approach to a ride. The interactive queues are also not accessible by the FastPass line since those guests are clearly on a mission.
When I first walked through the new Haunted Mansion queue, it was a strange feeling. You could stop and really explore the details to each section; posing for photos or trying out all of the interactive elements, but what that meant was that you were also willing to relinquish your spot in line if you wanted to wait for a picture while guests behind you chose to move on. It really goes against everything Disney has drilled into us as guests! Keep moving, no line cutting and definitely don't hold up the line with silly antics like taking pictures or playing with displays!
At first, people were polite and tended to stay within their 'places' but once some saw I was taking kind of a LOT of pictures, they went ahead. And…that was okay. It was sort of a zen-like experience to just let people go and know that we were all getting to the same place anyway (which is really my philosophy in the parks anyway, granted this is easier to do when you are a resident, I know). It was also a lot of fun watching other families and children experiencing everything at the same time. All in all, I think the interactive queues are a great addition and will hopefully foster this new type of park-goer that is more mellow and willing to spend longer to get to the same attraction at a more leisurely pace vs. the ever-present Dumbo-or-die mentality.
And now, without further ado, here is a video montage of my photos from my last visit – designed just to give you an overview, so you can discover them in detail on your own. Make sure you watch till the end for a very special part of the new queue. Of course die-hard Disney fans will notice the previous tombstones honoring Imagineers Marc Davis, X. Atencio, and Yale Gracey among others. The new organ also pays tribute to Thurl Ravenscroft, famous for his part in the singing busts at the end of the ride (as well as the voice of Tony the Tiger and the Grinch songs). Be sure to look for these details on your next visit!

Special thanks to Denise from MouseSteps.com and Jeff and JeffLangeDVD.com for letting me use her photo of the wedding ring in the queue. This was added after I took my photos so I haven't yet seen it in person. If you'd like to see the interaction in action, check out their video of the Haunted Mansion queue. I'm also including their video of the new Hitchhiking Ghost scene at the end of the ride, if you haven't yet experienced that (with location of the wedding ring at the end of the video!) —