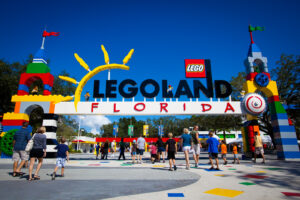 A year that's already been crazy just got even crazier. The all-new, family-friendly LEGO VIDIYO Music Fest is coming to LEGOLAND® Florida Resort this Labor Day Weekend, September 4 through 6. 'DJ L.L.A.M.A' – the musical superstar behind LEGO® VIDIYO™ – will be making a special appearance at LEGOLAND® Florida Resort for one weekend only as part of his newly announced world tour.
LEGOLAND writes,
L.L.A.M.A, whose name is an acronym for Love, Laughter And Music Always is the first LEGO® minifigure to sign a deal with a record label and the first artist to release a song via LEGO® VIDIYO™, will be touring five LEGOLAND® Resorts across the world to perform on stage. L.L.A.M.A is a global citizen, originally from the Andean region of South America, he moved to Los Angeles to pursue his dream of making music that keeps people happy.
The figure is part of the innovative music video maker experience by LEGO, titled VIDIYO.
VIDIYO is a brand-new way to play that helps children dream big by directing, producing, starring in, and safely sharing their own music videos, featuring tracks from across the globe, led by chart hits by Universal Music Group's unrivalled artists.
L.L.A.M.A., who is featured in the augmented reality experience, also appears in the new DJ Llama BeatBox kit, available here.
And big DJ L.L.A.M.A. fans will be able to see even more from the artist later this year at the LEGO VIDIYO Music Fest.
This vibrant, interactive music festival will feature "dance-off" parties, interactive games, and pop-up performances. Colorful photo opportunities include larger-than-life scenes, and guests are encouraged to dress up as their favorite music artist to win prizes.

L.L.A.M.A will headline the music fest with two performances on each of the three event days on a specially themed stage. During the three-day extravaganza, families will also learn more about the world of LEGO VIDIYO while they get creative and produce their own content.
All of the event activities during the festival are included with LEGOLAND Theme Park general admission and select Annual Passes. Those looking to learn more details or purchase passes to the park can do so on the event's website.
If you're interested in the upcoming LEGO VIDIYO Music Fest, be sure to check out our other updates about the park!