Inspired by some of my fellow bloggers as well as my favorite, Family Fun magazine, I thought I'd share my family's top Turkey Day crafts! I have to admit, almost all of the crafts my children have done over the years are thanks to their amazing grandmother, my mom. She has an agenda when it comes to the holidays and always makes sure the kids get to create something new each year and feel like a big part of the festivities. I have come up with a few of my own over the years though, so this list combines both.
Turkey Cut-out Napkin Rings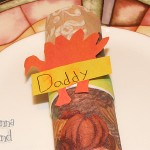 This was one of my mom's crafts last year. The kids just cut out card stock turkey shapes, rectangles to write everyone's name on the front, then made rings out of the card stock, using cut cardboard tubes as reinforcement. They came out really cute and of course depending on the age and skill level of your artists, you could have some really unique turkeys! Another option we've done in the past is one I found instructions for on Family Fun – Turkey Napkin Rings from flat wooden craft spoons. I have another similar project using the craft spoons below.
Cornucopia Nut Cups
This was another from last year. Growing up, my grandmother always had painted scallop shells filled with mixed nuts at everyone's place setting for the holidays. I may or may not have gone around picking all the cashews out of those shells, as a child. (whistles innocently…) Anyway, while we don't use the shells anymore, we do still enjoy having mixed nuts out for the Thanksgiving, Christmas and New Year's holidays. My mom found this craft to make a fun, reusable decoration. The kids just drew out their own cornucopia pictures on the front of some construction paper. My daughter wanted to color hers in, while my son chose to leave his just plain (and really I was quite impressed with their creations!!) then they attached the paper to a ring using glue sticks, so they stood up on their own. Next she just put some mini cup cake liners in the ring and you fill them with nuts of your choice. You can then remove the liners and put new ones in for the next event. Of course you can fill them with whatever you like: candies, mints, anything! You could also make bigger rings to fit larger liners if you'd like the cups to hold more items.
Wooden Craft Spoon Turkeys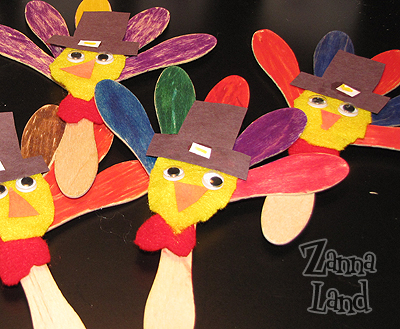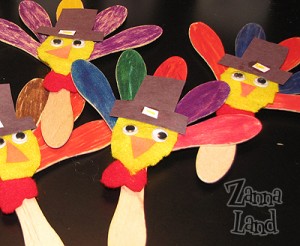 Another fun craft item to decorate your Thanksgiving table are these wooden craft spoon turkeys. Gather about 5 of the craft spoons and glue together with wood glue. Next glue another stick to act as the holder for the turkeys. Cut out felt for the head and the beak/waddle parts. Attach those parts and googly eyes with glue. We cut out pilgrim hats with construction paper and glued those on as well. You can then color in the 'feathers' any color you like with markers or even paint. The possibilities for creativity are endless! We just placed them around the table and on plates for decoration, but you could probably put them in tall cups full of nuts or candy, or even flower pots.
Pine Cone Turkey Place Cards
My mom made this one with the kids a few years back but unfortunately I do not have pictures of their creations, so I found a similar craft with instructions on Family Fun's site.  We just added little cards with guest's names on them to turn them into place cards for the table. These are especially fun to make because you get to go on a nature walk to collect the pine cones first!
Oreo Turkeys
I saw this on a baking group last year and had to make them. They are so simple to do, yet involved so the kids loved making them. For each turkey you make, you'll need 2 Oreos, a mini Reese's peanut butter cup, a Whopper, some candy corn, white frosting for 'glue' and yellow frosting/gel for the feet. You can also use some blue or other color frosting for the eyes.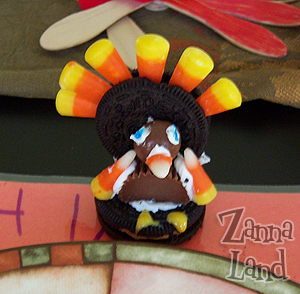 Stand one Oreo up on top of a flat Oreo, and use some of the white frosting to attach them. Add 5 or 6 candy corn white part down, into the top Oreo's filling to make the 'feathers' of the turkey. Be VERY careful with this because if you push too hard you will split open the Oreo. We went through quite a few, but no one complained. Cut the Reese's mini cup in half, and attach with a bit of frosting so the cut part is facing down onto the Oreo. Attach the Whopper on top of the Reese's cup as the head, with a bit more frosting. Next add 2 candy corns, with the white tips facing up, to the Reese's cup, as wings – this is optional if you'd rather have a turkey without wings, it looks cute without too. Cut off the tip of another candy corn and attach with frosting to the Whopper as the beak. Next use the white frosting to make eyes, using a colored gel if you'd like for pupils. Use the yellow frosting for feet on the bottom Oreo. You can also get red frosting or gel to make a waddle, but we forgot that step last year! This year we might experiment with chocolate-filled Oreos, or maybe even save some Halloween orange-filled ones next year! The best part about this table decor is everyone gets to eat their creation!
Laminated Thanksgiving Artwork Place Mats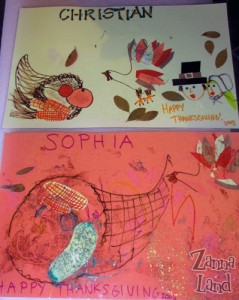 A few years back a neighbor of mine invited a bunch of us over to have the kids create Thanksgiving place mats. The kids decorated large sheets of construction paper using markers, crayons, glitter and leaves they'd collected from outside. (Keep in mind we live in Florida, you can probably find much prettier leaves in the northern regions!) I may have helped a bit with some of the drawing. 😉 Then they colored their names in with stencils and the moms printed out Happy Thanksgiving with the year on them. Our neighbor then took them down to the local print shop and got them laminated for just a few dollars. This will be the 6th Thanksgiving that we've used these place mats, they are a treasured keepsake! I can't wait till the baby is old enough to make his own place mat to add to the table.
…
I hope you try out some of our family's Thanksgiving crafts, I know my children enjoy the traditions they created so much and love showing off their handi-work each year. So many of these can take on a personal twist and embellishments from your own family will make these one-of-a-kind decorations something to be thankful for.