Last year I shared some of my family's favorite Thanksgiving Day crafts, so I thought I'd repeat the tradition this year with some new ideas from Family.com and Disney's Family Fun magazine.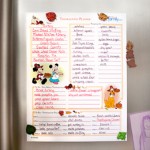 Of course, with Thanksgiving, the key is planning and organization and what better way to achieve that than a Disney Thanksgiving Planner. Organize your menu, shopping list and turkey day schedule. Download, print and start planning!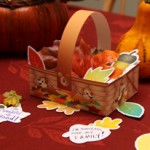 I love taking time each year (and more often than just Thanksgiving of course) to give thanks for all our blessings. This Chip & Dale Thanksgiving Basket is a fun way to turn those thanks into memories. Just print out the template and follow the instructions to make your own basket and fill it up. It would be great to pass the basket around the table and share what everyone is most thankful for. It might be the only time of the year that siblings admit they are thankful for each other!

Once the turkey and stuffing are gone, relax with a nice game of checkers – Mickey checkers of course! Print out the game pieces and let the fun begin!
These are just a few of the great ideas available. Be sure to check out my family's past Thanksgiving table decor as well as the whole Disney Thanksgiving printables page at Family.com and the myriad Thanksgiving crafts that await.
Happy November and happy crafting!