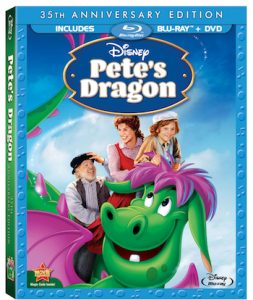 It had been quite some time since I'd seen Pete's Dragon, other than Elliott lighting up the end of the Main Street Electrical Parade here at the Magic Kingdom. I was probably quite young and may have seen it when it was played on the original Disney Channel, but I really didn't remember too much about it at all. For those like me, Pete's Dragon is the endearing story between Pete and his invisible dragon friend Elliott as they develop a special bond and share a magical friendship.  With memorable characters and heartwarming songs including the 1977 Academy Award® "Best Original Song" nominee, "Candle On The Water," Pete's Dragon 35th Anniversary Edition
is the perfect timeless classic die-hard Disney fans will love.
Here are a few clips to remind of the fun in Pete's Dragon:
Now on Blu-ray for the first time ever, the disc features include the same bonus features as on the 2009 DVD release, but now in crystal clear Blu-ray release:
Disney's Movie Magic a history of Disney's magical mix of live action with animation, narrated by Sean Marshall (Pete), deleted Story board Sequence Terminus & Hoagy Hunt Elliot, rare demo dialog track and storyboard sketches, Original Song Concept: Boo Bop Bopbop Bop (I Love You Too) first demo recording March 1976 with story sketches for an early concept of the song Pete sings to Elliot, Original Demo Recordings: Brazzle Dazzle Day, Every Little Piece, The Greatest Star of All (Deleted Song for Deleted Character), Promotional Record, Four songs are pop versions of the songs used to promote the music and originally released on one 7 inch record including Academy Award nominated Candle on the Water.
Bring it home today for your family!