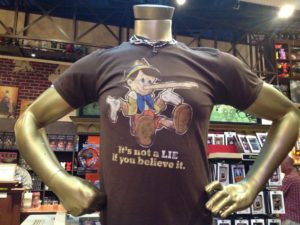 Here at Zannaland, I've loved tracking fun Disney Merchandise from the start. Whether it's Disney Dooney & Bourke purses, Duffy the Disney Bear, Ear Hats, Minnie Ear Headbands, Disney antenna toppers, or unique t-shirt designs, I've loved sharing it all! I was recently at Downtown Disney West Side and Marketplace and realized it had been a while since I'd done a t-shirt update. I saw some fun shirts at D-Street and World of Disney and thought I'd share them here.
Some of these designs have been out for a while but I wanted to post them anyway as they showcase the really cool retro/vintage designs that have been sweeping twitter as of late. It's been great to follow along the designers as their work shows up in the parks. While some shirts may appeal to a select group of Disney history buffs, thankfully, Disney is taking a chance on these cool designs that poke fun at their past or even present. Click to enlarge any photo:
Which shirts are your favorite?