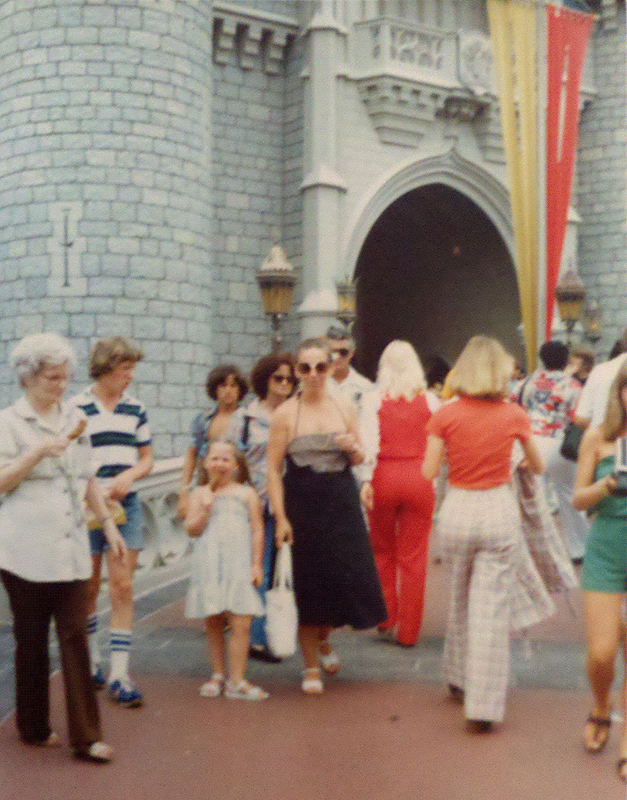 Unlike many Disney fans, I can't really pinpoint my first visit to Walt Disney World. I like to attribute my Disney fandom to our visit in 1983, when I fell madly, deeply in love with EPCOT Center. Then I discovered this gem of a 70's photo (right) which I guess is from 1978 or 1979. I also found my mom's photo album, including pictures of us at Sea World that say 1975, and we'd certainly visit Walt Disney World if we visited Sea World, RIGHT MOM? But seriously, my memories are a bit hazy…my dad's family lived in Ocala, so we did visit Disney back then. I'm just unsure of the very first time. If only my archives were as extensive as those of the D23 fan club.
What I do recall is the Little Orange Bird. I remember getting a little plastic orange cup with the green straw like it was yesterday. I took that cup home with me and it was my favorite cup to use for many, many years to come. I had an Orange Bird bank, and a little PVC figure and they were both prized possessions as well. Sadly, both were lost in a move long ago, and while I know ebay exists for such things, it was hard not having my own childhood collection any longer. I may not be as eloquent with Orange Bird's history as some of my friends like Progress City, U.S.A. and Passport to Dreams Old and New (<–seriously, PLEASE read these posts!), but I had to try to put into words just what Orange Bird meant to me and how heartwarming it is to see his return.
Having grown up in Massachusetts, I guess the idea of seeing oranges grow on trees and the intoxicating scent of their blossoms (I remember having orange blossom perfume from Silver Springs in Ocala, FL) was just enchanting. Throw in an adorable little mute bird that looks like an orange and you've got a generation of kids hooked on Little Orange Bird. Florida at the time was still another world, a natural paradise, which Walt Disney World highlighted when it opened in 1971. Families from the northeast and midwest looked at Florida as this other-worldly place, full of tropical plants and lush greenery, and yes, citrus fruits. While they may not be as popular a gift item today, back then, when you went to Florida, you brought home a bag of oranges or grapefruits. They were THE Florida souvenir. Now, people in every state in the union can get oranges 365 days a year, so the appeal has waned a bit. Kids and families of the past decade walking by the Sunshine Tree Terrace might not have been as impressed as we were by the ability to get a Florida orange juice Citrus Swirl there, or even pay attention to a little orange bird hanging out behind the counter. I mean, there are PRINCESSES to take photos with right behind you! 😉 So, after the first decade of WDW passed, somehow the uniqueness and what made the Sunshine Pavilion so magical in 1971, just wasn't necessary any more. Enter internet Disney fans.
With the advent of online forums, Disney fans from all over the country and world suddenly had a place to gather and say "Oh yeah, I loved Orange Bird too!" or "If You Had Wings was my favorite ride ever!" And sure, not every classic Disney memory or desire is able to be returned to its former glory, but somewhere along the line, a group of creative folks decided there were a few things they could bring back to Walt Disney World. We started seeing hints of Orange Bird here and there, and merchandise in Japan too. Last year, we saw some Orange Bird shirts and pins appear, and a Passholder Vinylmation as well.
At D23's Destination D at Walt Disney World last May, we heard from a trio of Imagineers who instantly won the hearts of all in the room and on the Twitterverse. Orange Bird appeared on D23's 40th Anniversary of Walt Disney World t-shirts, and we hoped our friend would make an appearance at the 40th celebrations. No luck there, but as the year progressed, we saw Little Orange Doodles, instagrams of vintage Orange Bird merchandise and Orange Bird taking pretty much every form possible, including one of the Imagineers himself. Soon those who were too young to know of Orange Bird and the Sunshine Tree, or just had never cared before, had interest sparked in our Vitamin C-filled friend. A month ago, the first step was taken, as the Citrus Swirl was returned to the Sunshine Tree Terrace's menu. Differing from the orange option down the road at Aloha Isle, the Citrus Swirl is tangy frozen orange juice swirled with sweet vanilla ice cream and is served in a cone or cup. Disney fandom was ablaze with this addition and we hoped against hope it was the first of many changes. Yesterday, our hopes came to fruition (get it? ORANGE? FRUITion? – hopefully I'm not overusing that pun).
In a surprising but welcome announcement, D23 members were invited to reply on Twitter to attend a meet-up the next day, in Adventureland. News had already been spreading, as some additions were revealed before their time, but the excitement was not dampened. Yesterday morning, sixty D23 members with their plus-ones were taken into Adventureland, before the Magic Kingdom opened and host Steven Vagnini from the Walt Disney Archives led us around the corner to this beautiful site: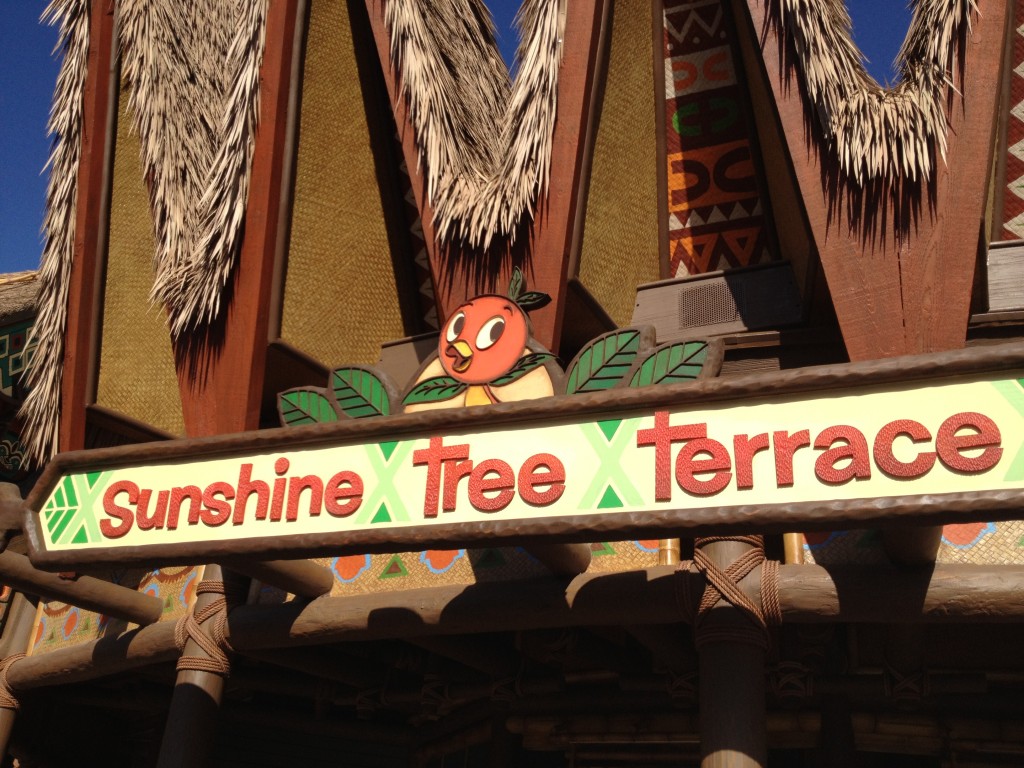 He then introduced Imagineer Dave Hoffman, part of the Orange Bird team, who shared with us how they actually discovered the original Orange Bird figure from the Sunshine Tree Terrace in 1971. We had been so busy looking at the gorgeous new sign, we didn't head in by the counter to see our Little Orange Friend hanging out by a crate of oranges watching over his Citrus Swirls. A collective "awww!" could be heard echoing through the Sunshine Pavilion as we saw him perched above us. Taking my blogging hat off for a moment, I had a portion of my childhood handed back to me. In fact as I drank from my Orange Bird sipper cup, I exclaimed, "I'm SIX again!".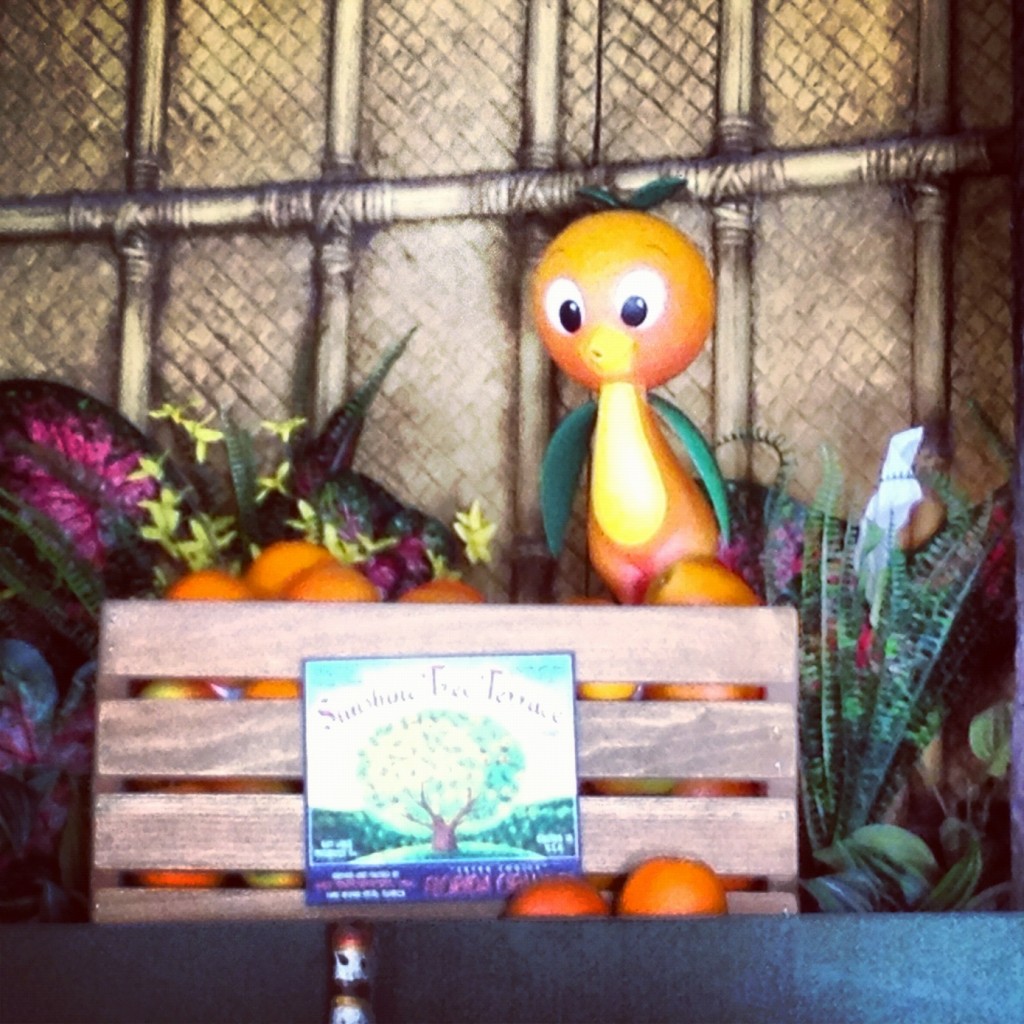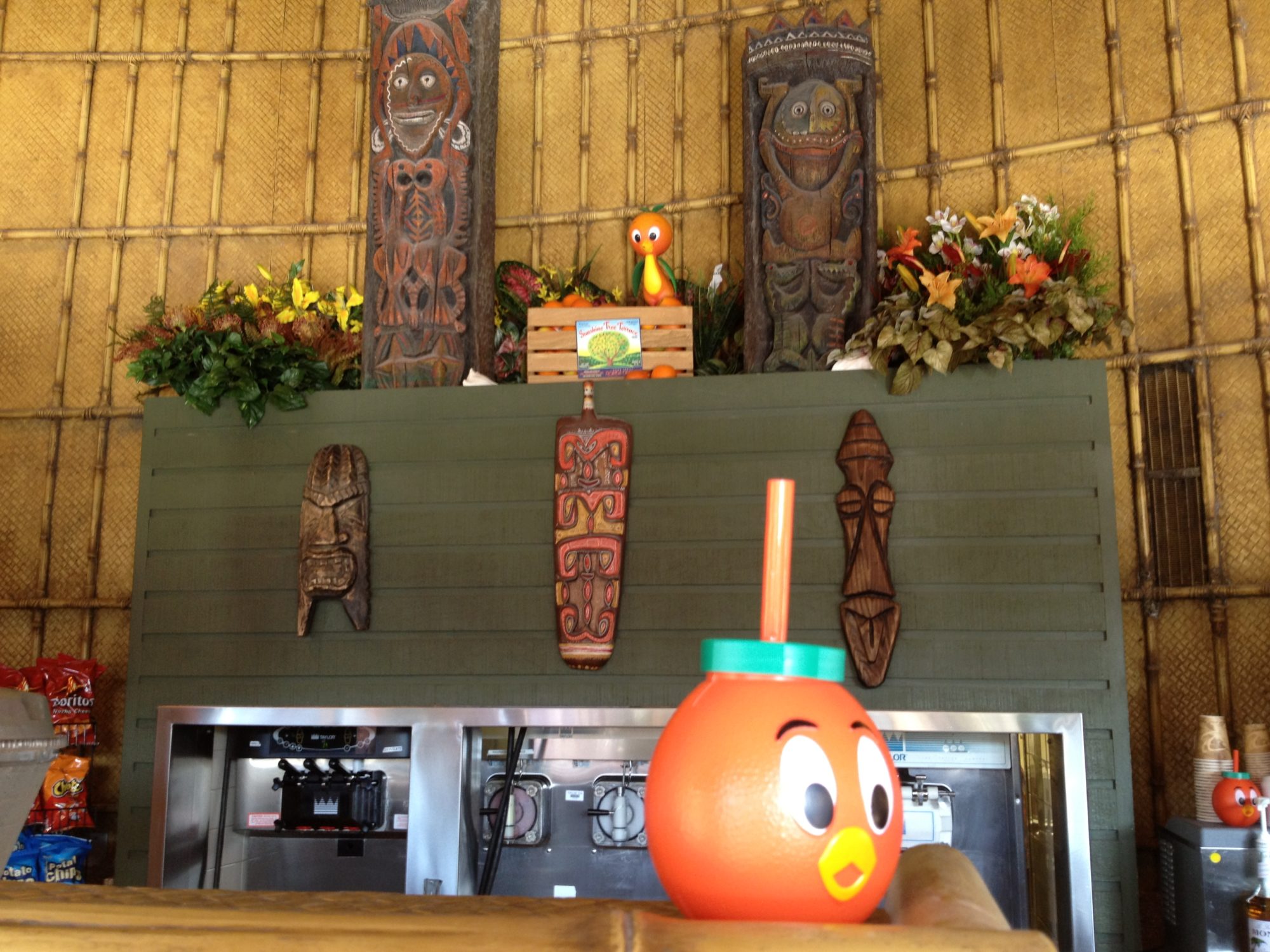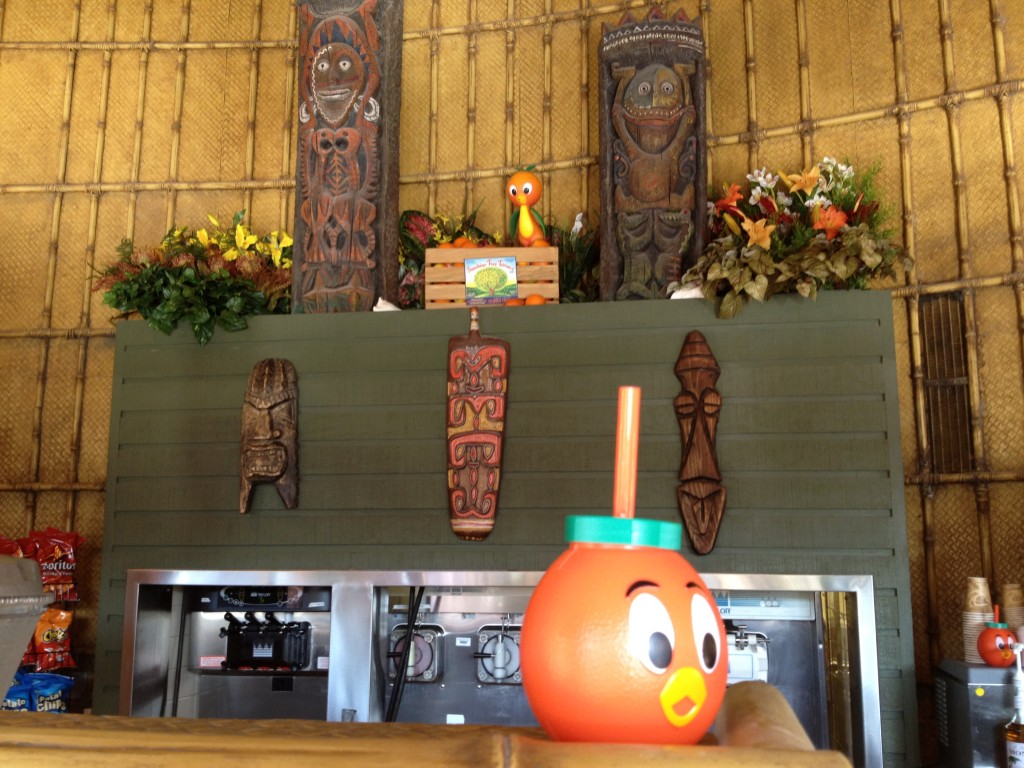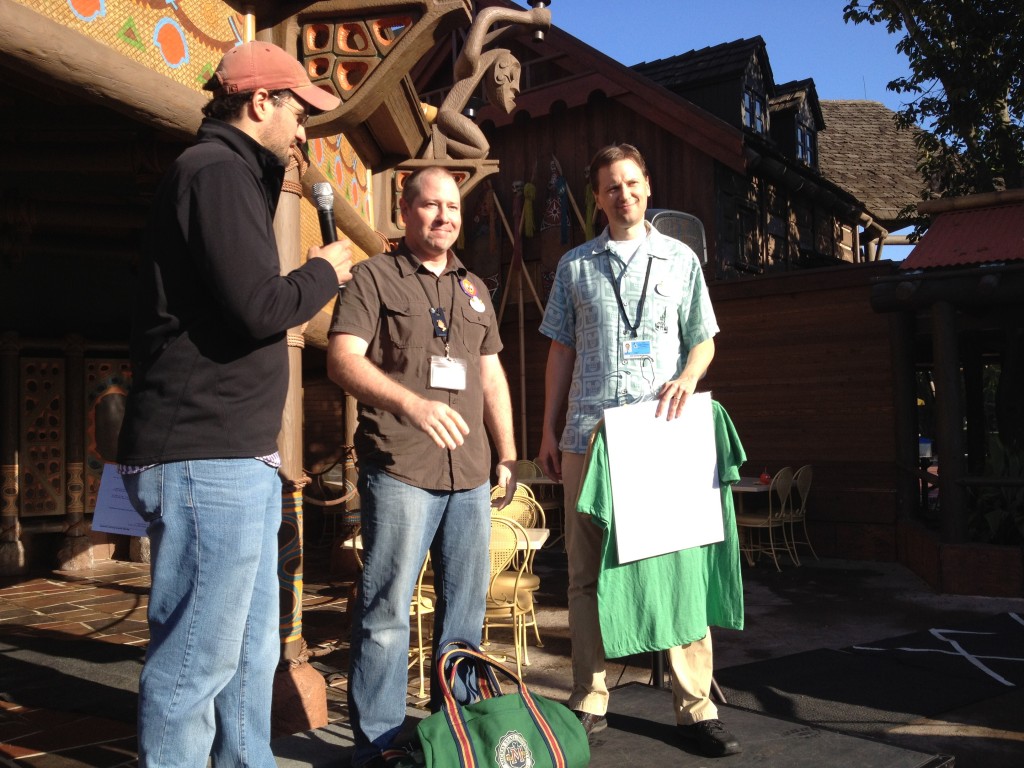 Imagineer Jason Grandt then took the stage to share about the discovery of Orange Bird in a drawer in Glendale and how happy they were to have him back home. We had a little trivia contest (where some of us learned we needed to brush up on our Orange Bird history a bit) with Orange Bird whistles as prizes. Casey Jones and Monty Maldovan, both of the Disney Design Group, then shared their newest designs – the Orange Bird sipper cup, two new Orange Bird t-shirts, and coming in June, the Orange Bird ear hat. Casey also revealed the new attraction poster to be featured under the Main Street train station. The Adventureland poster entices guests to experience the Sunshine Tree Terrace and enjoy the Orange Bird's offerings. As a bonus, the poster is available as a print to purchase too.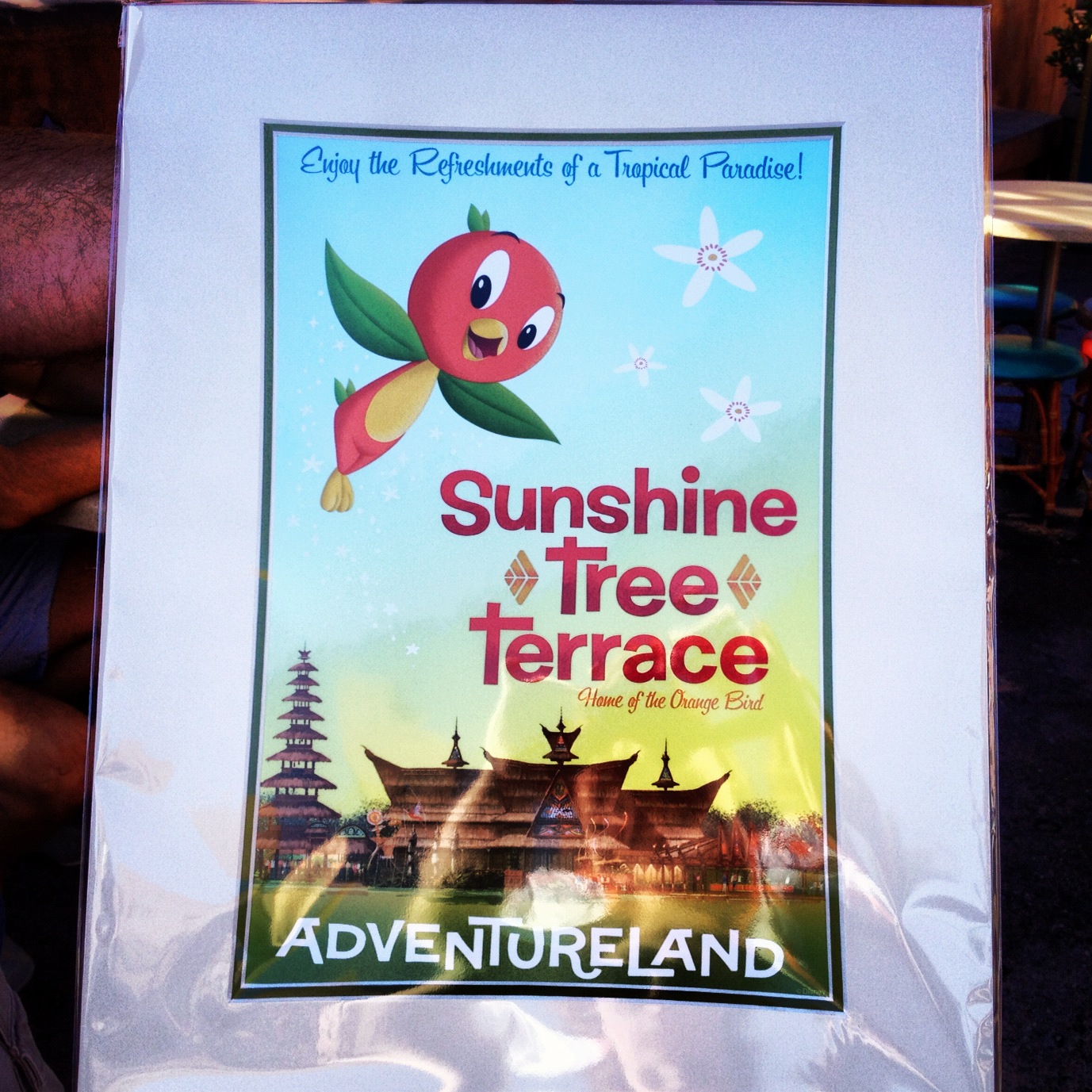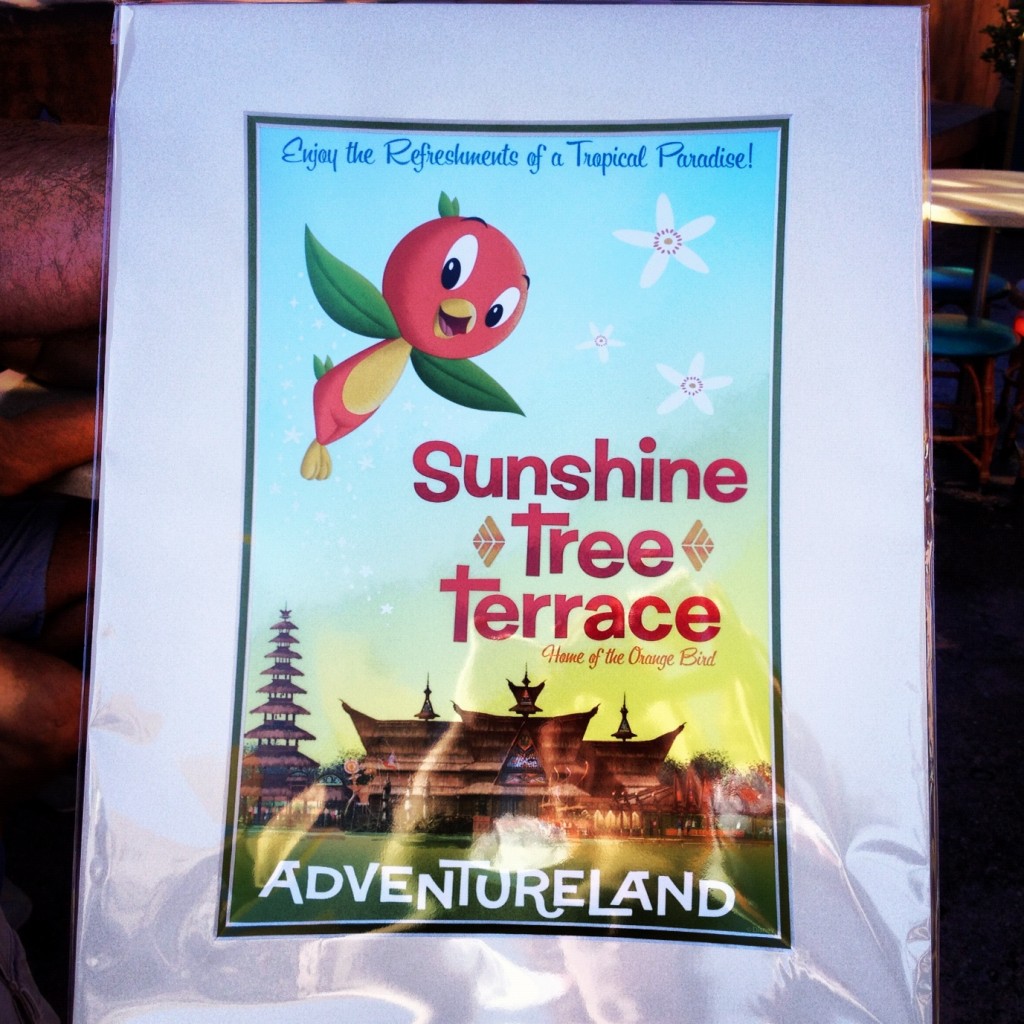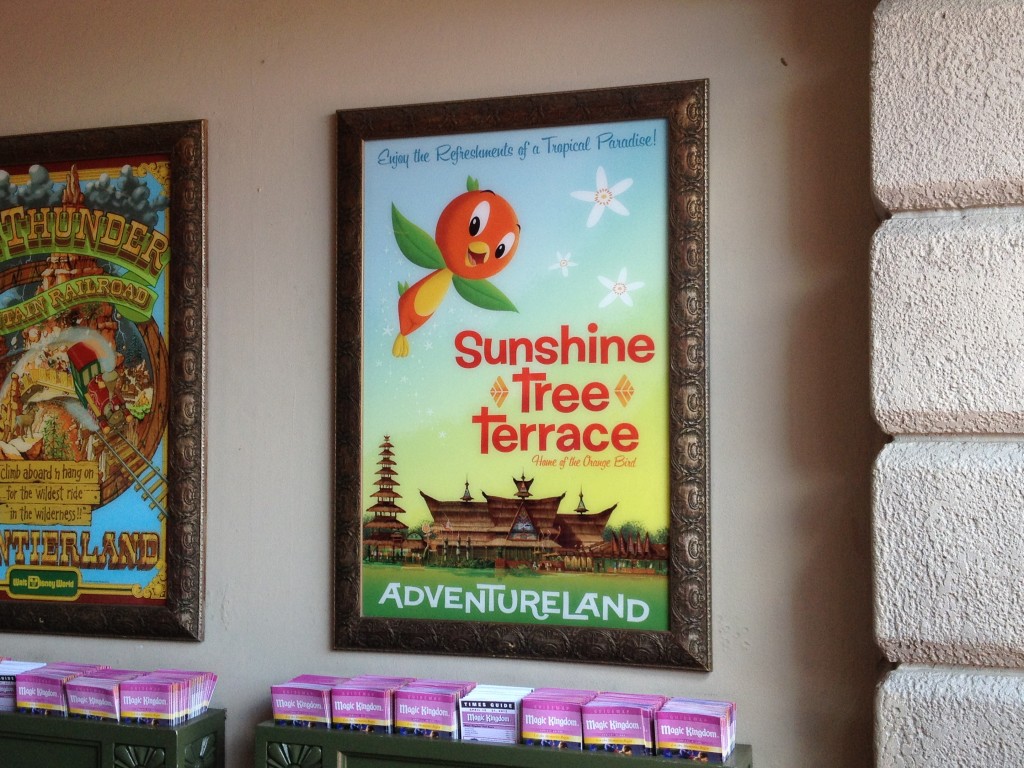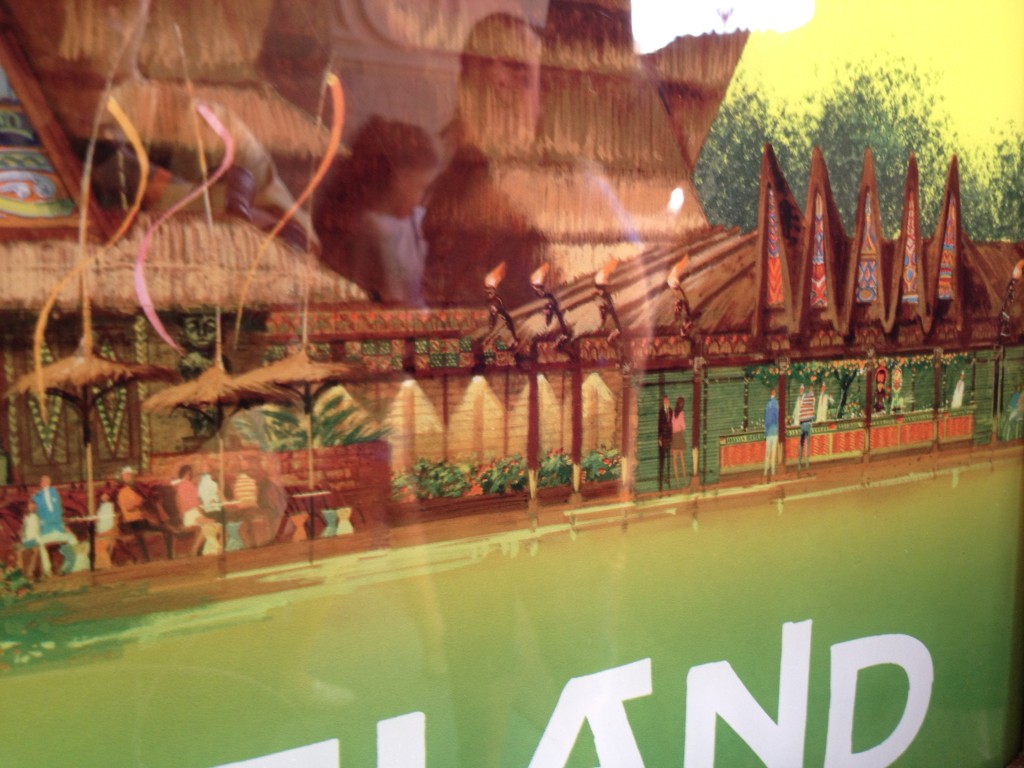 Here's a video from D23 explaining the history and recovery of the Orange Bird:

Did Disney have to add the original Orange Bird figure back? Did we need Citrus Swirls again? Of course the answer is no. Will there be guests that visit the park and don't know who the heck Orange Bird is or why he's on the Sunshine Tree Terrace sign? Sure. As with any project WDI takes on, there will be guests who don't notice or appreciate the details and will happily enjoy their time at the Parks. Then there will be those who take the moment and look down to see those animal footprints in Storybook Circus, or read the windows on Main Street, and notice all the little touches which separate Disney parks from any other theme park or company. When the Imagineers involved in creating new projects are such fans themselves, there is hope for all the other fans who visit and give their feedback.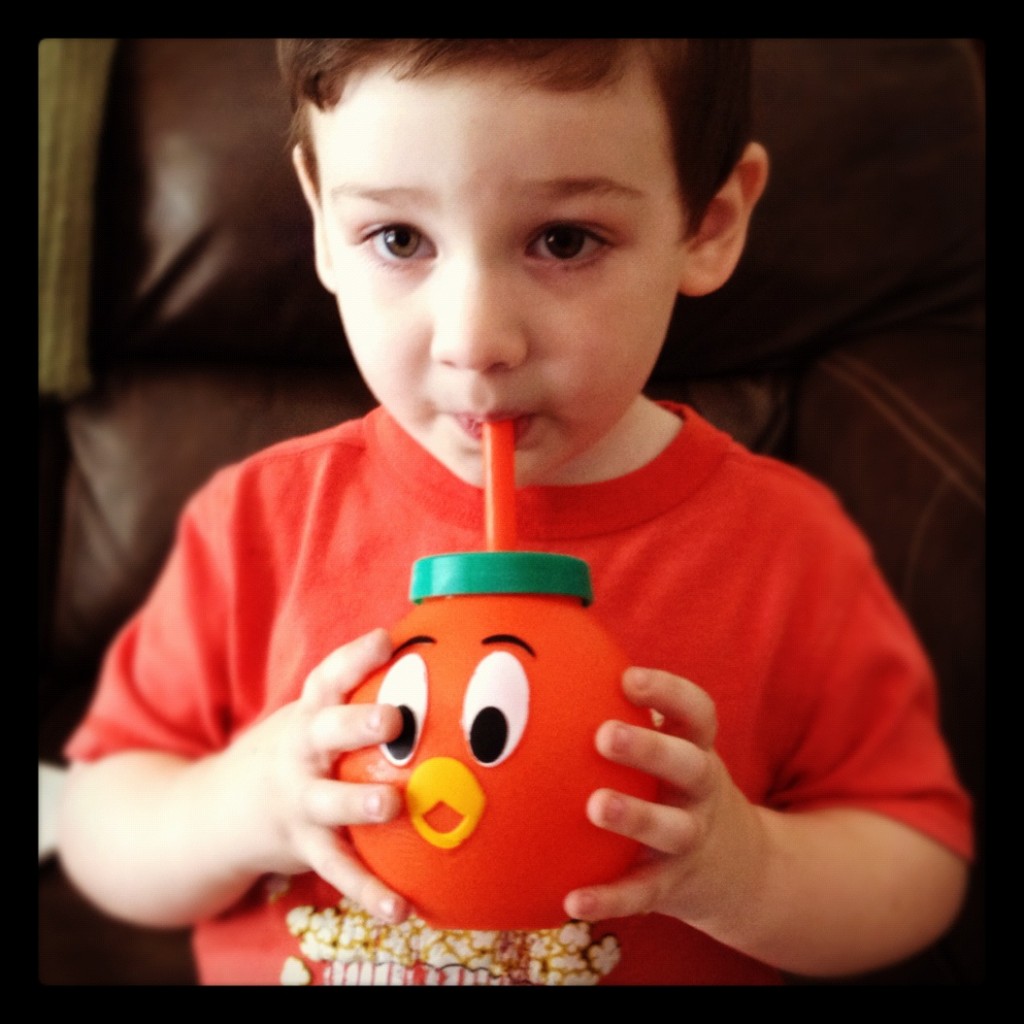 Yes, there is new merchandise which will make money. But really, as has always been the case at Disney theme parks, you have to ask yourself these questions: do you want an Orange Bird t-shirt because Disney has hyped it, or do you wish there were Orange Bird t-shirts and thank goodness, Disney now has them? In the case of the recent retro lines and D23 merchandise, the choices definitely seem to be a case of (fan) demand and then supply. That is what gives us hope as extreme Disney fans, who long for preservation and curation of the Disney history we grew up loving.
Overall, it was an amazing event, full of appreciative support of the changes, history and new merchandise. Every cast member I spoke with who was involved with the project seemed so genuinely happy to be a part of bringing a bit of vintage Disney charm back to Walt Disney World. I think announcing the changes in this fashion was a wonderful way to show fans they are appreciated and that membership in D23 is a worthwhile investment. Kudos to the whole Little Orange team – it was a pleasure and honor to be a part of this gift to Walt Disney World guests. You can read more about the return of the Orange Bird at D23's recent blog.