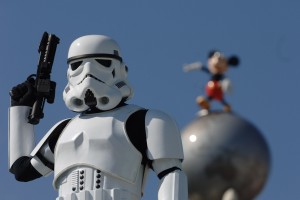 One of my absolute favorite times of the year are when Star Wars Weekends roll around at Disney's Hollywood Studios. While I do profess that I am a geek/nerd in many ways, Star Wars holds an even dearer place in my heart because I grew up with it too. Like many of my favorite things at Walt Disney World – classic EPCOT Center and Magic Kingdom in the early 1980s, I have an emotional attachment to all things Star Wars.
Being able to walk through a park and see Stormtroopers or Boba Fett just hanging around is just as close to heaven for a kid from the 80's as you can get. And don't even get me started on Chewbacca hugs. Add in the cool exclusive merchandise, a parade, celebrity appearances, and the Hyperspace Hoopla show and you've got something for everyone. Star Wars Weekends are the perfect place to combine your love of Disney and Star Wars, and there are no shortage of fans who share that love. Last year, the weekend was kicked off with the grand re-opening of Star Tours: The Adventures Continue, but the excitement is still going for 2012 with lots of new surprises in store.
The great thing about Star Wars Weekends is that Disney keeps it fresh, with current stars of the popular Star Wars: Clone Wars animated series appearing each year alongside stars from the classic films as well. One star, Ashley Eckstein, voice of Ahsoka Tona from the Star Wars: Clone Wars series, has become a staple at the Weekends. Ashley and James Arnold Taylor, voice of Obi Wan Kenobi in the same series, join forces as the celebrity hosts for 2012.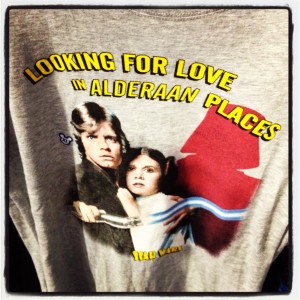 In 2009, Ashley introduced her new line of clothing and accessories aimed specifically at girls and women, Her Universe. Last year, she also introduced designs exclusive to Star Wars Weekends for a limited time. This year she's back with even more exclusive fun from Her Universe:
Several new apparel pieces are also being introduced for the younger "Jedi-in-training" including several Star Wars youth designs and, for the first time, a Jedi onesie for the tiniest followers of the Force featuring the adorable art of popular Star Wars illustrator Katie Cook.
"I was very excited when Ashley approached me to do kids' designs for Her Universe," said Cook. "She's doing a wonderful thing for the female fan community already… and she's doing those of us with little girls an even bigger favor by giving the littlest fangirls nerdy gear of their own!"
In addition to the new product line being available at Disney's Star Wars Weekends, Eckstein will also, for the fourth year in a row, be co-hosting the Behind The Force live stage show and signing autographs each weekend of the event.
"Disney's Star Wars Weekends is one of my favorite events of the year," said Ashley Eckstein. "I truly enjoy meeting Star Wars fans of all ages and that's why I am so excited to be offering merchandise for women, girls and now babies! As the voice of Ahsoka Tano, I cannot wait to see baby girls in an Ahsoka "Jedi in Training" onesie or little girls running around in Ahsoka's new costume top!"
These new designs are just so adorable and the message they send is one of girl power and strength, so needed today! The new styles will also be available online at www.heruniverse.com on May 21st. Photo credit below: – Kelsey Edwards Photography
I was able to see the new merchandise in person today and loved it all! The "Looking for love in Alderaan places" shirt is hysterical, and the Princess Leia hoodies and Ahsoka tunics are super fun. The little kids shirts and baby onesies were killing me with cute!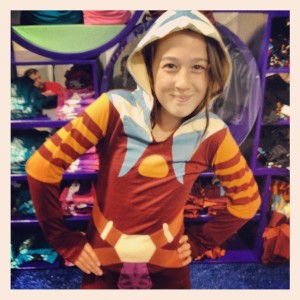 Star Wars Weekends run from May 18-June 10 this year and are a must-do if you are in the area. We'll have more coverage of the galactic fun in the coming weeks!