The Tinker Bell Disney Dooney & Bourke Bags are perhaps the most asked-about designs of all the Disney Dooneys to date. I SO wish they'd release them as a regular bag as well, but until then, you can snag one by registering for the 2013 Tinker Bell Half Marathon at Disneyland – taking place January 19-20 next year. By extremely popular demand, runDisney has decided to re-release the commemorative Tink Dooney & Boourke purses that it sold for the inaugural Tinker Bell Half Marathon in Disneyland.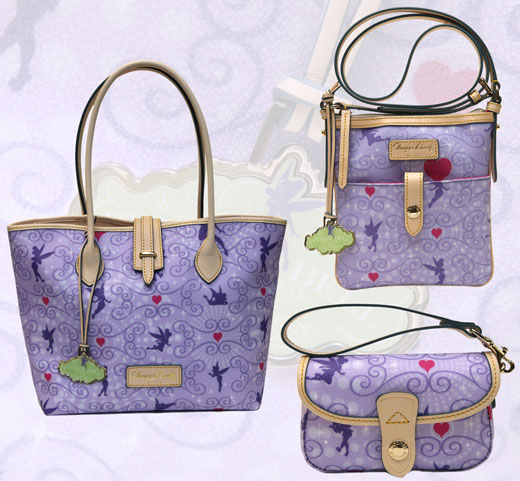 More photos of the bags at last year's Tinker Bell Half Marathon post – the design is the same with a new 2013 commemorative hang tag.
Purses must be pre ordered through Active.com by a registered participant. Only 2 bags per person. This should eliminate some of the issues from last year, where bags sold out in minutes!
Prices:
$92.00 – Dooney & Bourke Wristlet
$209.00 – Dooney & Bourke Cross Body Purse
$246.00 – Dooney & Bourke Small Shopper
Purses must be picked up at the Disneyland Hotel event merchandise location on Friday, January 18th (11am – 7pm) or Saturday, January 19th (9am – 5pm). Any Dooney & Bourke Purses not picked up at the Expo will not be mailed and will not be refunded. Quantities are limited.
Don't forget to check DisneyStore.com for sales of select current released Disney Dooney & Bourke purses and Zannaland's Disney Dooney & Bourke page with ALL handbag photos and info.
*DisneyStore.com links are affiliate links, which means it costs you nothing extra to click or buy, but if you do, I get a small commission. Thanks for reading!