I was recently invited to attend the media preview for the Magic Kingdom's much anticipated "Castle projection show". The show was announced some months back along with the 2011 campaign – "Let the Memories Begin". The show and campaign itself received much criticism from cynics, assuming Disney was just using other people's photos and videos so they didn't have to come up with something on their own. Many objections to "YouTube videos on the castle" were heard over the interwebs.
Ever the Disney-supporter, I posted on twitter and facebook about how I supported this campaign. Really, I'm the kind of Disney fan that doesn't think we are "owed" anything, yet many critics compare each year's promotion to the Year of a Million Dreams or the What Will You Celebrate? campaigns, which were overflowing with extras, freebies and one-of-a-kind experiences. Last year, you still got a free ticket – if you volunteered for it. This year, however, the focus is on families – no matter what that consists of, and the memories created at Disney Parks throughout the world. After all, aren't the best "extras" the intangibles that you hold in your heart and mind for years to come?
Despite my understanding and excitement about Let the Memories Begin, I still wasn't sure how the Castle would fit in to this equation. After all, people don't typically like when Cinderella Castle is messed with. (I happen to be one of the few people in the universe that thought it was cute – but totally understand those that were upset at its appearance for their visits; a year is a long time for bright pink.) Would this be something that most guests couldn't relate to if their pictures weren't selected? Would it disrupt the magic of the kingdom? Well, all my fears were assuaged Tuesday night when I experienced "The Magic, The Memories and You" first-hand.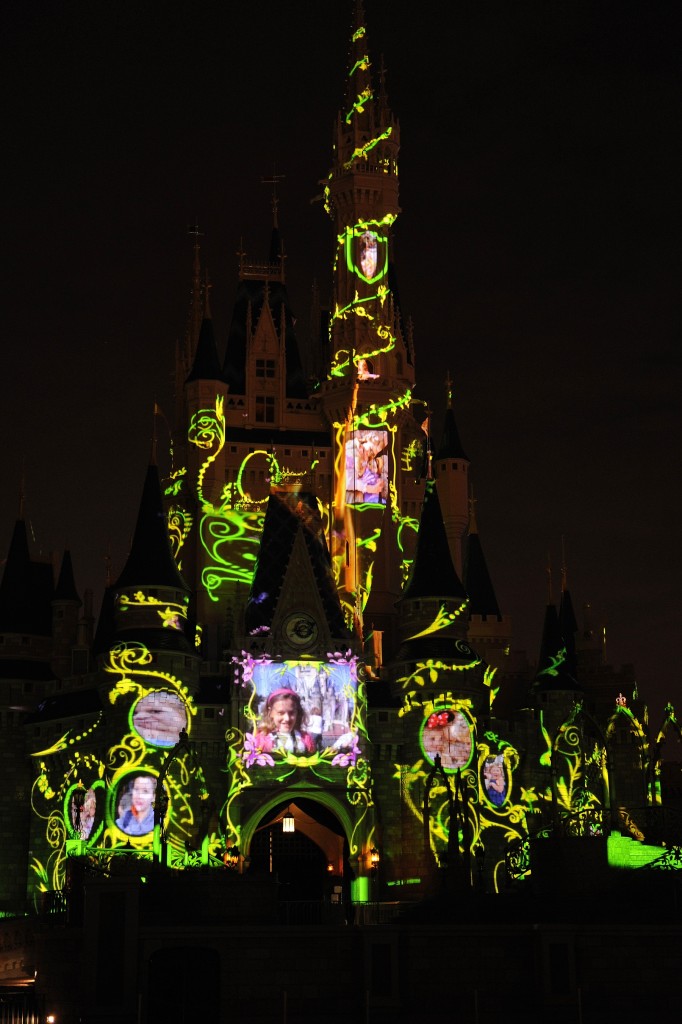 First we were treated to a press conference with Park executives Al Weiss, and Meg Crofton. We were told about the upcoming news at the Parks (Wild Africa Trek, La Hacienda, Via Napoli, Star Tours 2). Alan Bruun, Associate Creative Director Walt Disney World Entertainment then gave us a behind-the-scenes glimpse at how the new castle show was created. The castle was actually graphed with a grid for the 3-D photo imaging required to ensure seamless projections and special effects. We were shown the locations for the 16 projectors used in the show. In addition to videos pulled from the Let The Memories Begin site where guests can submit their family videos, 500 photos taken in-park that day will be hand-picked to appear in the sometimes twice nightly show on the castle. As Bruun was quoted that night, "it's a heck of a lot more than a slide-show on the castle". Since seeing is believing, we all headed over to Cinderella Castle to experience the show for ourselves.
My friends and I had a prime spot to the left of the castle hub, with no one in front of us. We were then told by a cast member that the best views are actually from Main Street, U.S.A. and we made our way over there. Because of the nature of the projections, viewing them straight on and from a slight distance is the best plan so keep that in mind as you prepare to watch.
The show itself was, in a word, magical. Cinderella Castle transforms before your eyes in tribute to so many different aspects of Walt Disney World, it's hard to keep track at times. Vines grow up the turrets. Photos and videos appear as the music swells in the background. A sky appears and you follow Peter Pan and the gang as they fly around amid the memories. Special effects continue until the castle is draped in colors like a jewel box. Balloons float up from the base and as the last one flies up "We're going to Disney World!" is cheered in a child's voice. The balloon pops and the entire mood of the show changes as more effects, photos and images from the parks and movies appear before us. Casey Junior makes his way up and around the castle. Scenes and decor from "it's a small world" fill the display. Music from animated films combine with frenetic effects. Buzz Lightyear announces "To infinity and beyond!" and the top turret of the castle "blasts off" into space as we then cruise through the cosmos ending up among Pirates dueling before our eyes. The castle is then "set on fire" before returning to its regal form.
Outlined in bright white, it is then colored in as if with the crayons from a child's imagination. Videos continue as heart-string-pullers like "Circle of Life" and "You'll be in My Heart" are played in the background (of course I cried!) We then visit the past with old movies and vintage photos appear. Then the remaining photos from the day fly into view with camera clicks as each one appears. The theme song returns and "fireworks" appear ON the castle for the finale, ending with an image of Walt himself with his wish, "to all who come to this happy place, welcome." (yes, more tears.) Ending with some real-world fireworks and applause all around.
Overwhelmed?! It is a lot to take in and even more so in person. (In my opinion, it is really hard to capture in photos OR video and do it justice.) However I was truly touched by the show and feel it is a perfect addition to the Magic Kingdom. I can only imagine how much more exciting it would be for a family to have their photos or videos chosen, but even not knowing a single family displayed, it was a beautiful, moving experience. It's short enough (10 minutes) that you don't feel like it's dragging and there are enough special effects and other fun that you aren't left feeling like you shouldn't have bothered watching. In short, A+ go check it out!
It's definitely a show that captures the whimsy, magic, excitement and memories which make Walt Disney World such a beloved destination. For those on the west coast, this same show will appear on the outside of "it's a small world" at Disneyland. I can't wait to see videos of how the show is transformed at that location. If you've seen the show, I'd love to hear your thoughts on it!