I'm sure by now any Disney fan reading this has already purchased Toy Story 3 on Blu-ray + DVD
…however on the off chance you have not, or perhaps you are new to the wonders of Pixar and Walt Disney Pictures, I am here to persuade you to run out and pick it up right now. I'll be honest, when I was given Toy Story 3 to review, I avoided it – not because I didn't want to talk about it – but the opposite, I knew I'd want to talk too much about it. I've already discussed some of the cool bonus features and fun facts about the animated short Day & Night on the DVD and Blu-Ray. Now I'll share why this film should be in your collection.
When I first saw Toy Story 3 in theatres, I was prepared for an emotional roller coaster. Truth is, I was a wreck at the closing scene. Yes, the first installment of the Toy Story trilogy came out before I was even married, much less had children, yet I still associate the movies with my two oldest children and watching them grow up. This mixes with memories of moving to Orlando with my family and becoming cast members. At the time, the Toy Story parade was the one that filled Hollywood Boulevard each day at the then Disney-MGM Studios (now of course Disney's Hollywood Studios). As a result, each time I hear Randy Newman's "Strange Things" I'm reminded of that fun and exciting time in our life. It wasn't just Andy that grew up, it was me too. I married my high school sweetheart, we had 2 beautiful children and my mom went from being my mom to being my children's grandmother too, my dad passed away, my husband and I had another  beautiful child. So there was a lot of emotion wrapped up in this little film from Pixar, which had absolutely nothing to do with me, yet so very much to do with me.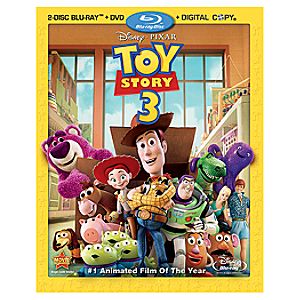 Anyone that's been a child, had a child, had a beloved toy, or moved on to another phase of their life, will no doubt be moved by this film. Sure, there are lessons about friends sticking together and doing what's right, handling tough decisions. About how sometimes you have to rise above your circumstance – all set to spectacular DisneyPixar animation and life-like emotions and effects. But as cheesy as it sounds, I feel like most of all Toy Story 3 is about the circle of life.  Not in a lions-eat-zebra kind of way, rather in a you're going to get older whether you want to or not, so why not pause and appreciate where you've come from and where you're going? It would've been very easy for Andy to keep those toys for himself, either safely in the attic or displayed in his college dorm. Instead he saw the chance to share some of his very favorite memories and experiences from childhood with another child and in turn, let her create her own. And she'll remember that gift and hopefully pass it along when Buzz, Woody and Jessie are collecting dust in her toy chest.
I'm not kidding when I said I was a wreck at the closing scene. As a mom of an 11, 10 and 2 year old, I can see how time is fleeting. It seems just yesterday my oldest was a tiny Buzz Lightyear for Halloween and this year he didn't even want to trick-or-treat. He's started middle school now and the next time I blink he'll be filling out college applications. Pixar knows how to reach in and capture the hearts of its audience and knew how invested we all were with these characters, like friends we've grown up with over the years. The ending of Toy Story 3 was their gift to each one of us. When Andy says "Bye, guys" and drives off it is as if Pixar is saying good bye and thank you to each fan that has followed Andy and his toys through the years. They way it was handled lets us know, it's all going to be okay. After much sobbing and trying not to think about my kids driving off to college, I'm going to be okay too (until they do). So thank you, Pixar, Disney, and the entire Toy Story team for 3 amazing movies and 15 years of memories, laughs and tears.
Okay, that was my emotional mom review, however, I feel obligated to add that my kids absolutely love the film too, for completely different reasons. The jokes are fresh and hysterical, the characters spot on and engaging, the movie is pretty much perfect. I mean, how many other villains smell like strawberries? As we finished up our Thanksgiving dinner today, my kids asked to watch Toy Story 3. At their ages, it warms my heart when they want to do anything with us, much less watch a heartwarming tale like Toy Story 3. It gives me hope that some day they'll pass along these traditions to their own families and the circle of life will go on.