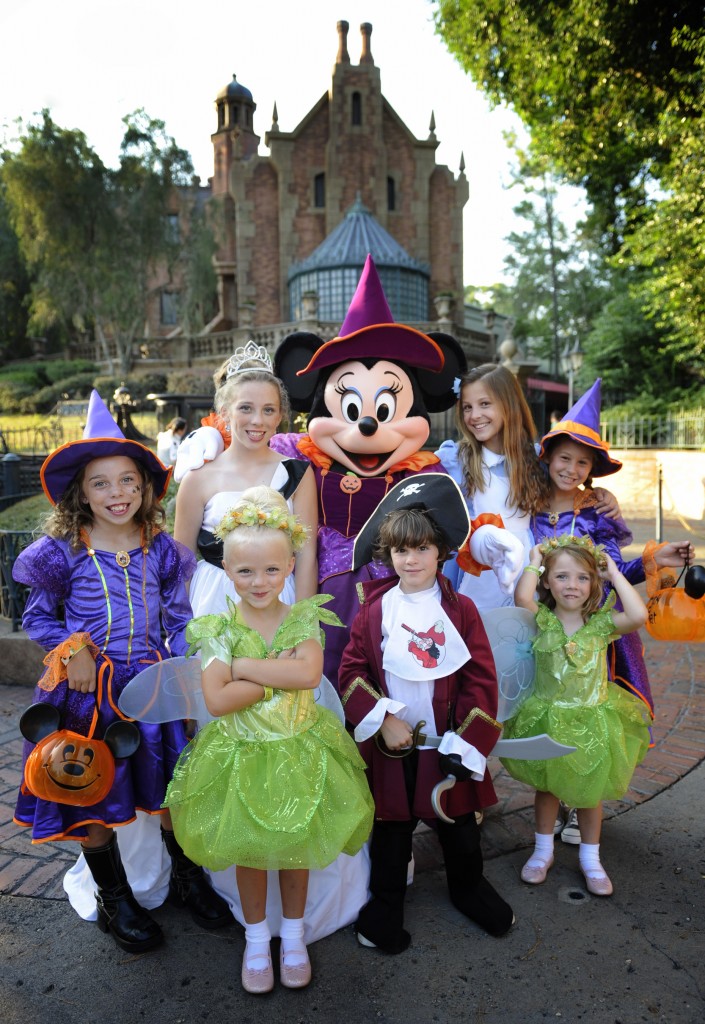 In addition to meeting Duffy the Disney Bear this past Saturday, some fellow Disney bloggers and I also got a chance to enjoy one of my very favorite special events at Walt Disney World – Mickey's Not So Scary Halloween Party! It's so so hard for me to decide between this and Mickey's Very Merry Christmas Party…but MNSSHP as it's commonly abbreviated has candy AND the Headless Horseman, so it might win.
I've reported previously about the fun that is MNSSHP – check out part 1 of my "Boo to You!" Parade pictures, part 2 with the "Boo to You" Villains from the parade and my Headless Horseman video from 2008. Last year and now this year again, the Horseman has slowed to a trot from an eerie gallop (perhaps for safety issues) but it's still impressive nonetheless! New to the parade this year is the evil Dr. Facilier from Princess and the Frog fame. My favorite are still the gravediggers with their shovels!
One excellent part of attending the party early in the season is that the crowds are reduced. My daughter and her friend (daughter of DisneyEveryDay.com's Amanda Tinney) rode Big Thunder Mountain Railroad 3 times in a row. The cast member just let them stay on the train there were no other guests waiting. They also rode Splash Mountain twice in a row. Space Mountain had a 5 minute wait. We walked right on to most rides. Be sure to check out the Haunted Mansion, which is extra ghoulish on these party nights. The music around the park and special dance parties make for a night of festive fun.
Of course then there is the candy. There's no shortage of trick-or-treating treats here. Just look for the lighted Goofy's Candy Company globes to mark the candy locations and fill your complimentary bags full of goodies. For those wanting to avoid too much sugar, there are boxes of raisins at each trick-or-treat spot as well.
Don't forget to stick around for the special "Happy HalloWishes" version of the Wishes fireworks spectacular. Special villain narration, Halloween themed colors and perimeter fireworks make this a show to remember.
Here are all the official details from this year's Not So Scary events:
Guests wanting to join in the spirit (no pun intended) of the party are welcome to don their favorite Halloween costumes for the 7 p.m.-to-12 midnight event. "Mickey's Boo-to-You Halloween Parade" takes place at 8:15 and 10:30 p.m. and the "Happy HalloWishes" fireworks spectacular at 9:30 p.m. The park closes to non-party guests at 7pm, but guests with tickets for the event may check in as early as 4pm, obtain wristbands and enjoy the park before the evening's activities begin.
In addition to trick-or-treating, meet and greets with characters and entertainment unique to Mickey's Not-So-Scary Halloween Party, many popular Magic Kingdom attractions – including, of course, The Haunted Mansion – are available to experience (but beware of hitchhiking ghosts). Costumes are always part of the unique fun, but not required to enjoy the evening's activities or trick-or-treating!
Party dates in 2010 are: Sept. 14, 18, 21, 23, 25, 28, 30; Oct. 1, 3, 7, 8, 11, 12, 14, 17, 19, 21, 22, 24, 26, 28, 29, 31; and Nov. 1.
Prices are $59.95 (ages 10+) and $53.95 (ages 3-9) for all dates except Oct. 29 and Oct. 31 when tickets cost $64.95 (ages 10+) and $58.95 (ages 3-9). Advance purchase (prior to event day) savings of $6 per ticket are available for the parties on Sept. 14, 18, 21, 23, 25, 28, 30; Oct. 1, 3, 7, 11, 12, 14, 17, 19, 21, 24, 26; and Nov. 1. Annual Passholders and DVC members may also purchase discounted tickets in advance.
Additional information is available at www.disneyworld.com/halloween. Tickets may be purchased online or by calling 407/W-DISNEY.
Thank you to Walt Disney World for providing tickets for me and my family to attend this fun event. We'll be back again in October for even more Halloween fun!