Well that has to be Epcot's 14th Annual International Food & Wine Festival, which runs from September 25-November 8, 2009 this year at the Walt Disney World Resort.
Whether you have been to Epcot enough times to rattle off the location of each hidden Mickey in the park, or you are planning your very first visit – the World Showcase's reputation for great food is well known. Roaming from the Margaritas in Mexico's San Angel Inn to the steaks cooked to perfection in Canada's Le Cellier, to the pastries in France's Boulangerie, you will not go hungry in Epcot. However, if you want even more scrumptious treats, wines, and beers from countries that are not normally represented at Epcot, then you won't want to miss the Epcot's International Food & Wine Festival .
As soon as you enter the World Showcase section of Epcot with your theme park admission, the delicious smells of delicacies from across the globe waft around you, making your stomach growl in anticipation. Oh, did I mention to come hungry? That's a must. No filling up on a character breakfast buffet before visiting the Food & Wine Festival – you will thank me later! Most likely, you'll have a hard time deciding which of the tapas-style food creations (priced between $2-$7 a plate) to try. The unique wine and beer pairings simply add to the experience.
This year the festival, which always features a different annual theme (although many favorite dishes return each year), is focusing on "foodie" cities from around the world. There are more than 25 kiosks serving food and wine around the World Showcase promenade – highlights of which include Bologna, Italy; Bangkok, Thailand; Wellington, New Zealand; Santiago, Chile; Marrakesh, Morocco; Shanghai, China; with New Orleans going to bat for the United States.
Be sure you pick up a guide map at the park entrance, so you can follow along with all the great selections and decide which food and drink stations you can't miss. While I could say to just try them all, even the most competitive eaters might not be able to pull off trying ever offering in one day. One way to go would be make one trip around to try all the new foods as you walk around and enjoy the sites and sounds of World Showcase, then take a break in Future World as you digest, and make another trip around for some of the wonderful desserts featured at the pavilions.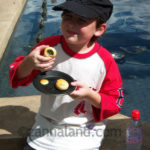 On a personal note, this festival has always been a 'must-see' for our family. We were here when it began in 1995, because we were cast members at the time. The 2nd year, my husband and I were getting married during the festival's run, and showing our relatives and friends the amazing offerings in the days before we had our reception at the Walt Disney World Dolphin.
Years later our children look forward to it each year as well. Would you believe my son's favorite part is eating the escargot from France each year?? Yes, you read that right – snails! It's a great way to get kids excited about trying new foods and learning about new countries and traditions in the process.
Here are some of our favorite kiosks, taken from the Disney Food & Wine Festival page:
Athens, Greece

Location: Canada Pavilion

* • Greek Salad with Pita Bread
* • Spanakopita (Savory Spinach and Cheese Pastry)
* • Chicken Souvlaki with Tzatziki
* • Baklava
* • Beverage Selection: Boutari Moschofilero, Boutari Santorini, Kourtaki Mavrodaphne of Patras, Tsantali Rapsani
Greece is one of the most popular kiosks along with Canada (cheddar soup anyone?) so be prepared for a wait, with good cause!
Paris, France

Location: France Pavilion

* • Escargot Persillade en Brioche
* • Cabernet Short Ribs with Mashed Potatoes
* • Chocolate Milk Creme Brûlée
* • Beverage Selection : Chardonnay (Bouchard Ainee & Fils, 2007), Merlot (Chateau Mezain, Bordeaux, 2007), Sparking Pomegranate Kir, Parisien Cosmo Slush
As mentioned, my son LOVES escargot. It is a tradition he looks forward to each year. My daughter has taken to trying the French dessert each year, a girl after my own heart, she knows quality! Ooh, and I may have to try that Cosmo Slush!
Melbourne, Australia

Location: Africa Outpost

* • Seared Barramundi with Blistered Cherry Tomatoes, Arugula and Lemon Oil
* • Grilled Lamb Chop, Red Wine Sauce, Murray River Sea Salt
* • Lamington
* • Beverage Selection: Rosemount Traminer Riesling, Rosemount Pinot Noir, Penfolds Koonunga Hill Shiraz Cabernet, Penfolds Bin 2
I am not a big lamb person myself, but my husband and mother actually save room for this lamb chop every festival. It's just that good so I'm told.
There are many more kiosks, including new offerings from Bangkok, Thailand and Rio de Janiero, Brazil. As if that wasn't enough, there is also a new "Desserts and Champagne" kiosk which I think will be a must-visit for me this year!
Desserts & Champagne — NEW

Location: Showcase Plaza

* • Austrian Gugelhupf (Austrian Bundt Cake)
* • Strawberry Shortcake
* • Frozen Grand Marnier Parfait, Orange Coulis
* • Champagne
* • Beverage Selection: Moët & Chandon Wines: Impérial, Rosé Impérial, Nectar Impérial, Nectar Impérial Rosé
While you may come for the food, there is much more than just eating and drinking happening around the promenade. There are culinary demonstrations, beer and wine tastings from around the world, and Signature Dining Series for the true gourmands, featuring guest speakers and chefs serving up delectable lunches and dinners, for a separate fee. In addition to all the edible enjoyment, you can Eat to the Beat with some wonderful musicians that keep things rocking while you enjoy the tastes of the world.
There are the 17 scheduled performers for this year's Eat to the Beat concert series which is included with Epcot admission and begin at 5:15, 6:30 and 7:45 p.m. daily. The lineup (subject to change) includes:
Eat to the Beat concert series schedule:*
Sept. 25-27 Big Bad Voodoo Daddy ("You & Me & The Bottle Makes 3 Tonight (Baby)")
Sept. 28-29 Richard Marx ("Hold On to the Nights")
Sept. 30-Oct. 3 Starship starring Mickey Thomas ("We Built This City")
Oct. 4-6 En Vogue ("Free Your Mind")
Oct. 7-8 Better Than Ezra ("Good")
Oct. 9-11 Sister Hazel ("All for You")
Oct. 12-13 Kool & The Gang ("Celebration")
Oct. 14-16 Spyro Gyra ("Morning Dance")
Oct. 17-18 Jon Secada ("Just Another Day")
Oct. 19-20 Sister Sledge ("We Are Family")
Oct. 21-22 Vanessa Carlton ("A Thousand Miles")
Oct. 23-25 Taylor Dayne ("Tell It to My Heart")
Oct. 26-28 Boyz II Men ("Motownphilly")
Oct. 29-31 John Waite ("Missing You")
Nov. 1-2 Night Ranger ("Sister Christian")
Nov. 3-5 Billy Ocean ("Caribbean Queen")
Nov. 6-8 Los Lobos ("La Bamba")
Don't forget to grab an extra dessert, drink and a spot for viewing Illuminations: Reflections of Earth – Epcot's mesmerizing nighttime fireworks show, featuring awe-inspiring fireworks, fountains, lasers and music – the perfect nightcap to a delicious Disney day.
Additional Information may be found at Disney World's Food & Wine Festival page.
*Entertainment subject to change