Today saw the arrival of Duffy the Disney Bear to his new home at Epcot's World Showcase. Fans, media and Disney Cast Members alike queued up to welcome Duffy, get their picture taken and perhaps even pick up a Duffy plush bear to take home. Duffy's meet and greet area is in a newly constructed *shaded* gazebo overlooking the flagship merchandise shop – "Everything Duffy."
Walt Disney World Ambassador Vanessa Rosas introduced Vice President of Epcot, Dan Cockerell who then welcomed Mickey (dressed in his sea captain outfit) and Duffy from the nearby Friendship boat landing. After singing the official Duffy song and cutting the ribbon, Duffy headed over to the first of his two appearances: 12:20pm – 2:30pm and 3:45pm – 7:00pm. Be sure to check the official times guide or with Guest Relations to see when Duffy is appearing during your visit.
Speaking with Disney Trading Project Manager and all around cool guy, Steven Miller (who let me know today he's taking on more projects, including Duffy – awesome!), he expressed the excitement about bringing Duffy on board and the many new things to come in the next few months. He was just shown a mock-up of the promised Duffy Ear Hat and said it looks great. Can't wait to see it!
It was a good sign for potential success that all the World Showcase-themed costumes were sold out in a matter of hours! More are on the way and "Everything Duffy" Cast Members told us there will be a Halloween costume coming soon along with the other Duffy holiday and celebration costumes we mentioned previously on ZannaLand.
You can see people waving the Duffy-on-a-stick cut outs which have replaced the masks at KidCot stations. New Duffy-themed stamps are available at each country's KidCot station to decorate the stick.
"Everything Duffy" takes over the former Disney Traders merchandise location but as of now, Duffy only occupies about half of the store. Other Disney items are still available for purchase. 17″ Duffy retails for $25 while the 28″ Fluffy Duffy is $60. Costumes start at $15.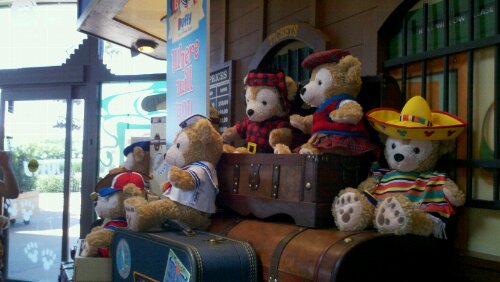 It's hard to pick a favorite costume, but I do love the UK's kilt outfit as well as Germany's lederhosen and Mexico's sarape and sombrero combo. Adorable!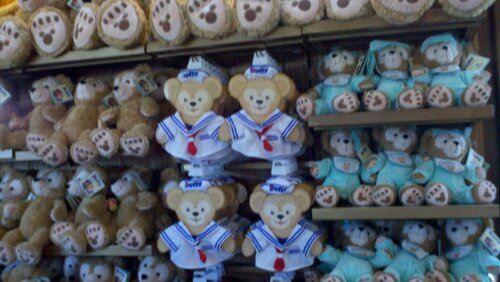 Duffy merchandise also has a small home in Mouse Gear, where they will sell a few costumes, but not the World Showcase country outfits.
Duffy treats were available in the popcorn, pretzel and hot dog kiosk on the way to Canada. Duffy Chocolaty Cup and Duffy Crisped Rice Treat were available and we were told the Duffy molded-bear popcorn buckets will arrive in January.
Stay tuned for more photos and information as it becomes available! Welcome Duffy!