It's not news to any regular readers that we go to Walt Disney World…a lot, nor that we have 3 children. My oldest son is about to turn 12 this weekend, my daughter is 10 and my youngest son turned 2 the end of October. While we have visited the barber shop in the Magic Kingdom many times, in both its locations, we had never experienced a "first haircut" there. With our first child, the thought just never occurred to us and we took him to a local kids hair cutting place. With our daughter, well, we just never really cut her hair until she was about 4 anyway! So since we now frequent Disney a lot more than "normal" with the blog and Moms Panel and twitter meet-ups etc. It seemed only natural to experience this rite of passage, well, the right way.
Now what's changed since our last visit, aside from the new location, is that you can now actually book appointments at the Harmony Barber Shop. Since this is such a popular attraction among those who know the Magic Kingdom, the wait time can get quite long in the shop. Simply calling 407-WDW-DINE will secure you a spot in the barber's chair. Walk-ins are still available but will be taken when available around those with appointments. Our time was for 11am on a busy Saturday, and despite the line out the door, the wait wasn't too bad for those without appointments. These dual-skilled cast members/stylists know their stuff and do it efficiently. The "First Haircut" package is $18, a child's haircut is $15, Adult haircut is $19 and colored hair gel and pixie dust is $7.50
Giovanni is pretty good around people he hasn't met, as long as we introduce them and ask him to say hi. He's been known to give a high-five or two as well. However, we'd never been in a situation like this before where something was happening TO him, aside from doctor visits of course. I think Gio definitely prefers getting his hair cut after this. As luck would have it, we were assigned to Michal, who is known pretty much world-over as THE barber at Harmony (as evidenced by his appearance on the Disney Parks Blog). I have no doubt the other cast members are just as proficient and we have in fact gone to others in the past, but having known of Michal since my brief days of working on Main Street, U.S.A. selling t-shirts and watches as a merchandise hostess, I was excited. I remember seeing him in the break-room down in the tunnel or in passing on my way to or from my post at Disney Clothiers, Main Street Athletic Club or Uptown Jewelers. He always had a smile or a wave. I can't even begin to imagine the number of hair cuts or styles he's given in his many years at the Magic Kingdom but it was an honor to know he'd be the first person cutting our last child's hair.
Which brings me to my next worry, Gio's hair. Those who have seen pictures know of his curls. They also know that he gets mistaken for a little girl and called Princess more times than I can count. But that's okay. I know he's my little guy and after cutting off both his older brother and sister's curls, I want him to keep them as long as possible! I explained this to Michal and he assured me his curls weren't going anywhere. Whew!
We started in by lifting Gio into the little kid-bench part of the barber chair and Michal began saying his hellos and covering Gio in Mickey stickers from head to toe. (Well, not head, that wouldn't be good!) He put some on his siblings and Dad and me too, just to keep him occupied and entertained. Gio was already clutching his mama elephant and baby elephant toys, so between that and the stickers, I think he was distracted enough to not really notice what was actually about to happen. To him, it seemed like this nice man was just covering him in stickers and combing his hair.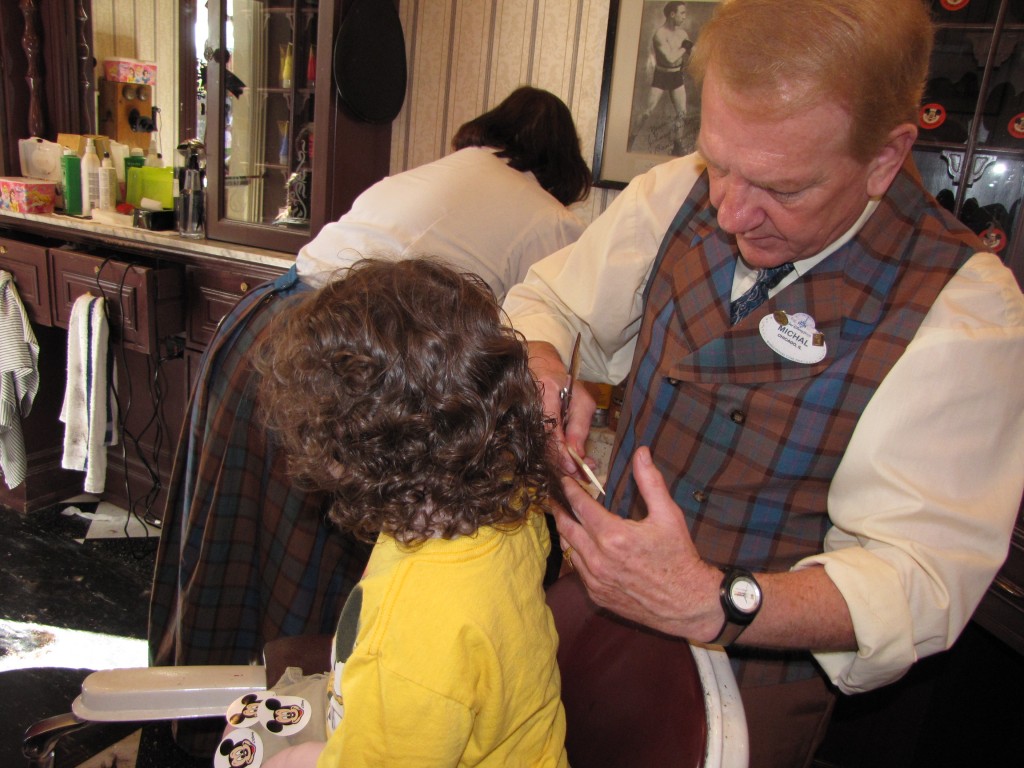 A few strategic snips later and the hair was out of his eyes but his curls were still in-tact. Michal carefully saved aside his cut hair and brought out the kid-sized Mickey Mouse ears with "First Haircut" embroidered on them. He did it! Michal then filled out the certificate so we can save it with all the other precious memories we have.
I actually shared this photo on the Disney Parks "Let the Memories Begin" site, to let Disney know how special the memory was to us.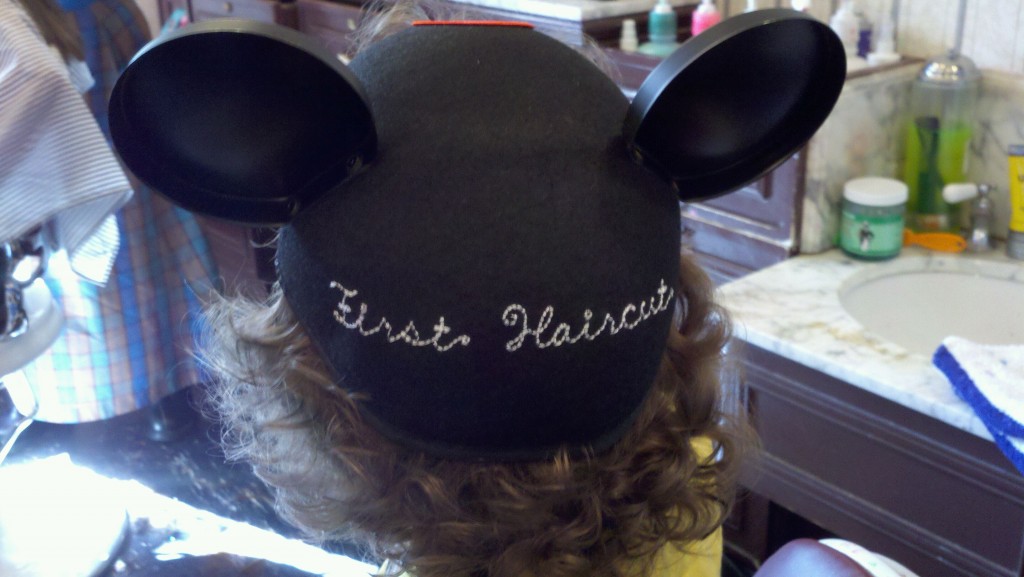 The Mouse Ears didn't stay on too long "I no like it…" but we got some pictures anyway and we have them to show him when he's older too. Daddy then got his hair cut too to round out the day. It's such a fun, happy place where everyone walks out with a little bit of pixie dust (even if it's the kind that you can wash off).
I also wanted to share our previous memories of the barber shop, when our two oldest visited a few years back. Christian was donning a mohawk back then, which he wore at his own request from age 5-8 off and on. He had wanted one since he was about 3 and I finally relented when he was 5. As my mother always says (and I've said many times myself after hair fiascos) "it's only hair." Anyway, his mohawk had started growing out, so he got it trimmed and then covered in red gel, while his sister, Sophia got some gel and pixie dust over her long hair. They were around 5 and 6 at the time and going through a period of bickering (well, I guess that period hasn't ended yet!). When they walked out of the barber shop, they both marveled at each other's new looks and were pretty in awe of themselves. In fact, the experience rained down such peace and, yes, harmony on the day that they actually HELD HANDS down Main Street, U.S.A. It's one of my favorite memories of my family at Disney.
Thanks to Disney, we have these amazing moments captured forever in our hearts and minds. Cast members, wide-eyed children (and adults too), and pixie dust make memories to last a lifetime. Great thanks to Michal and all the Harmony Barbershop cast members for the magic they spread each day.