I'm pleased to bring you a guest post today from a wonderful Disney fan and friend, Mary Jo Collins. Known as "MoJo" by most, she just effervesces with Disney magic and pixie dust when you meet her. I am honored to have her here sharing some wonderful stories and information on everyone's favorite barber shop – Harmony. You may remember we recently took our littlest guy, Giovanni there for his first haircut. The magic they share will truly touch your heart. Take it away, Mo Jo! (click to enlarge photos)
…
Echoing through the air, a beautiful rendition of "Goodbye, My Coney Island Baby" serenades a starry eyed child sitting high in the swinging chair.  Just a few minutes earlier, a story about the big fish caught last week is followed up with talk of the weather.  From the ornate carved woods and the checkerboard floor to the good conversation abound, you have been taken back to a place gone by.  It is a quaint barber shop with a harmonious barber shop quartet nestled on a familiar street.  It's not Mayberry. And it's not Floyd Lawson standing behind the chair with his scissors in hand. It is much more. It is the Harmony Barber Shop.  Many families around the world have visited this fine establishment to experience the time-honored tradition of a haircut in the Magic Kingdom.
Considering Walt Disney's fondness of a hometown Missouri barber shop, Main Street, U.S.A. would not be complete without this hidden gem.  Discovering the essence of an old-timey barber shop in today's world where a quick 5 minute cut at a SuperCut is just status-quo would certainly make Walt proud.  Even the barbershop quartet, the Dapper Dans, is occasionally on-hand to treat guests with their excellent four-part harmony.  Here, anyone is welcome to take a seat in the barber's chair and be exposed to some magical hair treatments.  Matter of fact, about 400 guests of Walt Disney World experience the Harmony Barber Shop each week.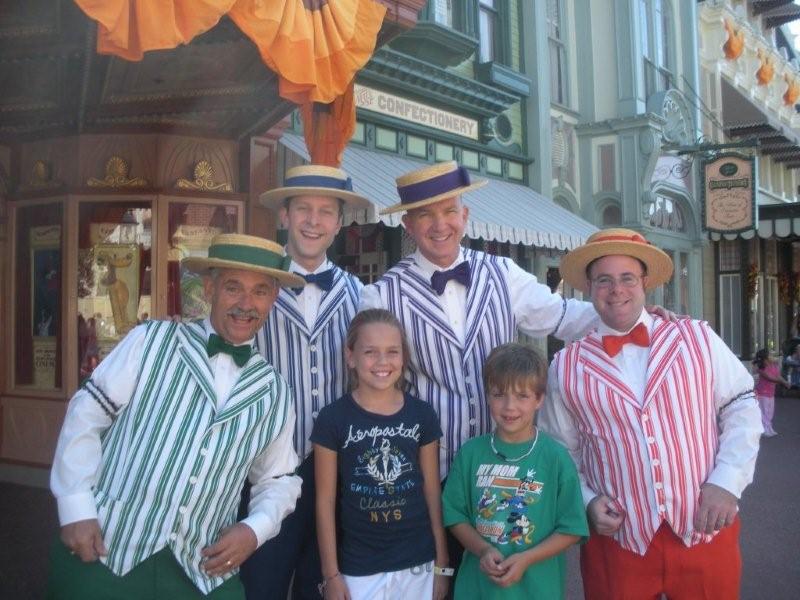 Located just past City Hall on the corner of Main Street, U.S.A. in the Magic Kingdom, the Harmony Barber Shop offers the traditional haircut, as well as a variety of specialty menu treatments.  While the barbers have a license and usually years of experience, they are indeed Cast Members and are experts at entertaining children and comforting them during the process.  Hours of operation are 9 am to 5 pm, seven days a week.  Walk-ups are always welcomed, but advanced reservations can now be made thru Walt Disney World Reservations.  Ask for a booking via "Children's Activities", otherwise the Cast Member may have a hard time locating it.  They accept 2 reservations at the top of each operational hour and 2 reservations at the half hour.  The 2 reservations per half hour are given priority, then walk-ups are taken on a first come, first serve basis.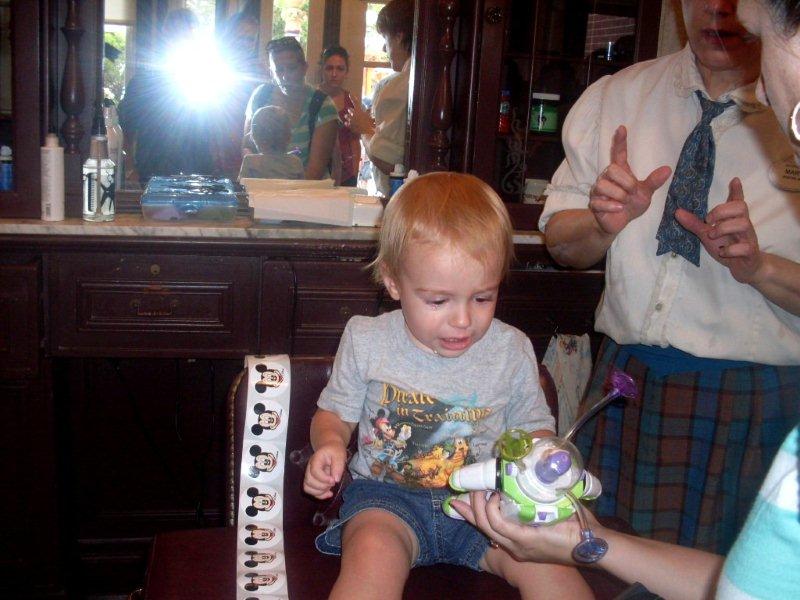 A standard haircut for an adult is $19 and children 12 and under is $15.  The barbers always offer some special pixie dust to top off the new do for no additional charge.  To add a little festive color to your current style or to your freshly cut hair, add $5 for the color gel.  Men can also get a beard or mustache trim for $10.  Now, the Harmony Barber Shop's most famous treatment is the "First Haircut" and rightly so.  People have been known to delay their child's first haircut for months so that they could do this world renown experience on an upcoming trip to Walt Disney World.  To the delight of the children, they are treated to fun with pixie dust, bubbles and Mickey Mouse stickers till their hearts content.  After the first haircut concludes, the child is awarded a certificate and a "My 1st Haircut" embroidered Mouse Ears.  Then to finish the show, pictures are taken with the ubiquitous "big red scissors" and Mickey cape.  The "First Haircut" with all the special extras is $18.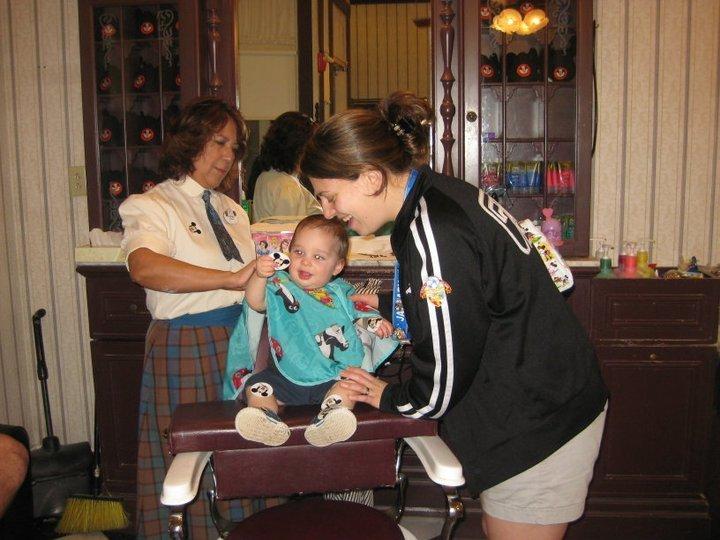 More than anything, the Harmony Barber Shop leaves an indelible memory for so many guests.  From a first hair cut to a fun punk hair-do with pixie dust, the transformations that occur on a daily basis at the Harmony Barber Shop are a perfect example of the campaign "Let the Memories Begin." The change in appearance of its patrons is no less dramatic than the change in their spirit. It's a homey, personal memory that is so rare while vacationing, but is so perfectly composed at the Harmony Barber Shop.  Here are a few more of the thousands of memories that have been culminated over the years.  Don't miss John Eric's story at the end.
Special Occasion Hair Cut with Pixie Dust.
Having never had my hair cut in a barber shop before, my 40th birthday trim in the Harmony Barber Shop was a refreshing treat on a scorching June day.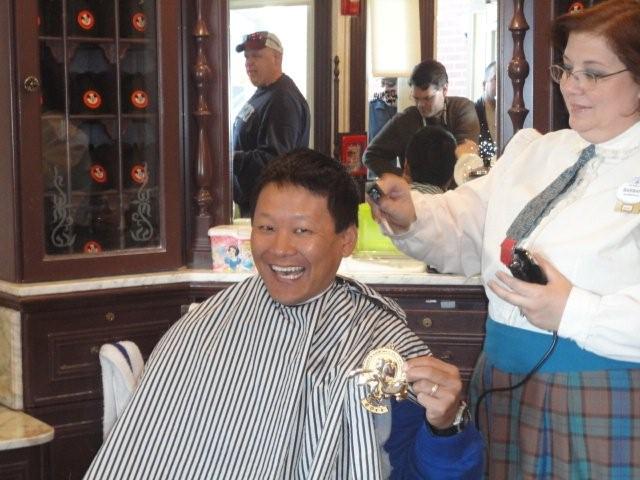 Pixie Dust.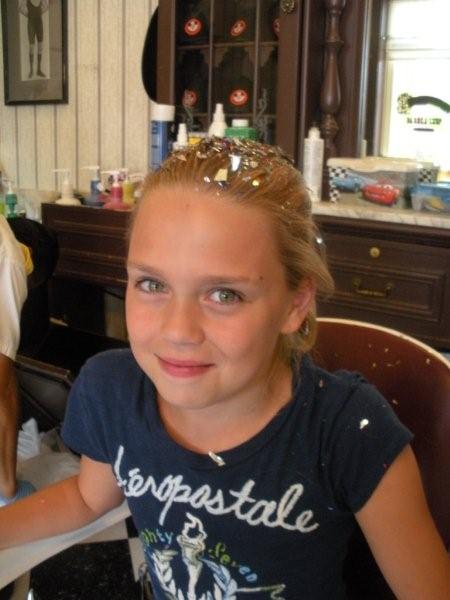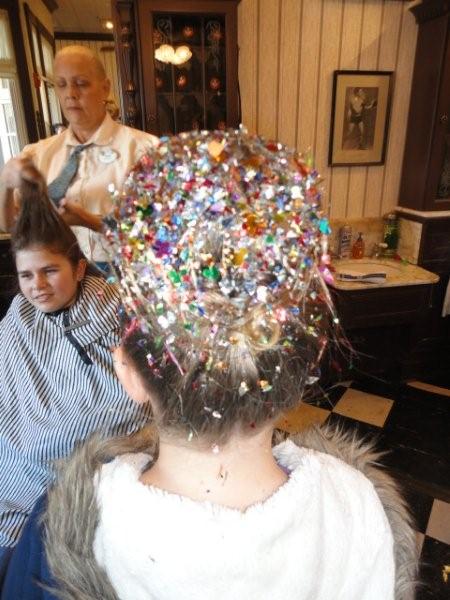 Spiked to perfection after a trim.
First haircuts, Harmony style.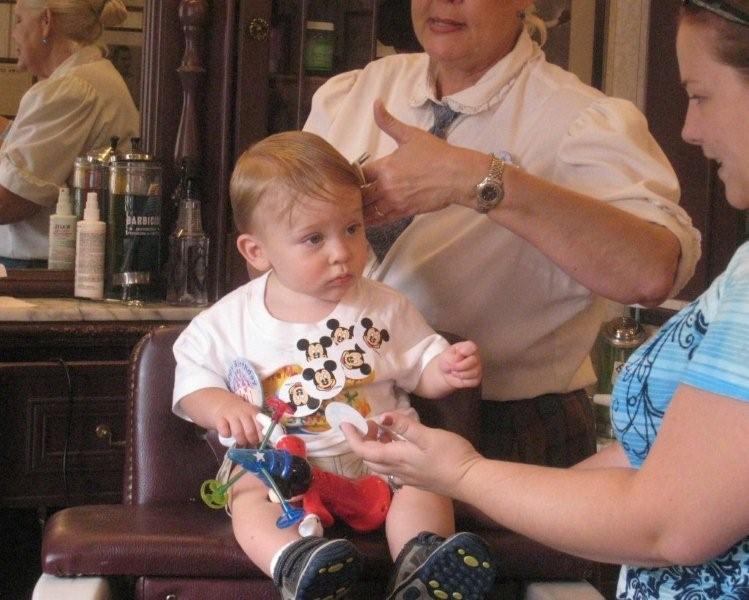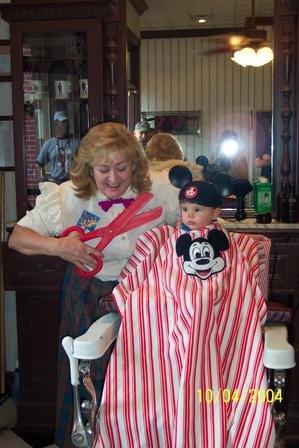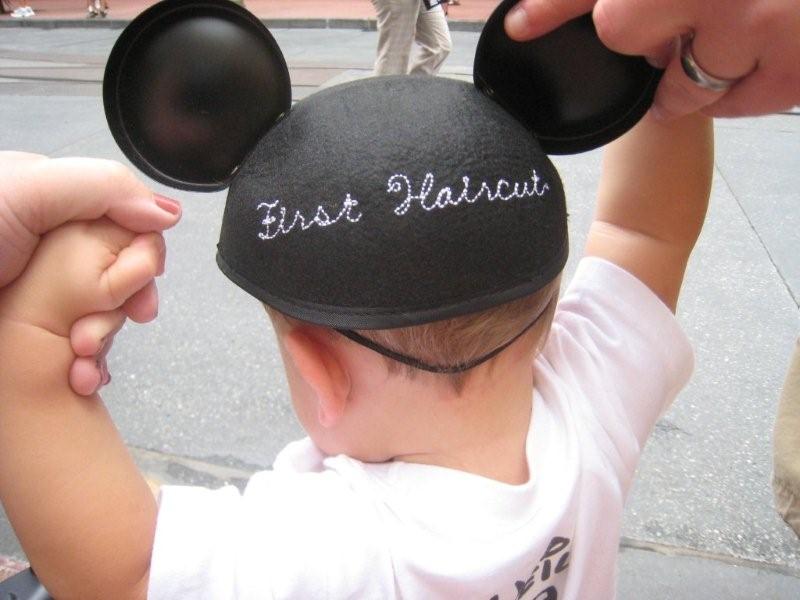 A Celebration of life.
John Eric Bartels' mom and dad had always dreamed of having their son's hair cut at the Harmony Barber Shop.  In April 2008, Jay and Alisha took their son John Eric to Walt Disney World for some much needed magic.  Fighting a battle against Stage IV Neuroblastoma Cancer, 22 month old John Eric didn't have hair to cut.  However, the dream of having their son encounter the Harmony Barber Shop was important. With love and compassion, the Cast Members gave John Eric a special, one-of-a-kind treatment.  After the lavishing of the Mickey Mouse stickers, a unique "Hidden Mickey" was painted on the back of his head.  John Eric watched contently looking in the mirror as the barber worked her magic. He was so proud of his "Hidden Mickey" that he wore it for several days.  The heart and soul of John Eric and his parents were lifted that day by their amazing experience.  Jay and Alisha will always be grateful for this memory.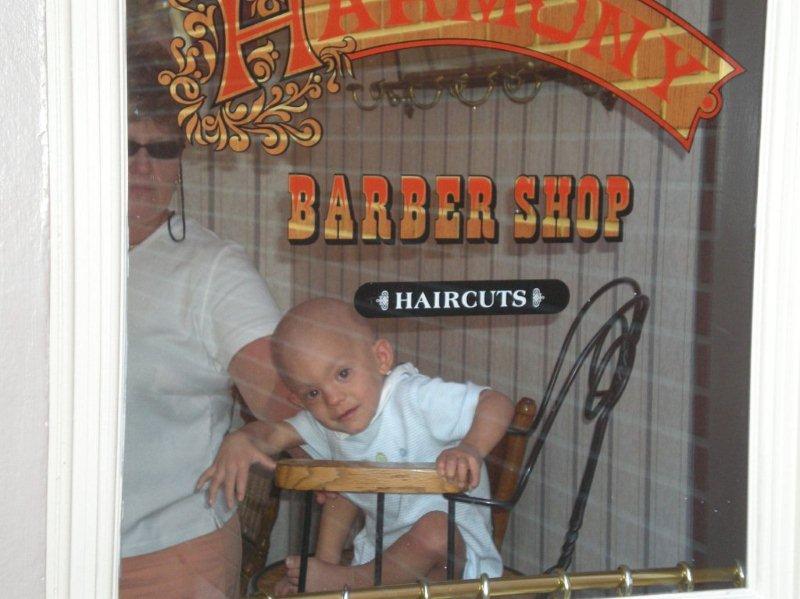 This article is written in memory of John Eric Bartels (June 18, 2006-May 16, 2008)
…
Many thanks to Mary Jo for sharing these wonderful photos and family stories with us. In addition to being a wonderful mom of two adorable Disney kids (Emily and Wyatt above), you can find Mary Jo on twitter at @MoJoDisney, on facebook, and hanging around the WDW Radio team, where she is a member of the WDW Radio Running Team, Finisher of 11 Disney Running Races (including Goofy's Race and a Half Challenge)! She just came back from the WDW Radio Disney Dream cruise – maybe we can convince her to come back and write about that here too!