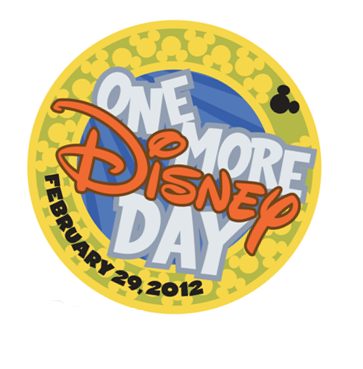 Tomorrow is the day we've all been waiting for – One More Disney Day, where both the Magic Kingdom Park in Walt Disney World and Disneyland will be open from 6am Wednesday, February 29 through 6am Thursday, March 1. It sounds like a dream come true, doesn't it? But then you may stop and think, well, what am I going to DO for 24 hours? I thought I'd put together some ideas to ensure the day, and night, and day again, is a memorable!
…
Find 24 Hidden Mickeys – look around, they're everywhere!
Ride an attraction 24 times – not all attractions will be open for the full 24 hours so check before you head over.
Play Sorcerers of the Magic Kingdom – you know I will be!!
Create your own scavenger hunt – look for certain items (a crown, a star, a squirrel!), see who can find the most yellow things – the sky's the limit!
Count the ghosts on Haunted Mansion – play in the queue!
Have 24 different snacks – popcorn, cotton candy, hot dogs, egg rolls, you can come up with 24, right?
For the hardcore snacker – have 24 Dole Whips! (or Mickey Bars, or snack treat of choice!)
Check out the cool One More Disney Day merchandise commemorating the momentous day.
Buy 24 Disney Dooney & Bourke purses? (Just seeing if you were paying attention – but if you have the means, be my guest – and let me know, I'll post about you!)
Take 24 Disney Photos! Friends and followers of mine on twitter know of my addiction to Instagram. There have been several photo challenges on there, just for fun, with prompts of things to capture and post. Now friend and fellow blogger ThemeParkMom has come up with a #Disney24 photo challenge for those of us spending the next 24 hours surrounded by endless photo opportunities. Check it out and post your photos to instagram, twitter, with the hashtag #24DisneyPhotos, or publicly on facebook. ThemeParkMom will be sharing her favorites on her blog, so check back there.
In addition to these fun ideas, here is the official entertainment line-up for tomorrow, from the Disney Parks Blog:
Two performances of the Main Street Electrical Parade, at 10 p.m. and midnight
Four showings of "The Magic, The Memories and You!" at 7:45 p.m., 9 p.m., 11 p.m. and 5:30 a.m. (March 1)
The Frontierland Hoedown near Country Bear Jamboree, at 2:45 a.m., 3:30 a.m. and 4:30 a.m.
Disney's Dance the Night Away Party at Cinderella Castle, from 1 a.m. – 5:30 a.m.
Character greetings throughout the night, including:

Phineas and Ferb in Tomorrowland
Snow White and the Seven Dwarfs in Fantasyland
Mickey and Minnie Mouse in Town Square, wearing their pajamas for the party in Florida before heading out west to visit guests at Disneyland park
Finally – have fun! If you are in the Magic Kingdom at Walt Disney World – look me up on twitter @zannaland. I'll be there off and on throughout the day and I'd love to meet up!