The 1980's were a transformative time not only personally, but as a Disney fan as well. My interests of course changed as I grew. I went from being obsessed with Strawberry Shortcake and Barbie dolls, to being obsessed with movies like Annie and E.T. In the animation realm, I was more into The Last Unicorn and The Secret of NIMH. I guess I felt Disney animation wasn't for me anymore, and as a result, I still haven't seen The Great Mouse Detective.
In non-movie terms, I was newly discovering EPCOT Center in 1983 and falling in love with Figment and Walt Disney World in general. I left my interest in animated Disney movies behind, and it seems like I was not alone in that feeling, based on the numbers those early 80's films pulled in.
By my sophomore year in high school, I had been in 5 different schools in 3 different states in 5 years (my parents liked to move around). I was firmly ensconced in the "theatre kid" life as a coping mechanism. I watched and listened to musicals, I was in drama club and several school productions and competitions.  At my 5th and last school, I arrived in the middle of sophomore year, wondering if I could yet again make a new set of friends and start over. It was their production of Little Shop of Horrors that pushed me to audition for the next show. I was (and still am) absolutely in love with Little Shop, "Somewhere That's Green" and "Suddenly, Seymour" are two of the best written and most pure musical numbers of all time.
Before the days of wikipedia (or me paying attention perhaps), I had no idea that the brilliant minds behind one of my favorite shows were working on something that would put Disney animation back on the map and change it forever. The Little Mermaid appeared on the horizon and looked and sounded unlike anything I'd seen before. It was the perfect time for this brand new relatable princess, with a soundtrack that told the story of the entire movie, with memorable, sing-along-to songs, to completely win me over.
I was also particularly obsessed with Phantom of the Opera and the Beauty and the Beast television series, as well as Labyrinth. I was fully embracing the villain-turned-good-guy storyline. (Okay, maybe Jareth in Labyrinth wasn't ever a good guy, but come on, it was David Bowie…what's a teenage girl supposed to think?) I distinctly remember Beauty and the Beast coming out at just the right time in my 17-year-old life and being so captivating that it was an instant classic. Again, I wasn't alone.
What these new films managed to do was combine my love of Disney, musicals, and animation, as well as really cement my Disney fandom, even if I mostly kept it to myself at that point. Sure, Disney parks were full of animated movie references and attractions, but they were all at least 20 years old by then. These compelling tales gave life to various shows, parades, and attractions, while this new generation of fans felt at home with their new-found favorites represented in the parks. We didn't realize it at the time, but this was the second golden age of Disney animation – the renaissance, if you will. And really, we have Howard Ashman to thank for that.
All of this personal backstory leads me to Howard, Don Hahn's latest documentary chronicling the life and times of Howard Ashman. Even casual fans have heard of the Ashman and Menken duo, and seen the dedication on Beauty and the Beast: "To our friend, Howard, who gave a mermaid her voice and a beast his soul, we will be forever grateful. Howard Ashman 1950–1991." But who is the man behind that dedication? What is his story? Die-hard fans have heard some bits and pieces from those who were there, but what Howard does is tell us where that man came from, and how his life was tragically cut short.
We recently discussed Don Hahn's previous look at this time period, Waking Sleeping Beauty, on our Up the Waterfall podcast. I wanted to revisit it as a precursor to this new film, as it really sets the stage for when and how Howard came into the Disney realm. More than just that, we are treated to first-hand accounts of his childhood from the mouths of his sister and mother. Stories of his work ethic and dreams from his close friends. Tales from Disney and former Disney colleagues of the process of coming to Disney, and creating the stories that would soon live on forever. Heartbreaking memories from his partner, Bill. Howard is truly a love letter to all fans of Disney certainly, but also to those who are filled with creative spirit; a love letter to those with a dream.
More than just a dry documentary with talking heads and old still photos,
Howard
is crafted to draw you in and make you feel as if you are a part of the story. As Howard's sister shares a moment in time when Howard created a whole other world for her from cowboy and Indian figures and whatever else lay about the room, the memory is recreated before you on screen. You hear his sister's wistful remembrance and know how important this point on a timeline is, in explaining who Howard Ashman became.
Particularly poignant is the scene when Howard and Alan Menken were invited to speak at the 92nd Street Y in New York. We hear the event's audio, we see the crowd in the audience, but we look at empty chairs on the stage. Knowing that right before this is when Howard learned of his HIV diagnosis makes the scene that much more powerful. You hear the difference in Howard's voice, the weary uncertainty of what his future holds.
Beyond his time at Disney, Howard truly takes you on the journey of Howard Ashman's life. From his childhood antics to children's theatre performances in Baltimore, through his varied education and bold moves to open a theatre in derelict New York City of the 70's – and make a success of it. He built a black box theatre from nothing, and put on some amazing shows, including, of course, Little Shop of Horrors. That success led to a failure, when he worked with Marvin Hamlisch to create Smile, which made it to Broadway, but was a flop. It was on the coattails of that failed dream, that his story led him to Disney.
We also aren't shielded from his personal life, which does play an important role. Don Hahn created this film back in 2018, without "Disneyfying" and it is now being shared on Disney+ as it was envisioned by the director. Howard Ashman's past comes into play, his diagnosis is shared, and of course, the tragic end of his life is covered. We share in Howard's fears of sharing his HIV news with colleagues, we hear his worry about sending in his demo tape of "Belle" for Beauty and the Beast. Rumors of Howard representing himself as "The Beast" due to his diagnosis are quelled. All in all, it is a fully fleshed out story and one that you won't want to miss.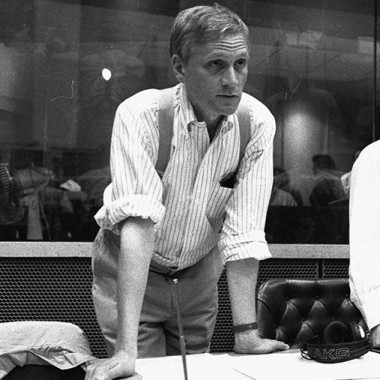 Howard premieres August 7 on Disney+, which if you haven't yet subscribed to, this is certainly reason enough to go for it. There are a handful of true gems within this Disney+ platform, Howard and Waking Sleeping Beauty among them. On a recent press call with Don, I asked if we could look forward to any "extras" or "bonus features" from the cutting room floor with the Howard release. Don said that in revisiting the film, he did find so much more content and he hopes to someday release them, perhaps as a webseries. So fingers crossed that all gets the green light.
On a personal note, I am truly grateful that we have people like Don who not only were there when this history played out, but have the incredible talent to share these gifts of knowledge and understanding with us all. People often ask "why Disney?" "why are you so into it, it's just for kids" but stories like this one prove that behind every fairy tale is a lot of hard work, a lot of heartbreak, and almost always, the answer to the "reason why" we love what we love. Thank you, Don, and thank you, Howard.