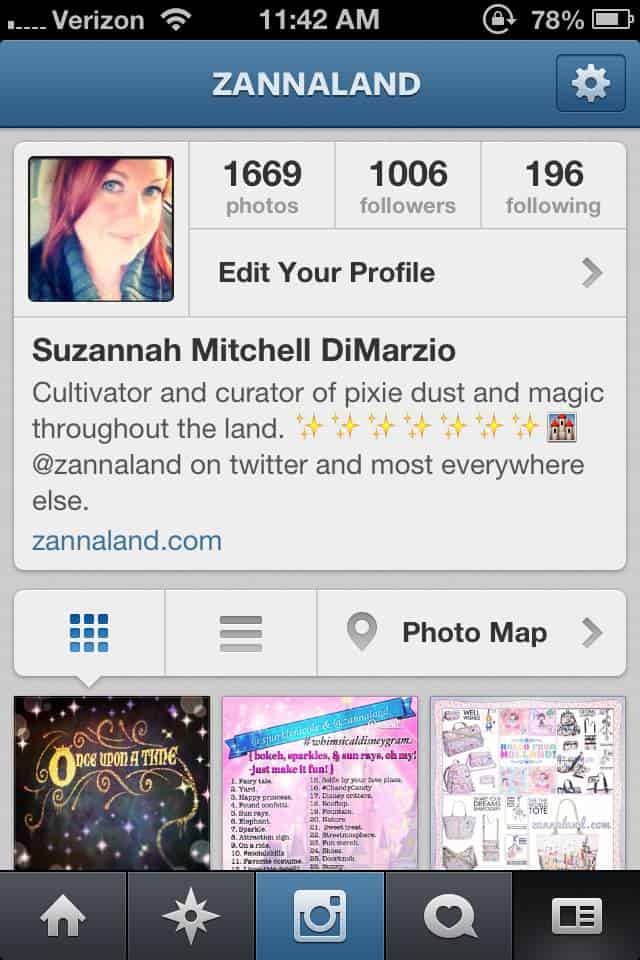 It's no secret that social media is an amazing way to connect with friends, make new friends, and in the case of bloggers, keep in touch with readers and reach new ones. The major networks are of course, Facebook, twitter, and most recently, Pinterest and tumblr have joined the mainstream. It may seem hard to keep up with all of the outlets out there, so you might decide to be a "Facebook person" or a "twitter person" much like people are dog people or cat people. (Have I mentioned I have a dog and a cat at home?) I do use both, but I will admit to having a definite preference toward twitter. It's quick, it's easy and it's much easier for me to follow along on twitter than Facebook's ever-changing news feed format. I will always update my Facebook page with photos and links from posts here, and if I'm at an event, try to add more photos too. If you click on any of those photos, you'll most likely see where they originate – Instagram.
While I'm confessing my social additions, I will shout from the Splash Mountain-top that I am completely addicted to Instagram. Perhaps more shocking, I actually got an iPhone a little over a year ago, predominantly because of wanting to use Instagram. Embarrassing? Maybe, but I own it. Taking photos is something I've always loved and Instagram is a great way to get those photos in neat little square packages, and, just for fun, add filters and frames to make the photos unique. Instagram gets a lot of flack online, among those who say "why do you want to make photos taken today look like they were taken in 1978" and complain that Instagram (and other photo apps) mess with a good thing by editing photos too much.
Well, my personal opinion is that, as a local, I may have taken approximately 1971 photos of Cinderella Castle, and while it never gets old for me, I like to shake things up. Instagram and other photo apps make it easy and fun to focus on one castle spire, or close-up on the clock, do a tilt-shift of Big Thunder Mountain Railroad, all sorts of FUN stuff. And, within the Instagram app lies a whole other community, connected by hashtags and common friends, of people that support and enjoy photos as much as you do. It really is a wonderful place. And you can in turn share the photos you create on Instagram over on twitter or Facebook or tumblr or even Flickr and Foursquare. It's so easy. (And I mentioned fun, right?) One note of caution: many people feel like using social networks in the parks can lead to missing out on what's going on around you. As someone who is guilty of that, I've come up with a sort of solution. I will take photos along the way, but still enjoy everything that's happening and not get too engrossed in my phone. Then later, when we stop for a break, I'll edit and post the photos then. It makes for a nice balance where you aren't spending the entire visit with your head down in your phone.
Over time, I've downloaded quite the collection of photo editing apps, for making photos pop or adding some sparkles here and there, and it's become quite an art form in its own right. Of course other times I just want to share a photo of my cat or my kids being silly. That's the great part about Instagram, there are no rules. Another great part of the Instagram community are the hashtags, just like on twitter using a tag like this: #disney will allow you to find lots of other photos using that tag, and ensure your photo is seen by more people. It's also fun to go back and look at hashtags later on and relive the memories you created. My friends, family and I have taken to using "#widdlebabygio" every time we post a photo of my youngest – just looking back on that set of photos puts a huge smile on my face. The use of hashtags then leads to other fun stuff, like photo challenges.
Many people on Instagram start monthly photo-a-day challenges encouraging folks to use their creativity and be committed to posting at least one photo a day, based on the daily topic. This of course branches out into various fandoms, and the Disney fandom on Instagram is huge. My very sparkly and also Instagram-addicted friend, Nicole, from SparklyEverAfter.com and I came up with our very own photo challenge, and this month we're focusing on the whimsical aspects of Disney (or anything else, you won't get scolded for using other subject matter!).
Our hashtag for this challenge is #WhimsicalDisneyGram and there you can see all of the daily topics and the photos participants have created. February just started and we've already seen some amazing content! So if you haven't tried Instagram before, give it a go, you just may fall in love! And if you're already up there, look me up – I'm @zannaland, Nicole is @sparklynicole and you'll find so many other Disney friends there too! Nicole and I would love to have you take part in our February photo adventure, with more to come each month! No pressure, just drop in and out as you please, and have fun!
I hope to see you 'gramming soon!